Family overview
Compressed
Ultra Light

Italic

Thin

Italic

Light

Italic

Regular

Italic

Medium

Italic

Bold

Italic

Black

Italic
Condensed
Ultra Light

Italic

Thin

Italic

Light

Italic

Regular

Italic

Medium

Italic

Bold

Italic

Black

Italic
Standard
Ultra Light

Italic

Thin

Italic

Light

Italic

Regular

Italic

Medium

Italic

Bold

Italic

Black

Italic
Extended
Ultra Light

Italic

Thin

Italic

Light

Italic

Regular

Italic

Medium

Italic

Bold

Italic

Black

Italic
Expanded
Ultra Light

Italic

Thin

Italic

Light

Italic

Regular

Italic

Medium

Italic

Bold

Italic

Black

Italic
Mono
Ultra Light

Italic

Thin

Italic

Light

Italic

Regular

Italic

Medium

Italic

Bold

Italic

Black

Italic
Standard Ultra Light

William Henry Harrison, February 9, 1773, Charles City County, Virginia, March 4, 1841 – April 4, 1841

Standard Ultra Light Italic

I am the greatest, I said that even before I knew I was.

Standard Thin

Successful people are simply those with successful habits.

Standard Thin Italic

Barack Obama, August 4, 1961, Honolulu, Hawaii, Assumed office January 20, 2009

Standard Light

It's never too late to become what you might have been.

Standard Light Italic

Стати президентом США за Конституцією США може тільки громадянин США за народженням (або той, хто перебував громадянином США при затвердженні Конституції), старше 35 років, що мешкає в США не менше 14 років.

Standard Regular

The difference between a goal and a dream is a deadline.

Standard Regular Italic

Twenty years from now you will be more disappointed by the things that you didn't do than by the ones you did do. So throw off the bowlines. Sail away from the safe harbor. Catch the trade winds in your sails. Explore. Dream. Discover.

Standard Medium

Oklahoma City, Oklahoma, 631'346, 606.4 sq mi, 35.4671°N 97.5137°W

Standard Medium Italic

If we didn't have Schwarzenegger we would have to build one!

Standard Bold

If we didn't have Schwarzenegger we would have to build one!

Standard Bold Italic

Harry S. Truman, May 8, 1884, Lamar Missouri, April 12, 1945 – January 20, 1953

Standard Black

Richard M. Nixon, January 9, 1913, Yorba Linda, California, January 20, 1969 – August 9, 1974

Standard Black Italic

You, me, or nobody is gonna hit as hard as life.
Typeface information
GT America is the missing bridge between 19th century American Gothics and 20th century European Neo-Grotesk typefaces. It uses the best design features from both traditions in the widths and weights where they function optimally.
Typeface features
OpenType features enable smart typography. You can use these features in most Desktop applications, on the web, and in your mobile apps. Each typeface contains different features. Below are the most important features included in GT America's fonts:
CASE
Case sensitive forms
¿¡WHAT?!
Typeface Minisite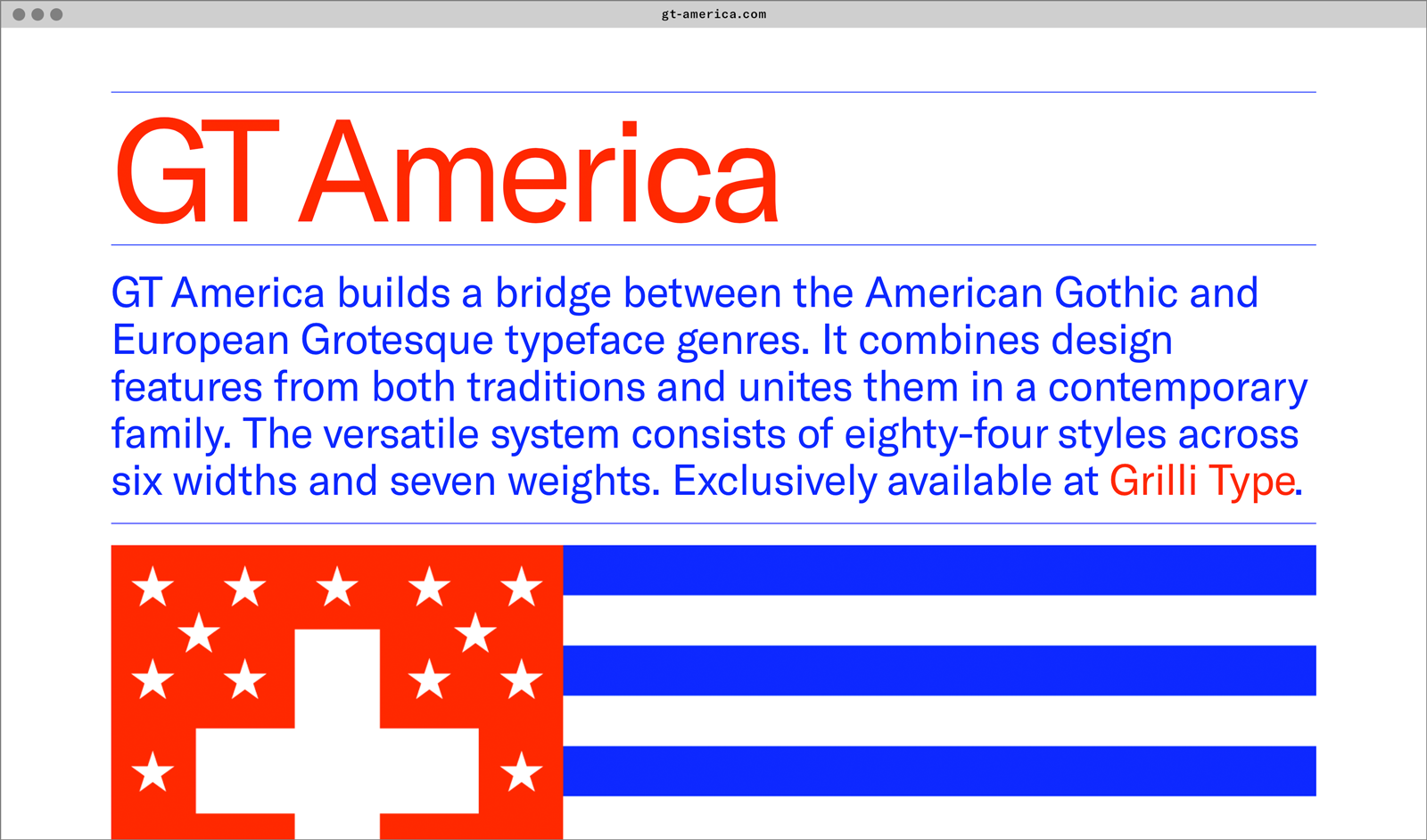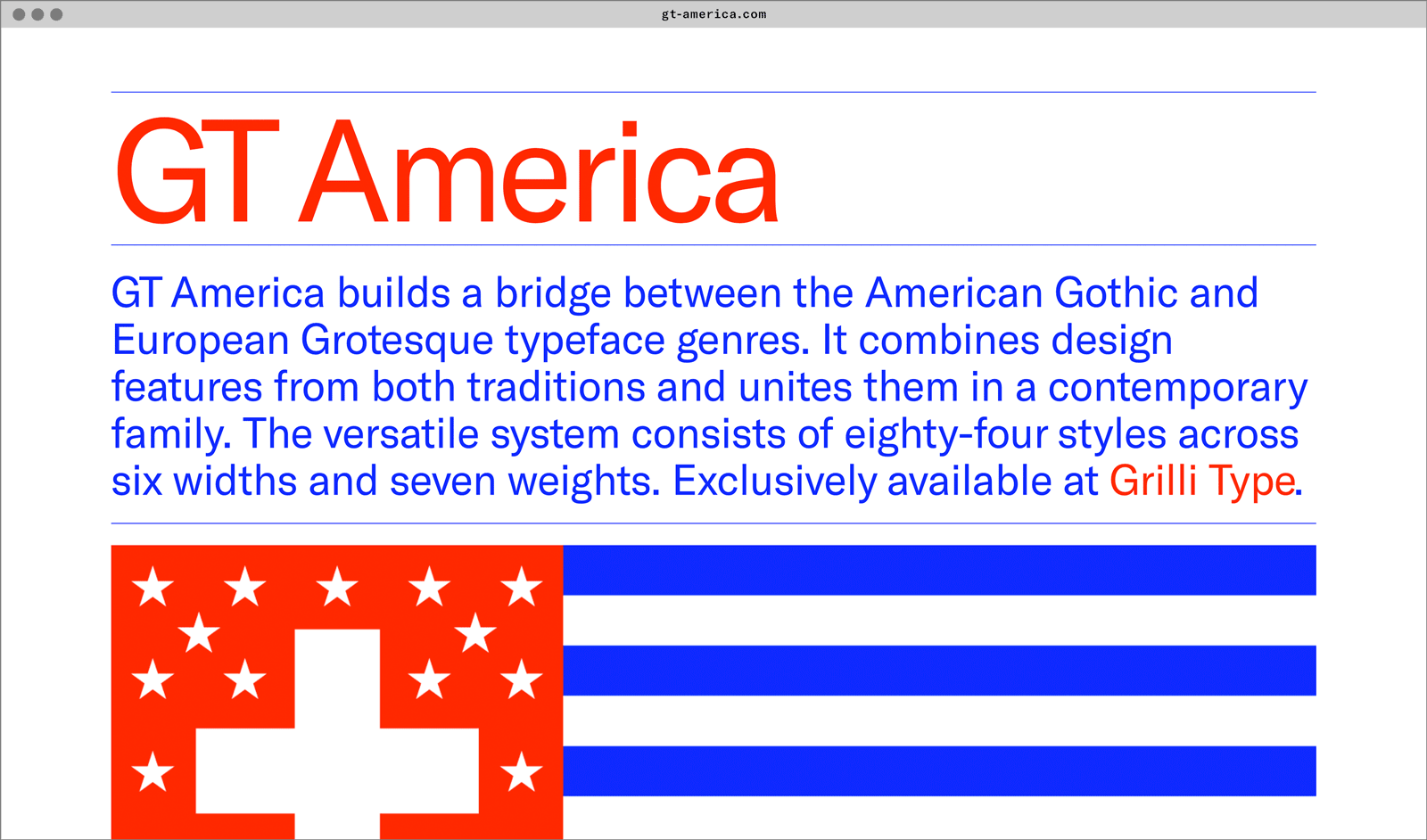 Visit the GT America minisite to discover more about the typeface family's history and design concept.