Family overview
Compressed
Ultra Light

Italic

Thin

Italic

Light

Italic

Regular

Italic

Medium

Italic

Bold

Italic

Black

Italic
Condensed
Ultra Light

Italic

Thin

Italic

Light

Italic

Regular

Italic

Medium

Italic

Bold

Italic

Black

Italic
Standard
Ultra Light

Italic

Thin

Italic

Light

Italic

Regular

Italic

Medium

Italic

Bold

Italic

Black

Italic
Extended
Ultra Light

Italic

Thin

Italic

Light

Italic

Regular

Italic

Medium

Italic

Bold

Italic

Black

Italic
Expanded
Ultra Light

Italic

Thin

Italic

Light

Italic

Regular

Italic

Medium

Italic

Bold

Italic

Black

Italic
Mono
Ultra Light

Italic

Thin

Italic

Light

Italic

Regular

Italic

Medium

Italic

Bold

Italic

Black

Italic
Standard Ultra Light

Harry S. Truman, May 8, 1884, Lamar Missouri, April 12, 1945 – January 20, 1953

Standard Ultra Light Italic

Trust yourself no matter how and what everyone else thinks.

Standard Thin

San Francisco, California, 864'816, 46.9 sq mi, 37.7751°N 122.4193°W

Standard Thin Italic

Failure is not an option. Everyone has to succeed.

Standard Light

Fort Worth, Texas, 833'319, 339.8 sq mi, 32.7795°N 97.3463°W

Standard Light Italic

Harry S. Truman, May 8, 1884, Lamar Missouri, April 12, 1945 – January 20, 1953

Standard Regular

Президентские выборы в США 1864 года проходили на фоне продолжающейся гражданской войны.

Standard Regular Italic

I'm young; I'm handsome; I'm fast. I can't possibly be beat.

Standard Medium

San Francisco, California, 864'816, 46.9 sq mi, 37.7751°N 122.4193°W

Standard Medium Italic

The worst thing I can be is the same as everybody else. I hate that.

Standard Bold

Every champion was once a contender who refused to give up.

Standard Bold Italic

Portland, Oregon,632'309, 133.4 sq mi, 45.5370°N 122.6500°W

Standard Black

Abraham Lincoln, February 12, 1809, Sinking spring, Kentucky, March 4, 1861 – April 15, 1865

Standard Black Italic

John Quincy Adams, July 11, 1767, Braintree, Massachusetts, March 4, 1825 – March 4, 1829
Typeface information
GT America is the missing bridge between 19th century American Gothics and 20th century European Neo-Grotesk typefaces. It uses the best design features from both traditions in the widths and weights where they function optimally.
Typeface features
OpenType features enable smart typography. You can use these features in most Desktop applications, on the web, and in your mobile apps. Each typeface contains different features. Below are the most important features included in GT America's fonts:
CASE
Case sensitive forms
¿¡WHAT?!
Typeface Minisite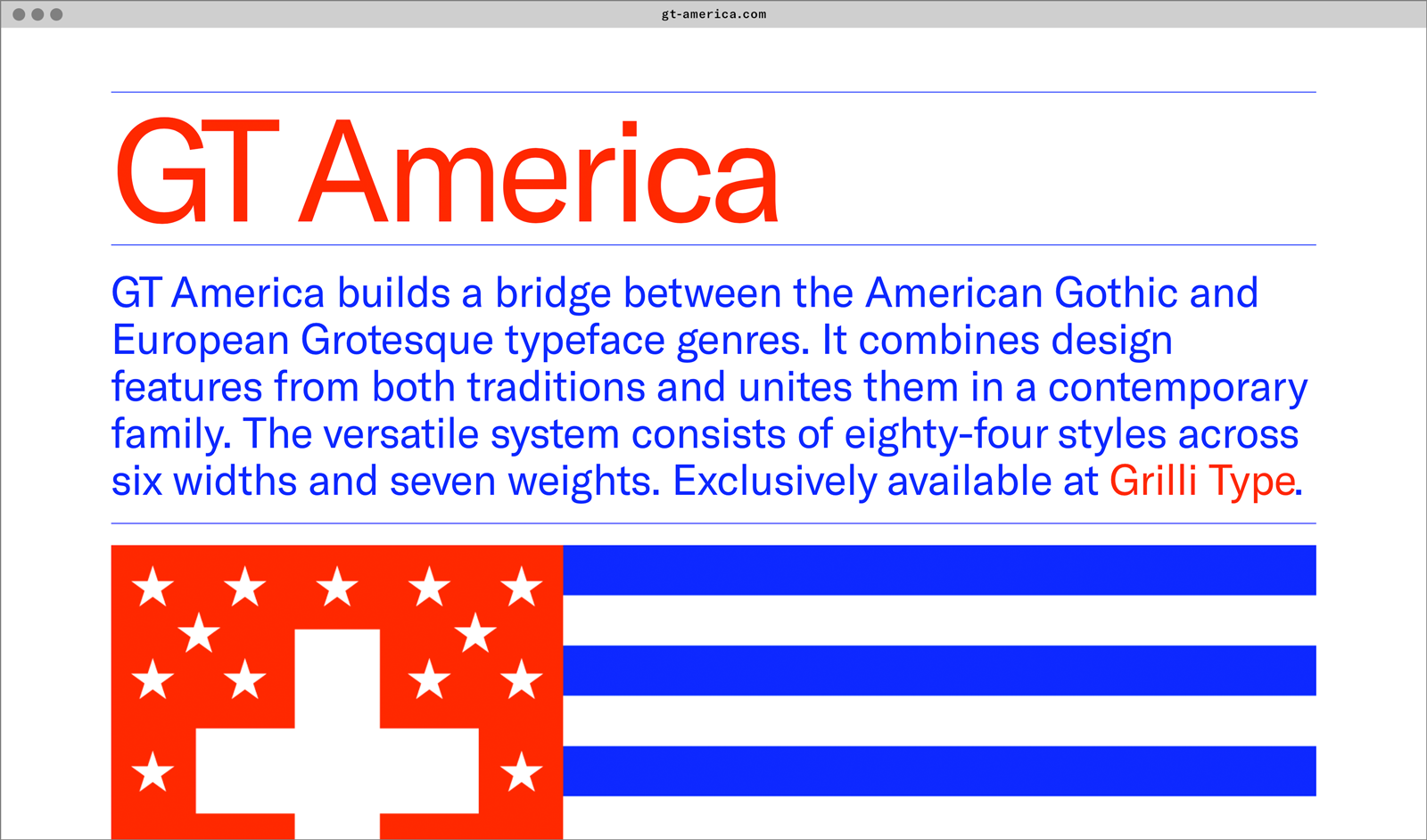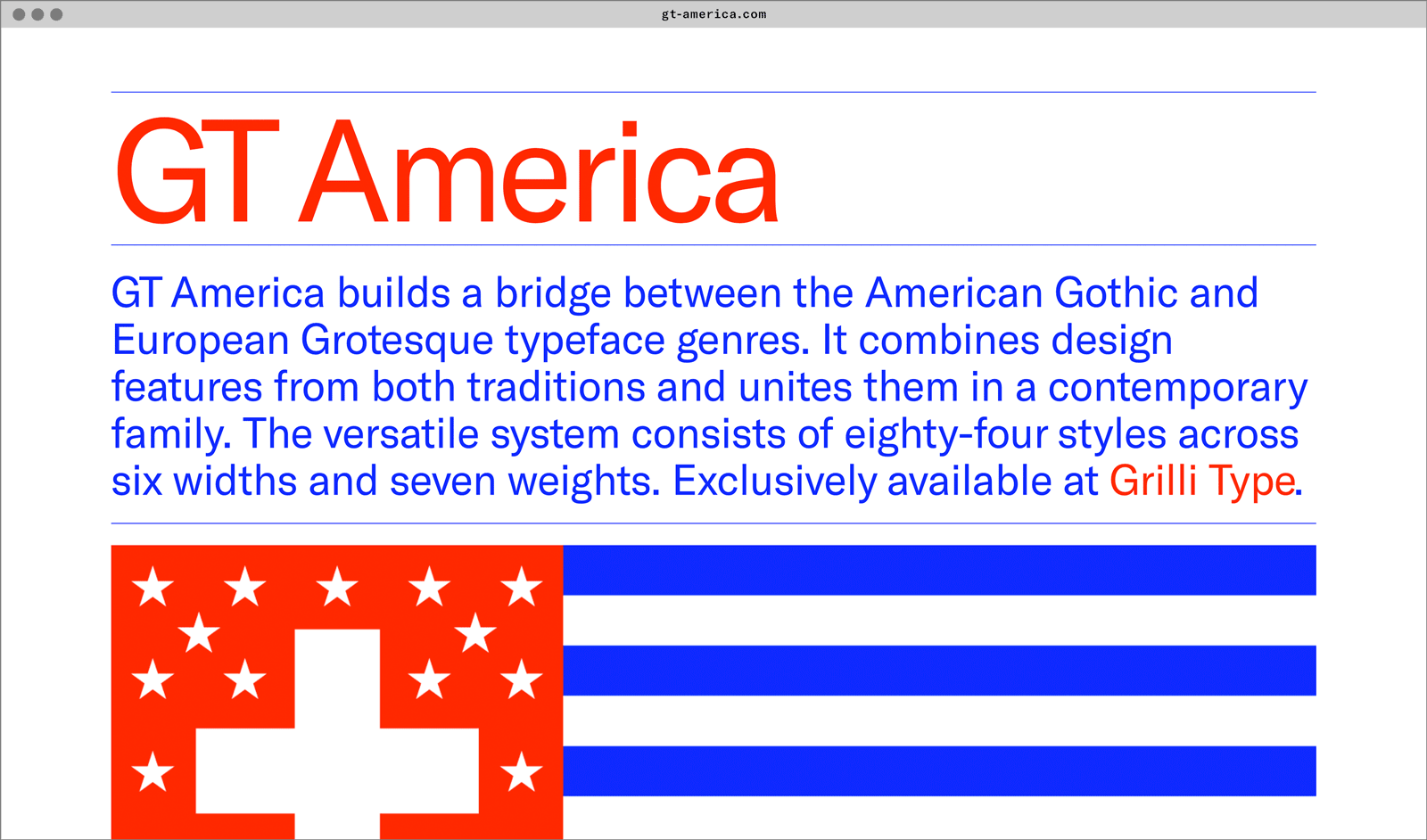 Visit the GT America minisite to discover more about the typeface family's history and design concept.