Family overview
Compressed
Ultra Light

Italic

Thin

Italic

Light

Italic

Regular

Italic

Medium

Italic

Bold

Italic

Black

Italic
Condensed
Ultra Light

Italic

Thin

Italic

Light

Italic

Regular

Italic

Medium

Italic

Bold

Italic

Black

Italic
Standard
Ultra Light

Italic

Thin

Italic

Light

Italic

Regular

Italic

Medium

Italic

Bold

Italic

Black

Italic
Extended
Ultra Light

Italic

Thin

Italic

Light

Italic

Regular

Italic

Medium

Italic

Bold

Italic

Black

Italic
Expanded
Ultra Light

Italic

Thin

Italic

Light

Italic

Regular

Italic

Medium

Italic

Bold

Italic

Black

Italic
Mono
Ultra Light

Italic

Thin

Italic

Light

Italic

Regular

Italic

Medium

Italic

Bold

Italic

Black

Italic
Standard Ultra Light

Bill Clinton, August 19, 1946, Hope, Arkansas, January 20, 1993 – January 20, 2001

Standard Ultra Light Italic

Nashville, Tennessee, 654'610, 475.1 sq mi, 36.1718°N 86.7850°W

Standard Thin

Барак Обама е първият цветнокож в историята, който е избран на този пост. Награден е с Нобелова награда за мир през 2009 г.

Standard Thin Italic

Start wide, expand further, and never look back.

Standard Light

Motivation is the art of getting people to do what you want them to do because they want to do it.

Standard Light Italic

John Adams, October 30, 1735, Braintree, Massachusetts, March 4, 1797 – March 4, 1801

Standard Regular

I shook up the world. Me! Whee!

Standard Regular Italic

Harry S. Truman, May 8, 1884, Lamar Missouri, April 12, 1945 – January 20, 1953

Standard Medium

Jacksonville, Florida, 868'031, 747.0 sq mi, 30.3370°N 81.6613°W

Standard Medium Italic

Strength does not come from winning. Your struggles develop your strengths. When you go through hardships and decide not to surrender, that is strength.

Standard Bold

John Adams, October 30, 1735, Braintree, Massachusetts, March 4, 1797 – March 4, 1801

Standard Bold Italic

The difference between a goal and a dream is a deadline.

Standard Black

You have to think outside the box.

Standard Black Italic

Nobody owes nobody nothin'. You owe yourself.
Typeface information
GT America is the missing bridge between 19th century American Gothics and 20th century European Neo-Grotesk typefaces. It uses the best design features from both traditions in the widths and weights where they function optimally.
Typeface features
OpenType features enable smart typography. You can use these features in most Desktop applications, on the web, and in your mobile apps. Each typeface contains different features. Below are the most important features included in GT America's fonts:
CASE
Case sensitive forms
¿¡WHAT?!
Typeface Minisite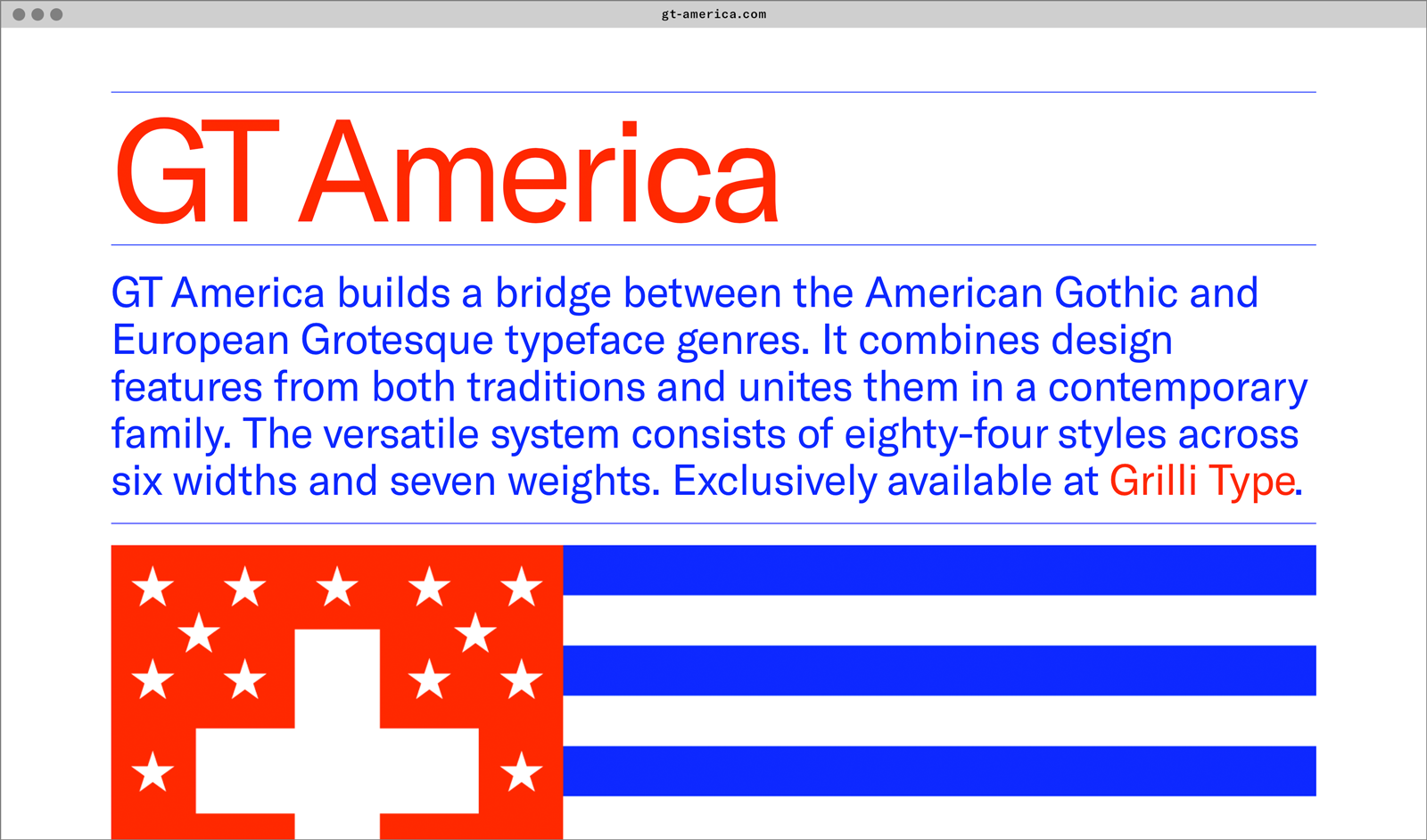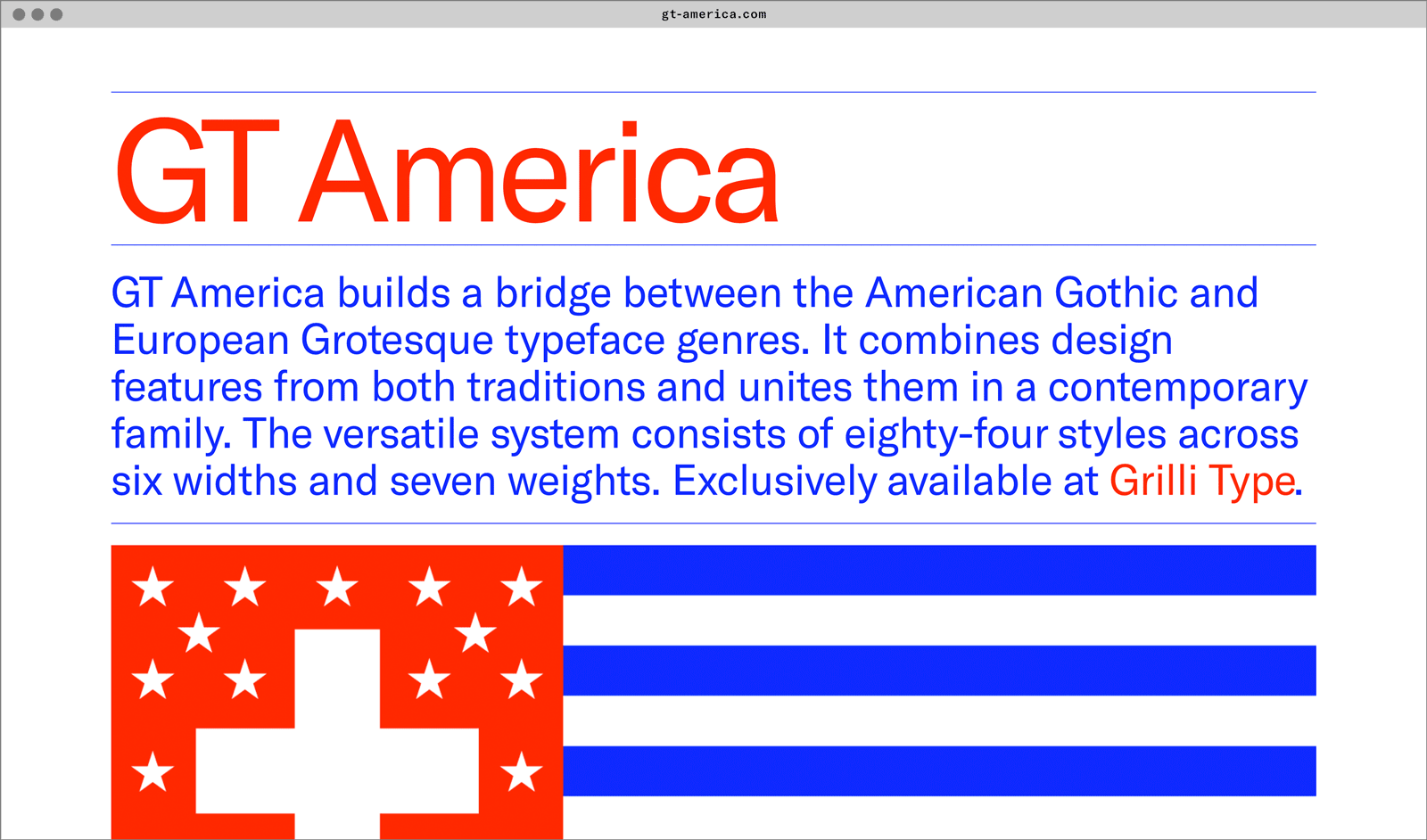 Visit the GT America minisite to discover more about the typeface family's history and design concept.