Family overview
Compressed
Ultra Light

Italic

Thin

Italic

Light

Italic

Regular

Italic

Medium

Italic

Bold

Italic

Black

Italic
Condensed
Ultra Light

Italic

Thin

Italic

Light

Italic

Regular

Italic

Medium

Italic

Bold

Italic

Black

Italic
Standard
Ultra Light

Italic

Thin

Italic

Light

Italic

Regular

Italic

Medium

Italic

Bold

Italic

Black

Italic
Extended
Ultra Light

Italic

Thin

Italic

Light

Italic

Regular

Italic

Medium

Italic

Bold

Italic

Black

Italic
Expanded
Ultra Light

Italic

Thin

Italic

Light

Italic

Regular

Italic

Medium

Italic

Bold

Italic

Black

Italic
Mono
Ultra Light

Italic

Thin

Italic

Light

Italic

Regular

Italic

Medium

Italic

Bold

Italic

Black

Italic
Standard Ultra Light

The key to success is to focus our conscious mind on things we desire not things we fear.

Standard Ultra Light Italic

John Adams, October 30, 1735, Braintree, Massachusetts, March 4, 1797 – March 4, 1801

Standard Thin

Seattle, Washington, 684'451, 83.9 sq mi, 47.6205°N 122.3509°W

Standard Thin Italic

You, me, or nobody is gonna hit as hard as life.

Standard Light

The secret of getting ahead is getting started.

Standard Light Italic

I need your clothes, your boots and your motorcycle.

Standard Regular

Thomas Jefferson, April 13, 1743, Shadwell, Virginia, March 4, 1801 – March 4, 1809

Standard Regular Italic

Every champion was once a contender who refused to give up.

Standard Medium

Федера́ция — форма государственного устройства, при которой части государства являются государственными образованиями, обладающими юридически определённой политической самостоятельностью в рамках федерации.

Standard Medium Italic

For me life is continuously being hungry.

Standard Bold

Ulysses S. Grant, April 27, 1822, Point Pleasant, Ohio, March 4, 1869 – March 4, 1877

Standard Bold Italic

Lincoln nhận được sự đề cử của Đảng Cộng hòa ra tranh cử Tổng thống năm 1860.

Standard Black

Baltimore, Maryland, 621'849, 80.9 sq mi, 39.3002°N 76.6105°W

Standard Black Italic

Với 3,79 triệu dặm vuông (9.833.520 km²) và 327,1 triệu dân (2018), Hoa Kỳ là quốc gia lớn thứ 3 hoặc thứ 4 về tổng diện tích và thứ 3 về dân số trên thế giới.
Typeface information
GT America is the missing bridge between 19th century American Gothics and 20th century European Neo-Grotesk typefaces. It uses the best design features from both traditions in the widths and weights where they function optimally.
Typeface features
OpenType features enable smart typography. You can use these features in most Desktop applications, on the web, and in your mobile apps. Each typeface contains different features. Below are the most important features included in GT America's fonts:
CASE
Case sensitive forms
¿¡WHAT?!
Typeface Minisite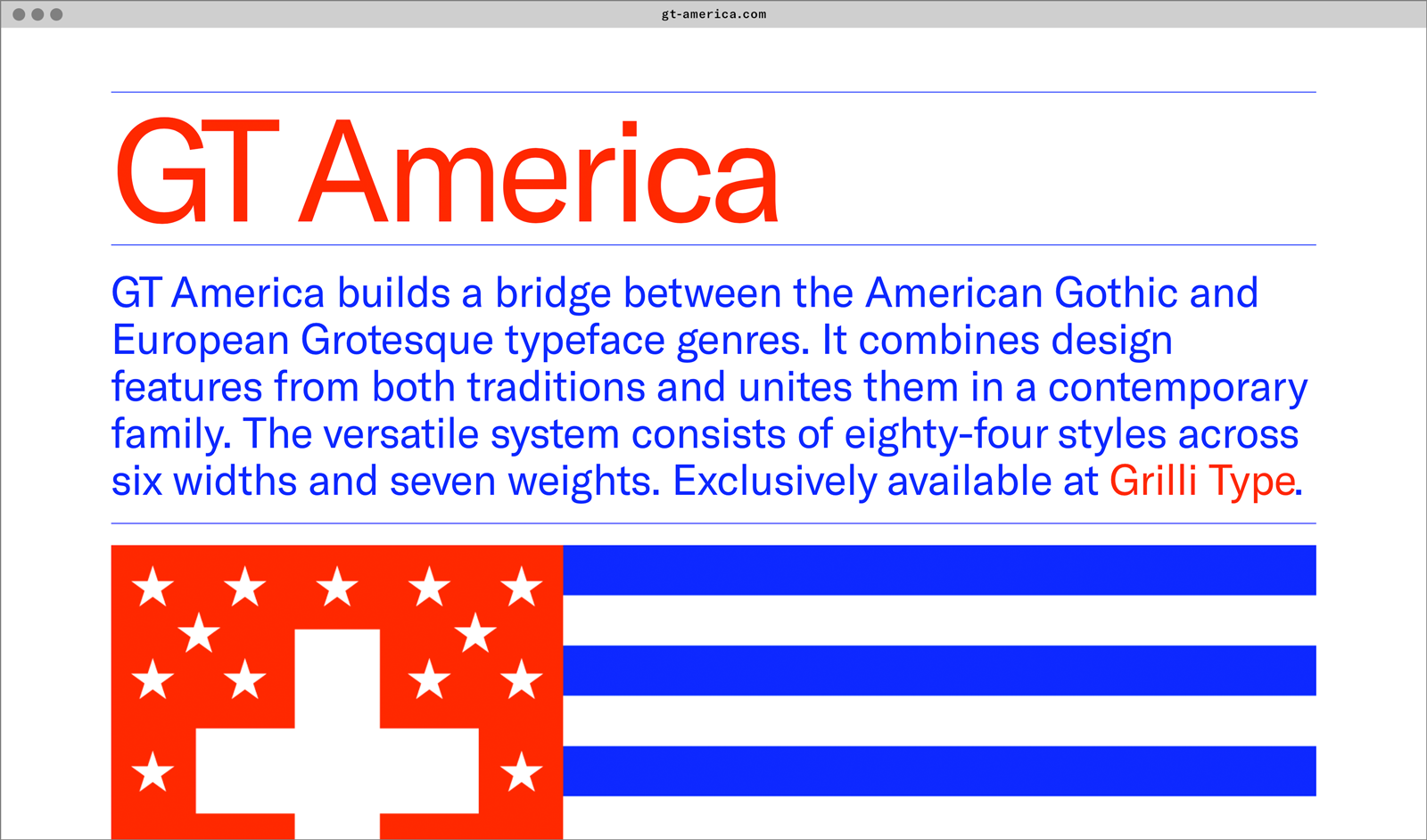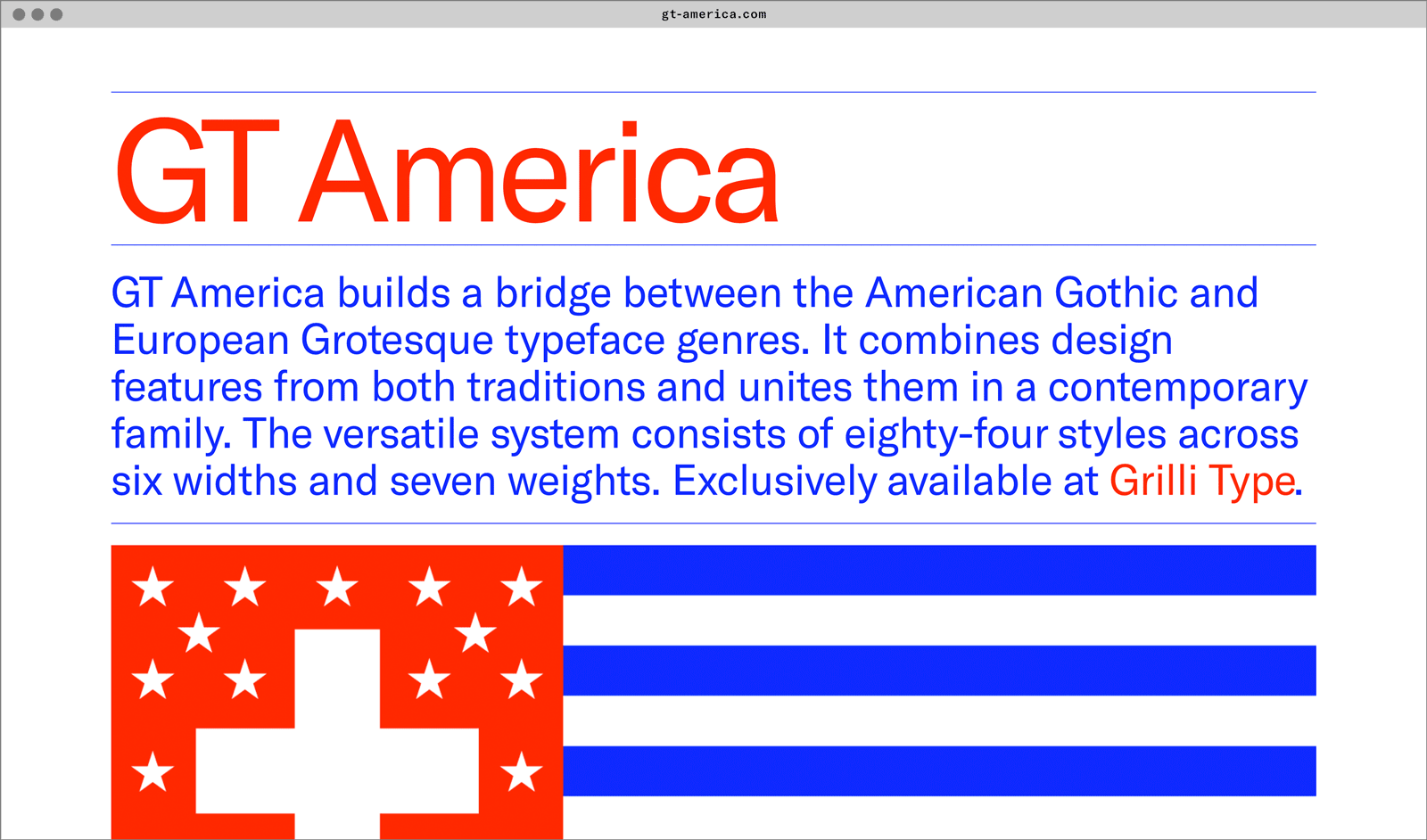 Visit the GT America minisite to discover more about the typeface family's history and design concept.