Family overview
Compressed
Ultra Light

Italic

Thin

Italic

Light

Italic

Regular

Italic

Medium

Italic

Bold

Italic

Black

Italic
Condensed
Ultra Light

Italic

Thin

Italic

Light

Italic

Regular

Italic

Medium

Italic

Bold

Italic

Black

Italic
Standard
Ultra Light

Italic

Thin

Italic

Light

Italic

Regular

Italic

Medium

Italic

Bold

Italic

Black

Italic
Extended
Ultra Light

Italic

Thin

Italic

Light

Italic

Regular

Italic

Medium

Italic

Bold

Italic

Black

Italic
Expanded
Ultra Light

Italic

Thin

Italic

Light

Italic

Regular

Italic

Medium

Italic

Bold

Italic

Black

Italic
Mono
Ultra Light

Italic

Thin

Italic

Light

Italic

Regular

Italic

Medium

Italic

Bold

Italic

Black

Italic
Standard Ultra Light

Seattle, Washington, 684'451, 83.9 sq mi, 47.6205°N 122.3509°W

Standard Ultra Light Italic

В 1507 году немецкий картограф Мартин Вальдзеемюллер издал карту мира, на которой земли Западного полушария были названы Америкой в честь итальянского исследователя и картографа Америго Веспуччи, это было первое использование топонима «Америка».

Standard Thin

Bill Clinton, August 19, 1946, Hope, Arkansas, January 20, 1993 – January 20, 2001

Standard Thin Italic

Until you start believing in yourself, you ain't gonna have a life.

Standard Light

Tên tiếng Anh đầy đủ của nước Mỹ xuất hiện lần đầu tiên vào năm 1776, lúc này chỉ mới có 13 bang đầu tiên.

Standard Light Italic

I've found that luck is quite predictable. If you want more luck, take more chances. Be more active. Show up more often.

Standard Regular

You can only become truly accomplished at something you love. Don't make money your goal. Instead, pursue the things you love doing, and then do them so well that people can't take their eyes off you.

Standard Regular Italic

Dig deep down and ask yourself, who do you wan to be?

Standard Medium

You, me, or nobody is gonna hit as hard as life.

Standard Medium Italic

El Paso, Texas, 681'124, 255.2 sq mi, 31.8484°N 106.4270°W

Standard Bold

Theodore Roosevelt, October 27, 1858, New York City, New York, September 14, 1901 – March 4, 1909

Standard Bold Italic

John Tyler, March 29, 1790, Charles City County, Virginia, April 4, 1841 – March 4, 1845

Standard Black

Chicago, Illinois, 2'720'546, 227.6 sq mi, 41.8376°N 87.6818°W

Standard Black Italic

Макклеллан выступал с партийной платформой «кандидата мира», но сам лично не верил в неё.
Typeface information
GT America is the missing bridge between 19th century American Gothics and 20th century European Neo-Grotesk typefaces. It uses the best design features from both traditions in the widths and weights where they function optimally.
Typeface features
OpenType features enable smart typography. You can use these features in most Desktop applications, on the web, and in your mobile apps. Each typeface contains different features. Below are the most important features included in GT America's fonts:
CASE
Case sensitive forms
¿¡WHAT?!
Typeface Minisite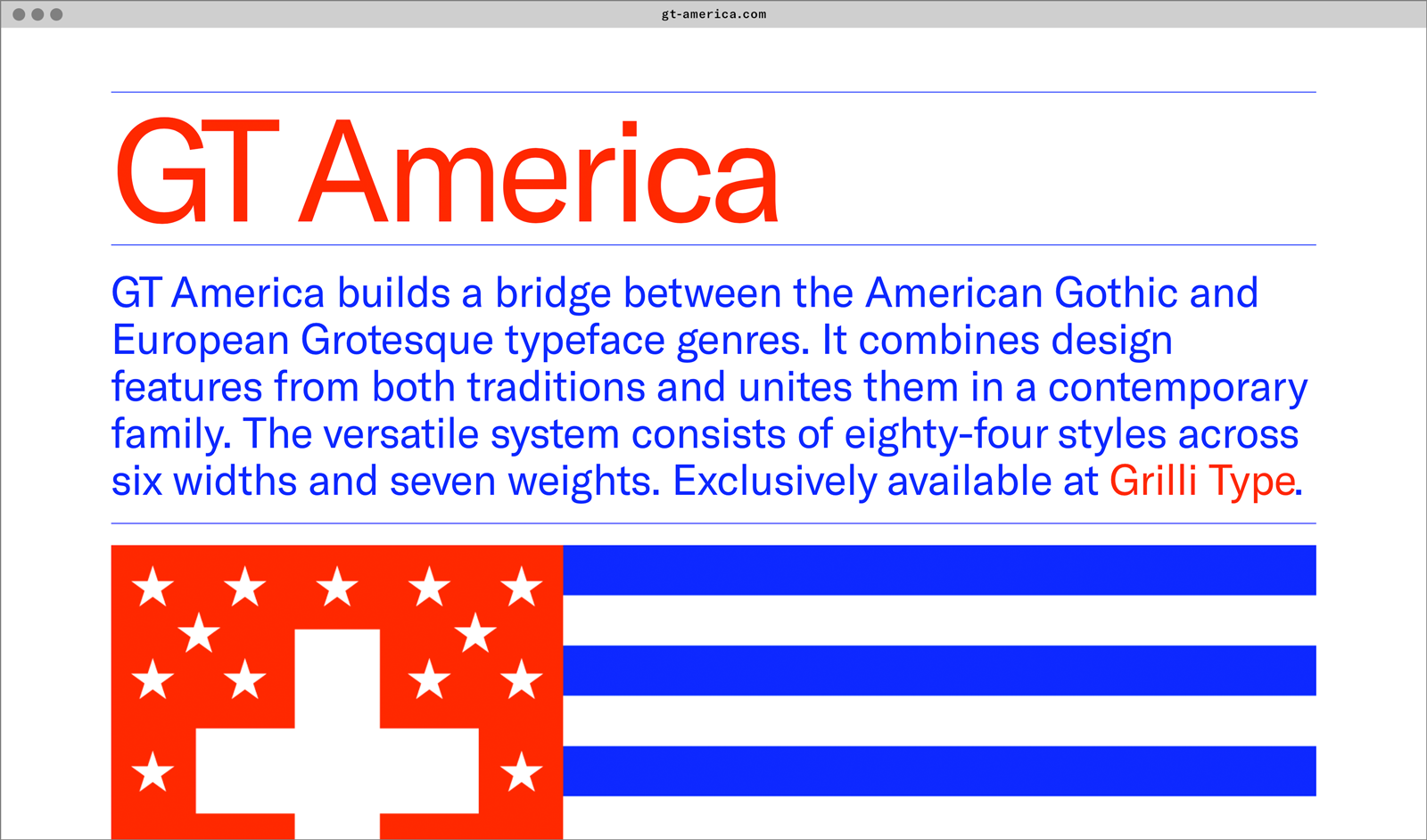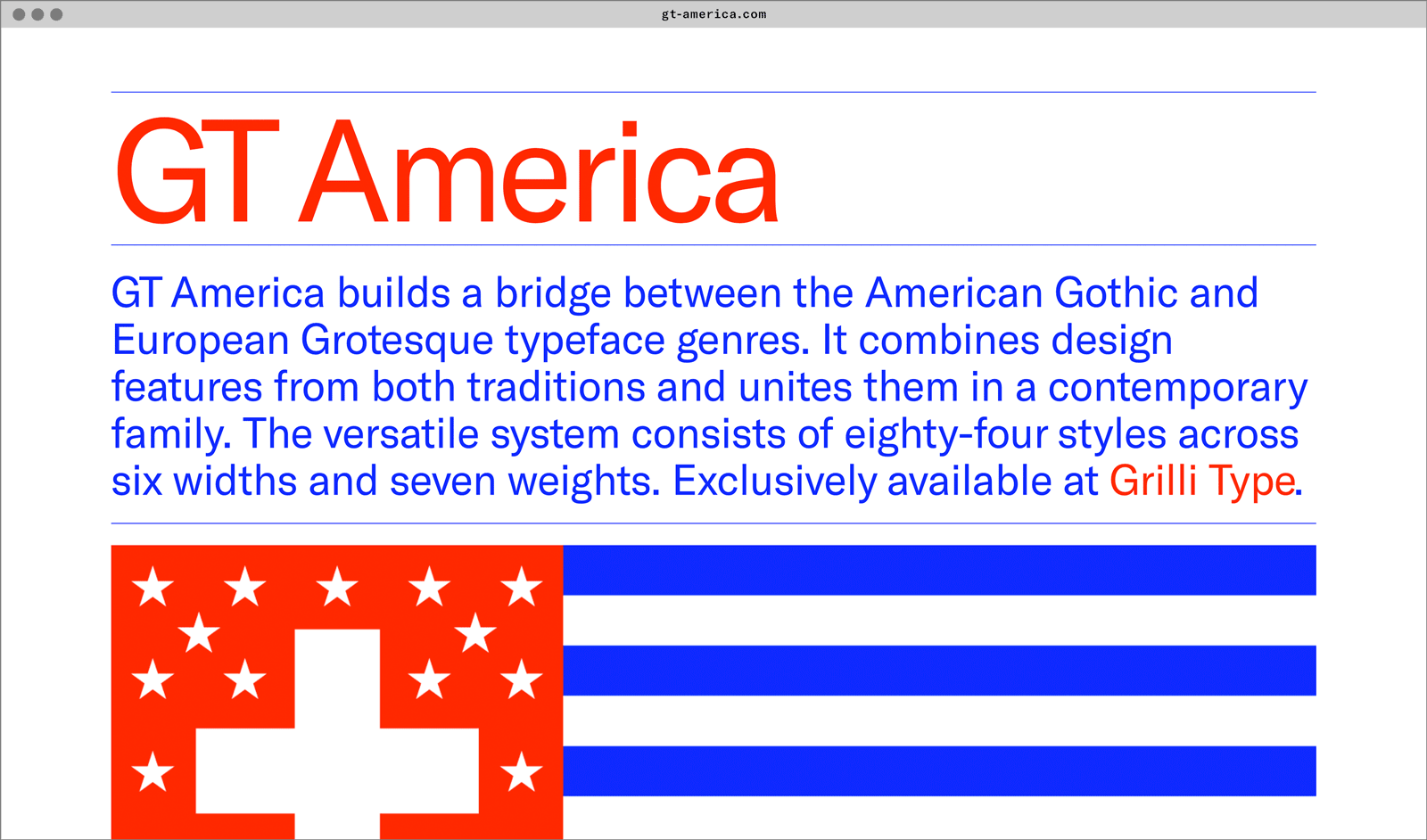 Visit the GT America minisite to discover more about the typeface family's history and design concept.