Family overview
X Compressed
Lazer

Italic

Thin

Italic

Light

Italic

Regular

Italic

Medium

Italic

Bold

Italic

Black

Italic
Compressed
Lazer

Italic

Thin

Italic

Light

Italic

Regular

Italic

Medium

Italic

Bold

Italic

Black

Italic
Condensed
Lazer

Italic

Thin

Italic

Light

Italic

Regular

Italic

Medium

Italic

Bold

Italic

Black

Italic
Standard
Lazer

Italic

Thin

Italic

Light

Italic

Regular

Italic

Medium

Italic

Bold

Italic

Black

Italic
Extended
Lazer

Italic

Thin

Italic

Light

Italic

Regular

Italic

Medium

Italic

Bold

Italic

Black

Italic
Expanded
Lazer

Italic

Thin

Italic

Light

Italic

Regular

Italic

Medium

Italic

Bold

Italic

Black

Italic
X Expanded
Lazer

Italic

Thin

Italic

Light

Italic

Regular

Italic

Medium

Italic

Bold

Italic

Black

Italic
Mono
Lazer

Italic

Thin

Italic

Light

Italic

Regular

Italic

Medium

Italic

Bold

Italic

Black

Italic
Standard Lazer

You kick down doors, you kick down walls and everyone who tells you you can't.

Standard Lazer Italic

I would love to lose some pounds, but I'm a winner, not a loser.

Standard Thin

I don't want to fall back on anything. I want to fall forward.

Standard Thin Italic

I used to play sports. Then I realized you can buy trophies. Now I am good at everything.

Standard Light

Fall in love with the process of becoming the very best version of yourself.

Standard Light Italic

Sucess isn't owned, it's leased. And rent is due every day.

Standard Regular

Great things never come from comfort zones.

Standard Regular Italic

If it doesn't challenge you, it won't change you.

Standard Medium

Raise your standards and the universe will meet you there.

Standard Medium Italic

Obstacles don't have to stop you. If you run into a wall, don't go around it, figure out how to climb it.

Standard Bold

Sometimes you just gotta say "fuck it" and eat some pizza.

Standard Bold Italic

Walking is the best possible exercise. Habituate yourself to walk very far away.

Standard Black

We didn't lose the game; we just ran out of time.

Standard Black Italic

Number one, like yourself. Number two, eat healthy. Number three, squeeze your buns.
Typeface information
Instead of the traditional view of a typeface as a collection of static styles, GT Flexa embraces the idea of a fluid design space. As a dynamic tool, it enables joyful typesetting that allows for fully responsive designs. The result is an impressively extensive typographic system with a distinctive personality.
Typeface features
OpenType features enable smart typography. You can use these features in most Desktop applications, on the web, and in your mobile apps. Each typeface contains different features. Below are the most important features included in GT Flexa's fonts:
SS01
Rounded punctuation and diacritics
Mällëäblë
SS05
Connected f-l ligatures
Offloader
Typeface Minisite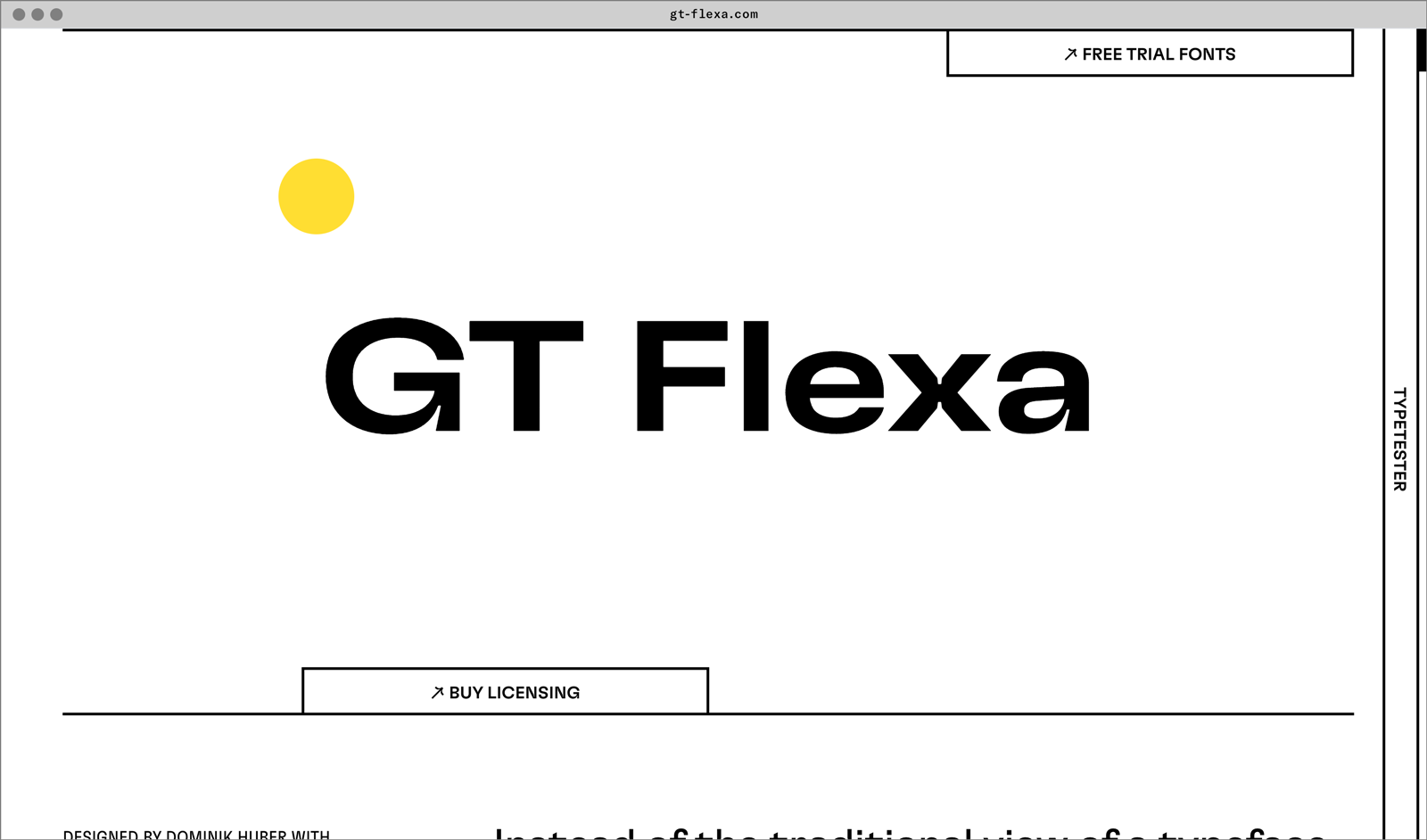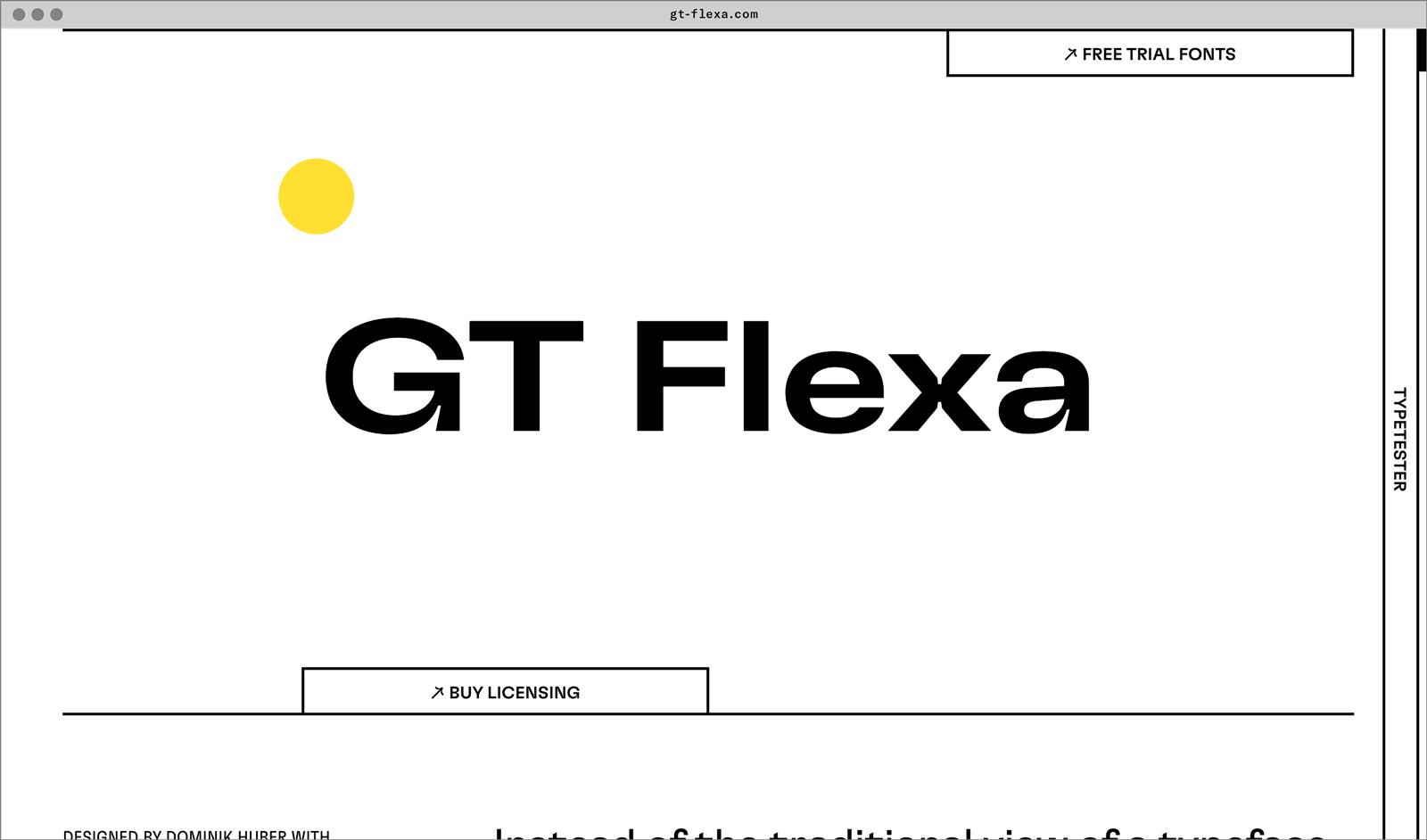 Visit the GT Flexa minisite to discover more about the typeface family's history and design concept.