Family overview
X Compressed
Lazer

Italic

Thin

Italic

Light

Italic

Regular

Italic

Medium

Italic

Bold

Italic

Black

Italic
Compressed
Lazer

Italic

Thin

Italic

Light

Italic

Regular

Italic

Medium

Italic

Bold

Italic

Black

Italic
Condensed
Lazer

Italic

Thin

Italic

Light

Italic

Regular

Italic

Medium

Italic

Bold

Italic

Black

Italic
Standard
Lazer

Italic

Thin

Italic

Light

Italic

Regular

Italic

Medium

Italic

Bold

Italic

Black

Italic
Extended
Lazer

Italic

Thin

Italic

Light

Italic

Regular

Italic

Medium

Italic

Bold

Italic

Black

Italic
Expanded
Lazer

Italic

Thin

Italic

Light

Italic

Regular

Italic

Medium

Italic

Bold

Italic

Black

Italic
X Expanded
Lazer

Italic

Thin

Italic

Light

Italic

Regular

Italic

Medium

Italic

Bold

Italic

Black

Italic
Mono
Lazer

Italic

Thin

Italic

Light

Italic

Regular

Italic

Medium

Italic

Bold

Italic

Black

Italic
Standard Lazer

Life has it's ups and downs. We call them Squats.

Standard Lazer Italic

Impossible is just an opinion.

Standard Thin

Fall in love with the process of becoming the very best version of yourself.

Standard Thin Italic

The only place where success comes before work is in the dictionary.

Standard Light

Great things never come from comfort zones.

Standard Light Italic

If you ain't pissed off for greatness, that just means you're okay with being mediocre.

Standard Regular

Exercise is done against one's wishes and maintained only because the alternative is worse.

Standard Regular Italic

When I lost all my excuses I found all my results.

Standard Medium

If it doesn't challenge you, it won't change you.

Standard Medium Italic

The fact that you aren't where you want to be should be enough motivation.

Standard Bold

Practice like you've never won. Play like you've never lost.

Standard Bold Italic

There are some things that just aren't meant to be changed. Your body is not one of them.

Standard Black

No bird soars too high if he soars with his own wings.

Standard Black Italic

Success is where preperation and opportunity meet.
Typeface information
Instead of the traditional view of a typeface as a collection of static styles, GT Flexa embraces the idea of a fluid design space. As a dynamic tool, it enables joyful typesetting that allows for fully responsive designs. The result is an impressively extensive typographic system with a distinctive personality.
Typeface features
OpenType features enable smart typography. You can use these features in most Desktop applications, on the web, and in your mobile apps. Each typeface contains different features. Below are the most important features included in GT Flexa's fonts:
SS01
Rounded punctuation and diacritics
Mällëäblë
SS05
Connected f-l ligatures
Offloader
Typeface Minisite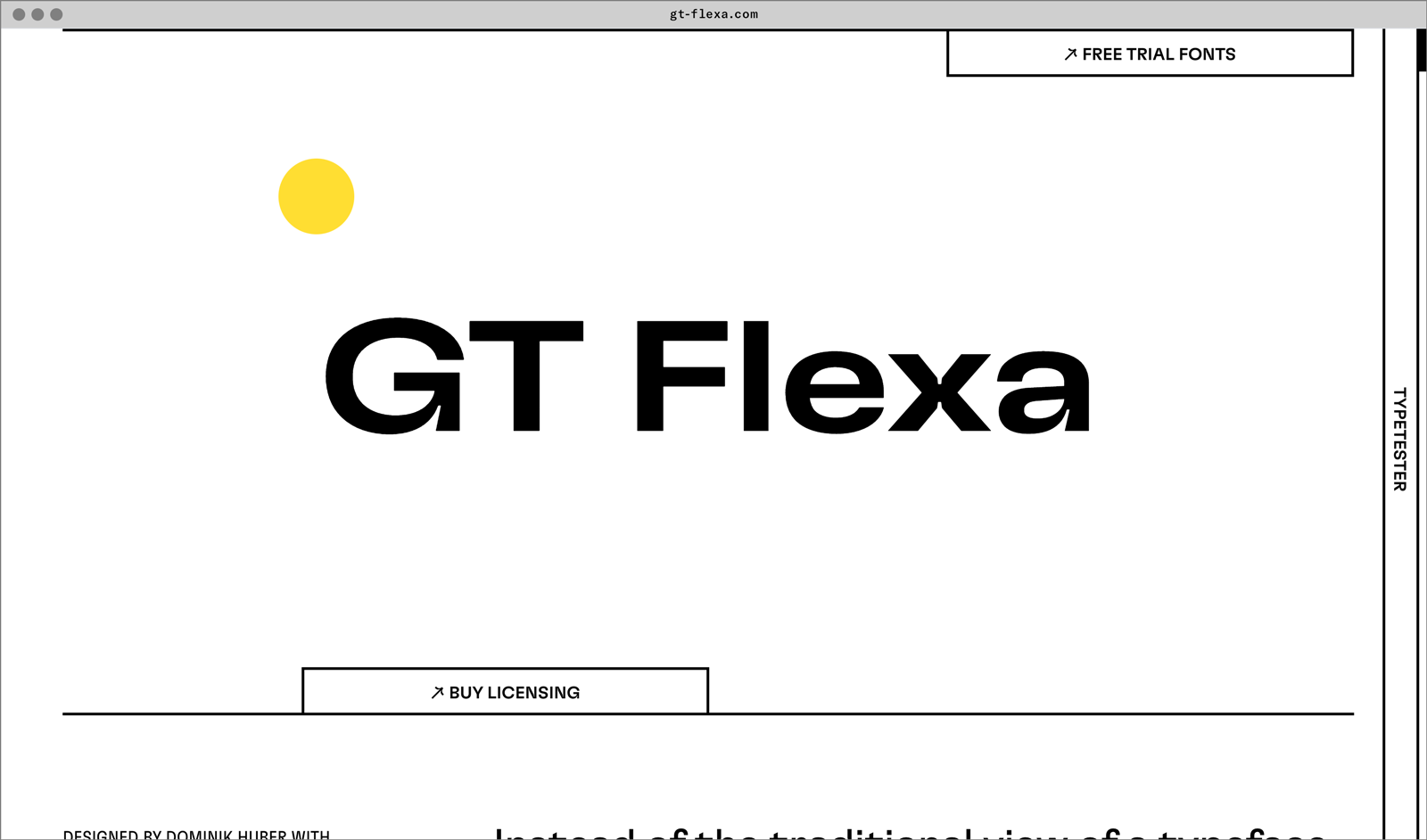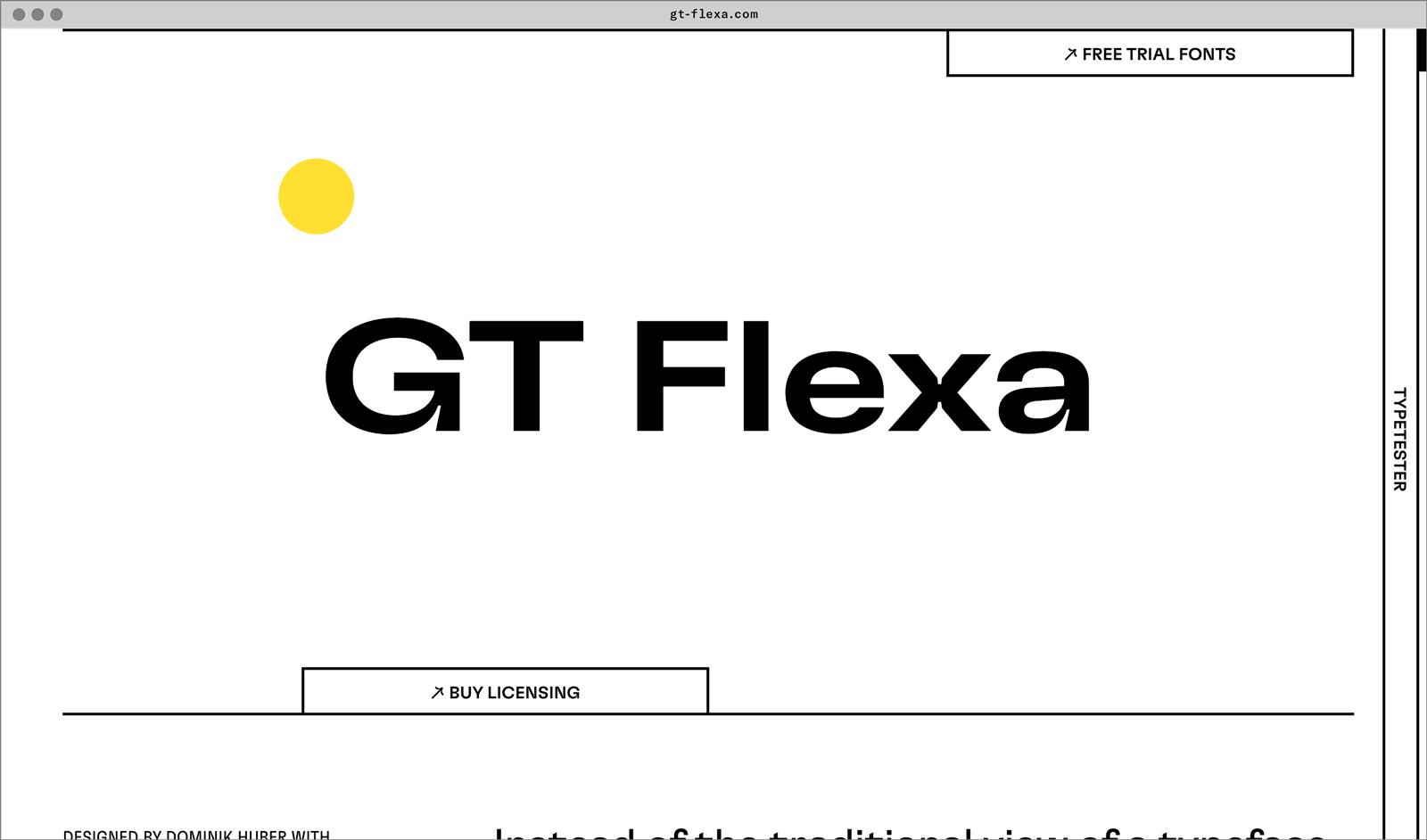 Visit the GT Flexa minisite to discover more about the typeface family's history and design concept.