Family overview
X Compressed
Lazer

Italic

Thin

Italic

Light

Italic

Regular

Italic

Medium

Italic

Bold

Italic

Black

Italic
Compressed
Lazer

Italic

Thin

Italic

Light

Italic

Regular

Italic

Medium

Italic

Bold

Italic

Black

Italic
Condensed
Lazer

Italic

Thin

Italic

Light

Italic

Regular

Italic

Medium

Italic

Bold

Italic

Black

Italic
Standard
Lazer

Italic

Thin

Italic

Light

Italic

Regular

Italic

Medium

Italic

Bold

Italic

Black

Italic
Extended
Lazer

Italic

Thin

Italic

Light

Italic

Regular

Italic

Medium

Italic

Bold

Italic

Black

Italic
Expanded
Lazer

Italic

Thin

Italic

Light

Italic

Regular

Italic

Medium

Italic

Bold

Italic

Black

Italic
X Expanded
Lazer

Italic

Thin

Italic

Light

Italic

Regular

Italic

Medium

Italic

Bold

Italic

Black

Italic
Mono
Lazer

Italic

Thin

Italic

Light

Italic

Regular

Italic

Medium

Italic

Bold

Italic

Black

Italic
Standard Lazer

Excuses are for people who don't want it bad enough.

Standard Lazer Italic

If you don't have a mountain, build one and then climb it.

Standard Thin

Excersice in the morning before your brain figures out what you're doing.

Standard Thin Italic

We didn't lose the game; we just ran out of time.

Standard Light

A hill is just another opportunity to leave your competition behind.

Standard Light Italic

I hate every minute of training. But I said, don't quit. Suffer now and live the rest of your life as a champion.

Standard Regular

Everything is hard before it is easy

Standard Regular Italic

When you think about stopping, stop thinking.

Standard Medium

You don't get the ass you want by sitting on it.

Standard Medium Italic

When I lost all my excuses I found all my results.

Standard Bold

Hard work beats talent when talent fails to work hard.

Standard Bold Italic

I don't even have weekdays on my calendar. Only strongdays.

Standard Black

I don't want to fall back on anything. I want to fall forward.

Standard Black Italic

I don't even have weekdays on my calendar. Only strongdays.
Typeface information
Instead of the traditional view of a typeface as a collection of static styles, GT Flexa embraces the idea of a fluid design space. As a dynamic tool, it enables joyful typesetting that allows for fully responsive designs. The result is an impressively extensive typographic system with a distinctive personality.
Typeface features
OpenType features enable smart typography. You can use these features in most Desktop applications, on the web, and in your mobile apps. Each typeface contains different features. Below are the most important features included in GT Flexa's fonts:
SS01
Rounded punctuation and diacritics
Mällëäblë
SS05
Connected f-l ligatures
Offloader
Typeface Minisite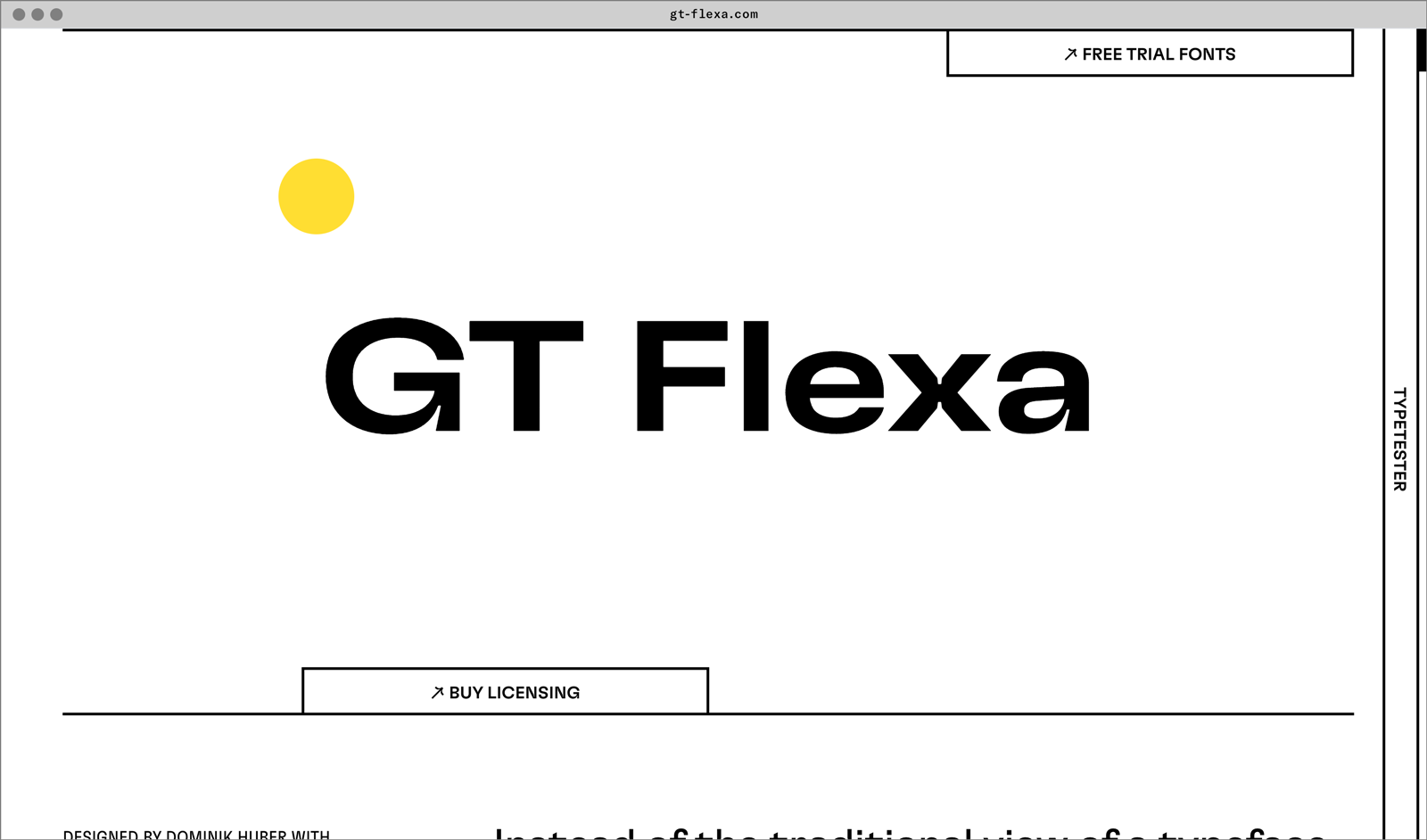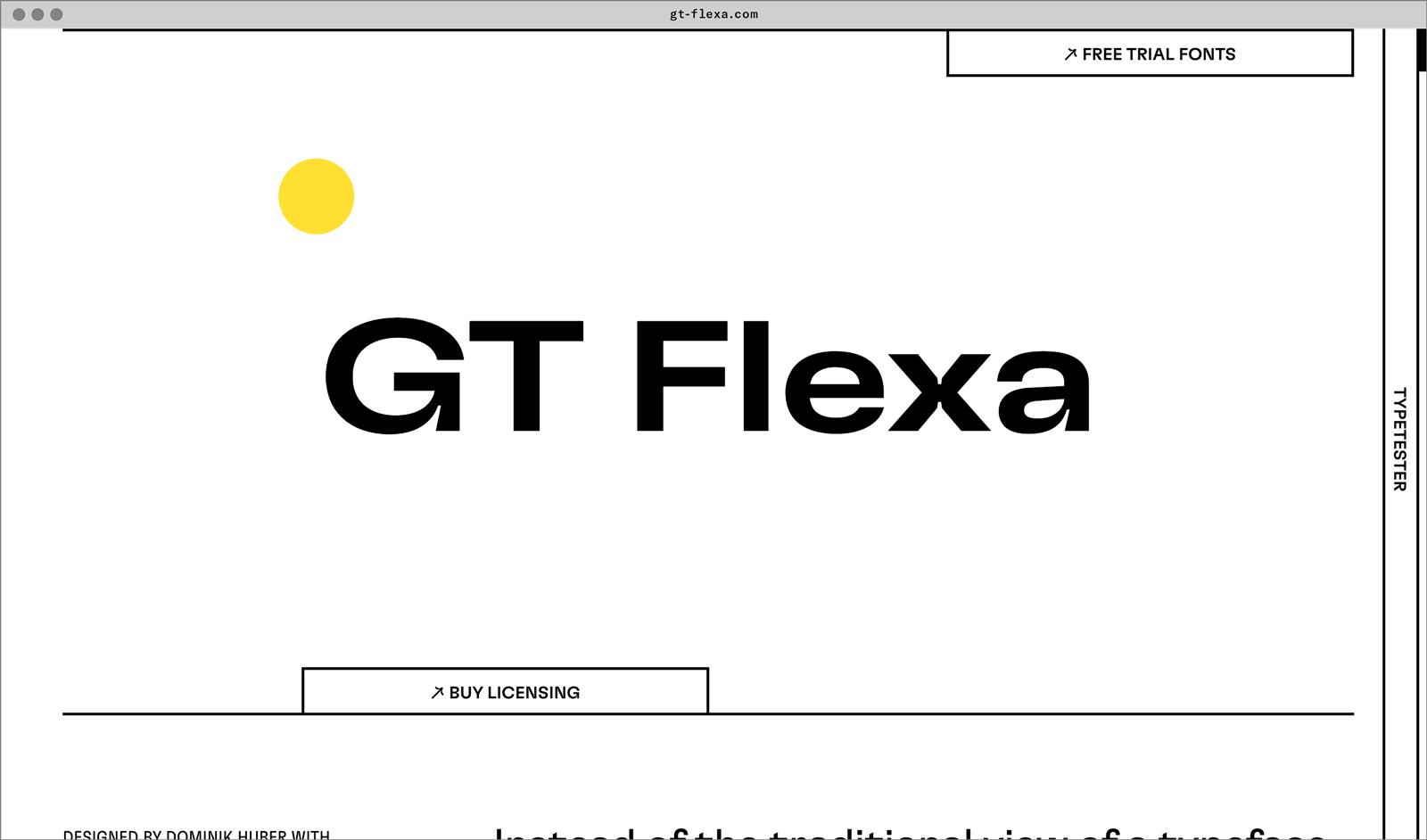 Visit the GT Flexa minisite to discover more about the typeface family's history and design concept.