Family overview
GT Walsheim
Ultra Light

Oblique

Thin

Oblique

Light

Oblique

Regular

Oblique

Medium

Oblique

Bold

Oblique

Black

Oblique

Ultra Bold

Oblique
Condensed
Ultra Light

Oblique

Thin

Oblique

Light

Oblique

Regular

Oblique

Medium

Oblique

Bold

Oblique

Black

Oblique

Ultra Bold

Oblique
Ultra Light

Георгий Августович – Georgue Augustowitsch Stenberg – 7 октября 1900 — 15 октября 1933

Ultra Light Oblique

Martin Woodtli – Мартин Вотли – 22. Dezember in Bern 1971

Thin

Erich Brechbühl – Эрих Брехбюл – 3. Oktober 1977

Thin Oblique

Hans Arp – Ганс Арп – 16. September 1886 in Straßburg als Hans Peter Wilhelm Arp – 7. Juni 1966 in Basel

Light

Richard Paul Lohse – Рихардь Пауль Лосе – 13. September 1902 in Zürich – 16. September 1988 in Zürich

Light Oblique

Richard Paul Lohse – Рихардь Пауль Лосе – 13. September 1902 in Zürich – 16. September 1988 in Zürich

Regular

Эль Лисицкий – El Lissitzky – 10 (22) ноября 1890, Починок Смоленской губернии (ныне Смоленская область) — 30 декабря 1941, Москва

Regular Oblique

Donald Brun – Доналд Брун – 30. Oktober 1909 in Basel, Schweiz – 15. August 1999 in Clarens, Gemeinde Montreux

Medium

Hans Neuburg – Ганс Ноибург – 20. März 1904 in Grulich – 24. Juni 1983 in Zürich

Medium Oblique

Theo Ballmer – Тео Балмер – 29. September 1902 in Lausanne – 10. Dezember 1965 in Basel

Bold

Ralph Schraivogel – Ральф Шраифогель – 4. Juni 1960 in Luzern

Bold Oblique

Thierry Blancpain – Tиери Блянкпэн – 24. September 1985 in Zürich

Black

Niklaus Troxler – Никлаус Трокслер – 1. Mai 1947 in Willisau

Black Oblique

Эрик Игоревич Белоусов – Erich Igorewitsch Belousow 17.01.1964 в Душанбе. В 1992 окончил Московское высшее

Ultra Bold

Otto Baumberger – Отто Баумбергер – 21. Mai 1889 in Altstetten – 26. Dezember 1961 in Weiningen

Ultra Bold Oblique

Max Miedinger – Макс Мидингер – 24 December 1910 in Zürch, Schweiz – 8. March 1980, Zürich, Schweiz
Typeface information
Inspired by the lettering of Swiss poster designer legend Otto Baumberger from the 1930s, GT Walsheim is a friendly but precise typeface. Supports all Cyrillic languages.
Typeface features
OpenType features enable smart typography. You can use these features in most Desktop applications, on the web, and in your mobile apps. Each typeface contains different features. Below are the most important features included in GT Walsheim's fonts:
Typeface Minisite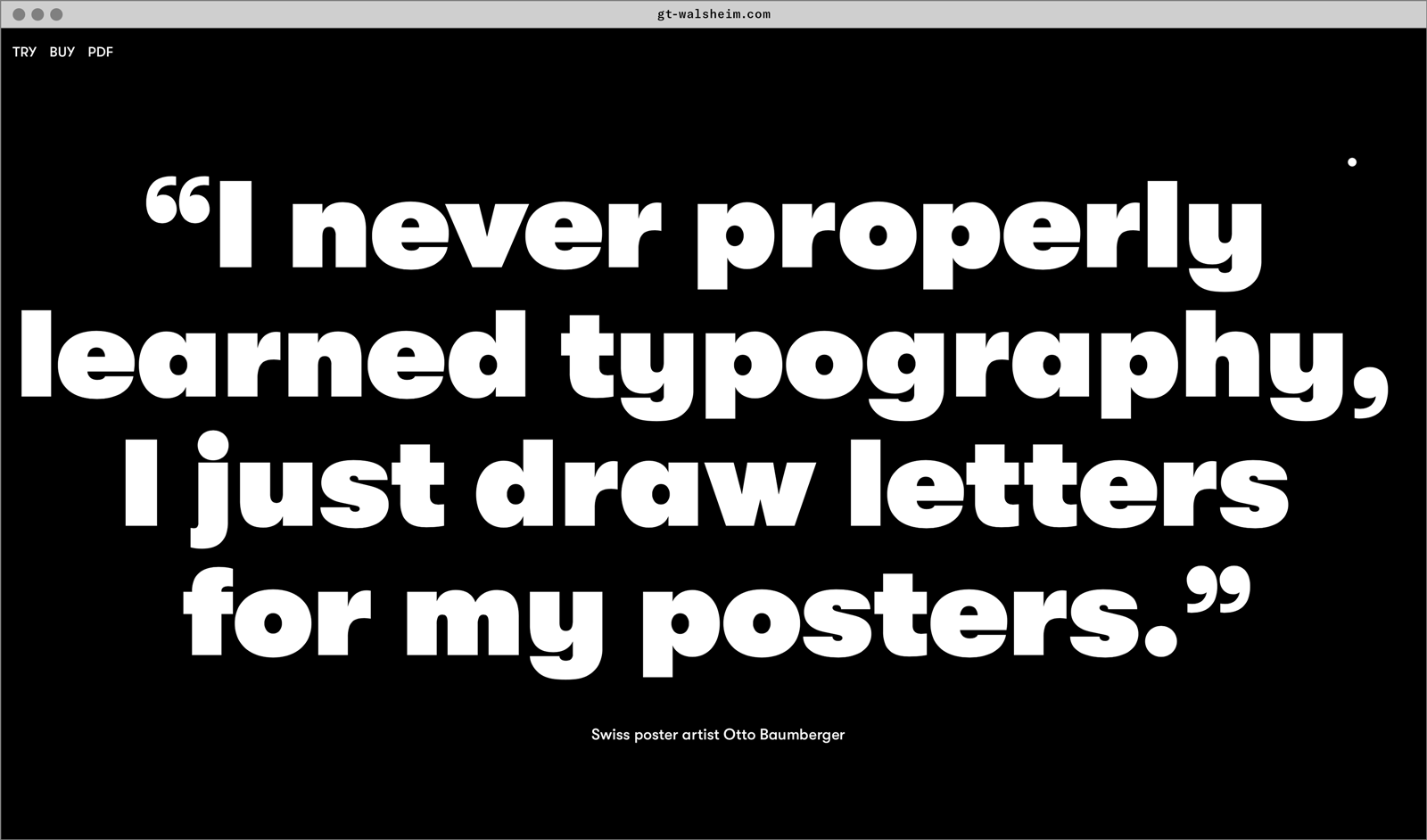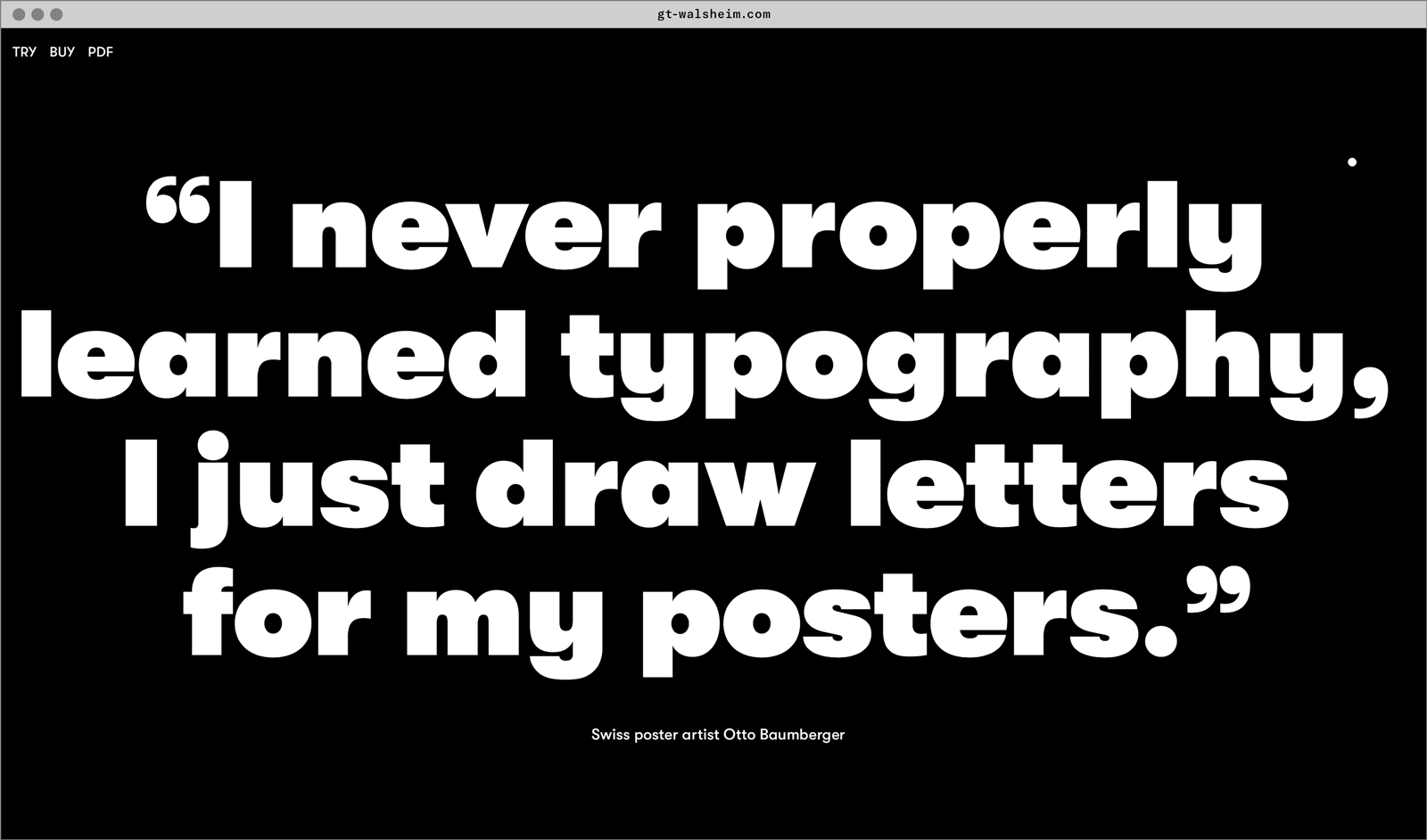 Visit the GT Walsheim minisite to discover more about the typeface family's history and design concept.