Family overview
Condensed
Thin

Italic

Light

Italic

Regular

Italic

Medium

Italic

Bold

Italic
Standard
Thin

Italic

Light

Italic

Regular

Italic

Medium

Italic

Bold

Italic
Extended
Thin

Italic

Light

Italic

Regular

Italic

Medium

Italic

Bold

Italic
Fine Condensed
Thin

Italic

Light

Italic

Regular

Italic

Medium

Italic

Bold

Italic
Fine Standard
Thin

Italic

Light

Italic

Regular

Italic

Medium

Italic

Bold

Italic
Fine Extended
Thin

Italic

Light

Italic

Regular

Italic

Medium

Italic

Bold

Italic
Typewriter
Thin

Italic

Light

Italic

Regular

Italic

Medium

Italic

Bold

Italic
Standard Thin

Wildlife such as ibex live in the higher peaks to elevations of 3,400 m (11,155 ft), and plants such as Edelweiss grow in rocky areas in lower elevations as well as in higher elevations

Standard Thin Italic

The most notable feature of the Eiger is its 1,800-metre-high north face of rock and ice, named Eiger-Nordwand, which is the biggest north face in the Alps.

Standard Light

It is a large, near-symmetric pyramidal peak in the extended Monte Rosa area of the Pennine Alps, whose summit is 4,478 metres

Standard Light Italic

Jass, first mentioned in Switzerland in 1796, was originally the name of the highest trump, the Jack.

Standard Regular

Reinhold Messner made the first solo ascent of Mount Everest, the first ascent of Everest without supplemental oxygen, along with Peter Habeler

Standard Regular Italic

The first British Mont Blanc ascent was in 1788

Standard Medium

The climb is notable for the friendly rivalry that it provoked between Ondra and Sharma, with Sharma established as the strongest sport climber in the world

Standard Medium Italic

Breath taking journey???? Steep hill train only one word can come out of you is wow!! Beautiful place.

Standard Bold

The mountain overlooks the Swiss town of Zermatt, in the canton of Valais, to the north-east and the Italian town of Breuil-Cervinia in the Aosta Valley to the south.

Standard Bold Italic

Norgay had reached 8,595 m (28,199 ft) the previous year as a member of the 1952 Swiss expedition.
Typeface information
GT Alpina proudly calls itself a workhorse serif, but delights in playing with the very meaning of that concept. It reaches into the grab bag of typographic history to resurrect shapes some may falsely see as too expressive, resulting in a meticulous family melding these distinct shapes with a pragmatic execution.
Typeface features
OpenType features enable smart typography. You can use these features in most Desktop applications, on the web, and in your mobile apps. Each typeface contains different features. Below are the most important features included in GT Alpina's fonts:
Typeface Minisite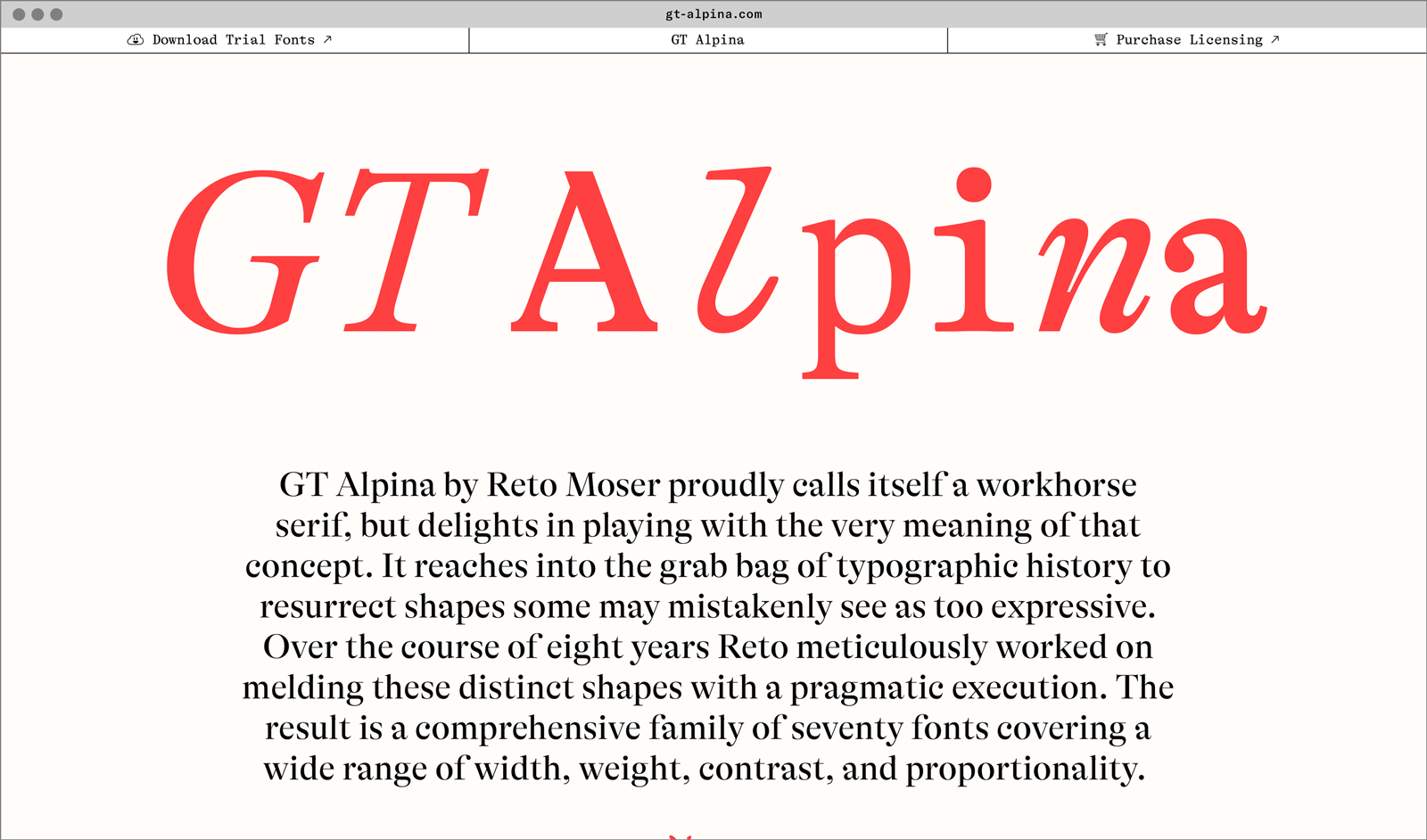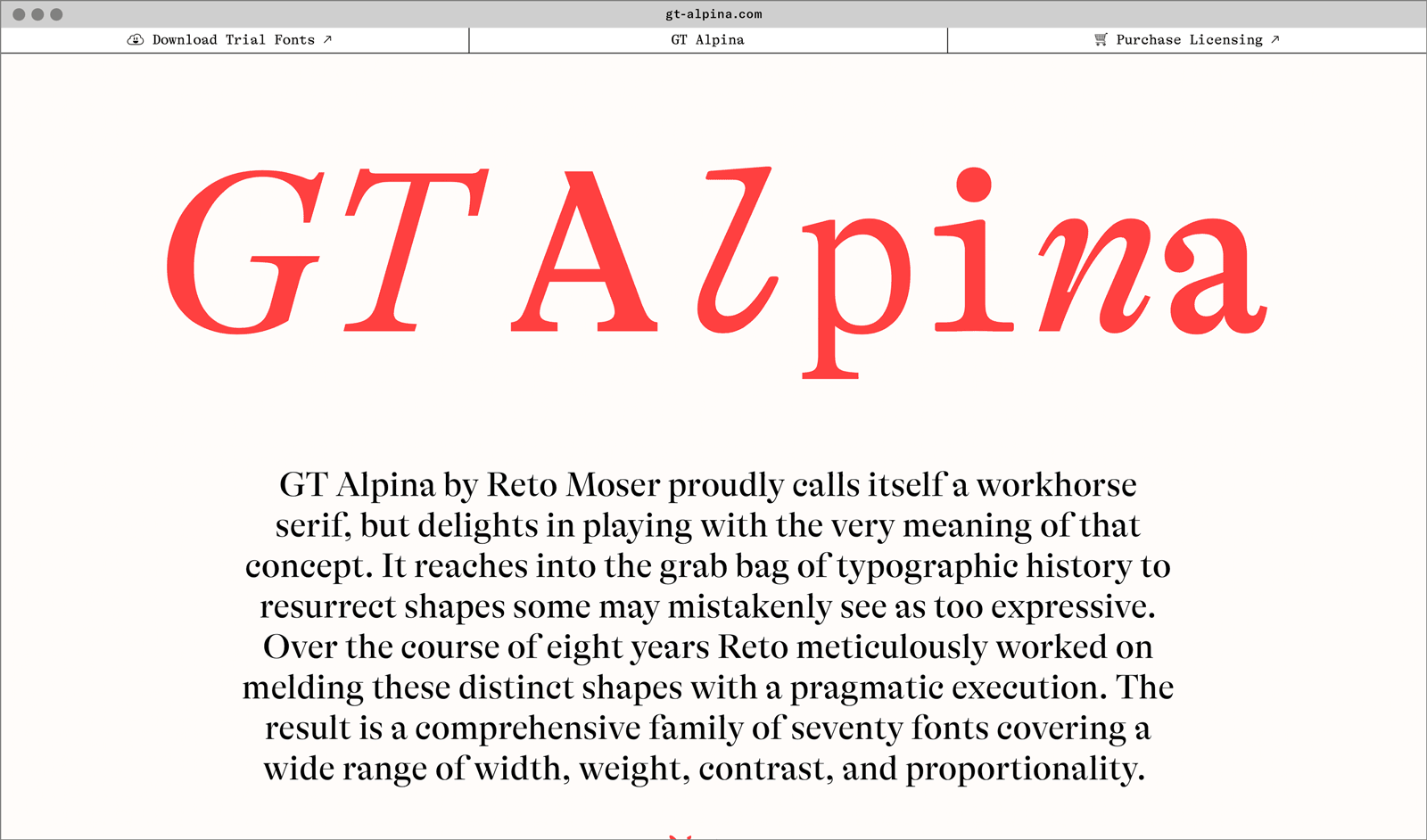 Visit the GT Alpina minisite to discover more about the typeface family's history and design concept.