Family overview
Condensed
Thin

Italic

Light

Italic

Regular

Italic

Medium

Italic

Bold

Italic
Standard
Thin

Italic

Light

Italic

Regular

Italic

Medium

Italic

Bold

Italic
Extended
Thin

Italic

Light

Italic

Regular

Italic

Medium

Italic

Bold

Italic
Fine Condensed
Thin

Italic

Light

Italic

Regular

Italic

Medium

Italic

Bold

Italic
Fine Standard
Thin

Italic

Light

Italic

Regular

Italic

Medium

Italic

Bold

Italic
Fine Extended
Thin

Italic

Light

Italic

Regular

Italic

Medium

Italic

Bold

Italic
Typewriter
Thin

Italic

Light

Italic

Regular

Italic

Medium

Italic

Bold

Italic
Standard Thin

In the middle of the great curve of the Himalayan mountains lie the 8,000 m (26,000 ft) peaks of Dhaulagiri and Annapurna in Nepal, separated by the Kali Gandaki Gorge.

Standard Thin Italic

On 18 May 1956, Reiss and Luchsinger successfully climbed the 8,516-metre (27,940 ft) Lhotse, the fourth highest mountain on earth.

Standard Light

The Alps are a crescent shaped geographic feature of central Europe that ranges in an 800 km arc from east to west and is 200 km in width

Standard Light Italic

The farthest visible point (43 ° 45 ′ 49.8 ″ N, 12 ° 16 ′ 30.8 ″ E) from Piz Bernina is on a ridge

Standard Regular

The Konkordia Hut is a mountain hut of the Swiss Alpine Club, located north of Fieschertal in the canton of Valais.

Standard Regular Italic

The route starts from the Tschierva Hut (2,584 m (8,478 ft) in Val Roseg, accessible from Pontresina.

Standard Medium

The highest peaks of the Western Alps and Eastern Alps, respectively, are Mont Blanc, at 4,810 m (15,780 ft) and Piz Bernina at 4,049 metres (13,284 ft)

Standard Medium Italic

The next Himalayan Indian state, Himachal Pradesh, it is noted for its hill stations, particularly Shimla, the summer capital

Standard Bold

The first recorded ascent of Mont Blanc was on 8 August 1786 by Jacques Balmat and the doctor Michel Paccard

Standard Bold Italic

A mountain? Pffff, boooring! It could have been whiter as well… calls itself Mont Blanc, what a joke ⭑⭒⭒⭒⭒
Typeface information
GT Alpina proudly calls itself a workhorse serif, but delights in playing with the very meaning of that concept. It reaches into the grab bag of typographic history to resurrect shapes some may falsely see as too expressive, resulting in a meticulous family melding these distinct shapes with a pragmatic execution.
Typeface features
OpenType features enable smart typography. You can use these features in most Desktop applications, on the web, and in your mobile apps. Each typeface contains different features. Below are the most important features included in GT Alpina's fonts:
Typeface Minisite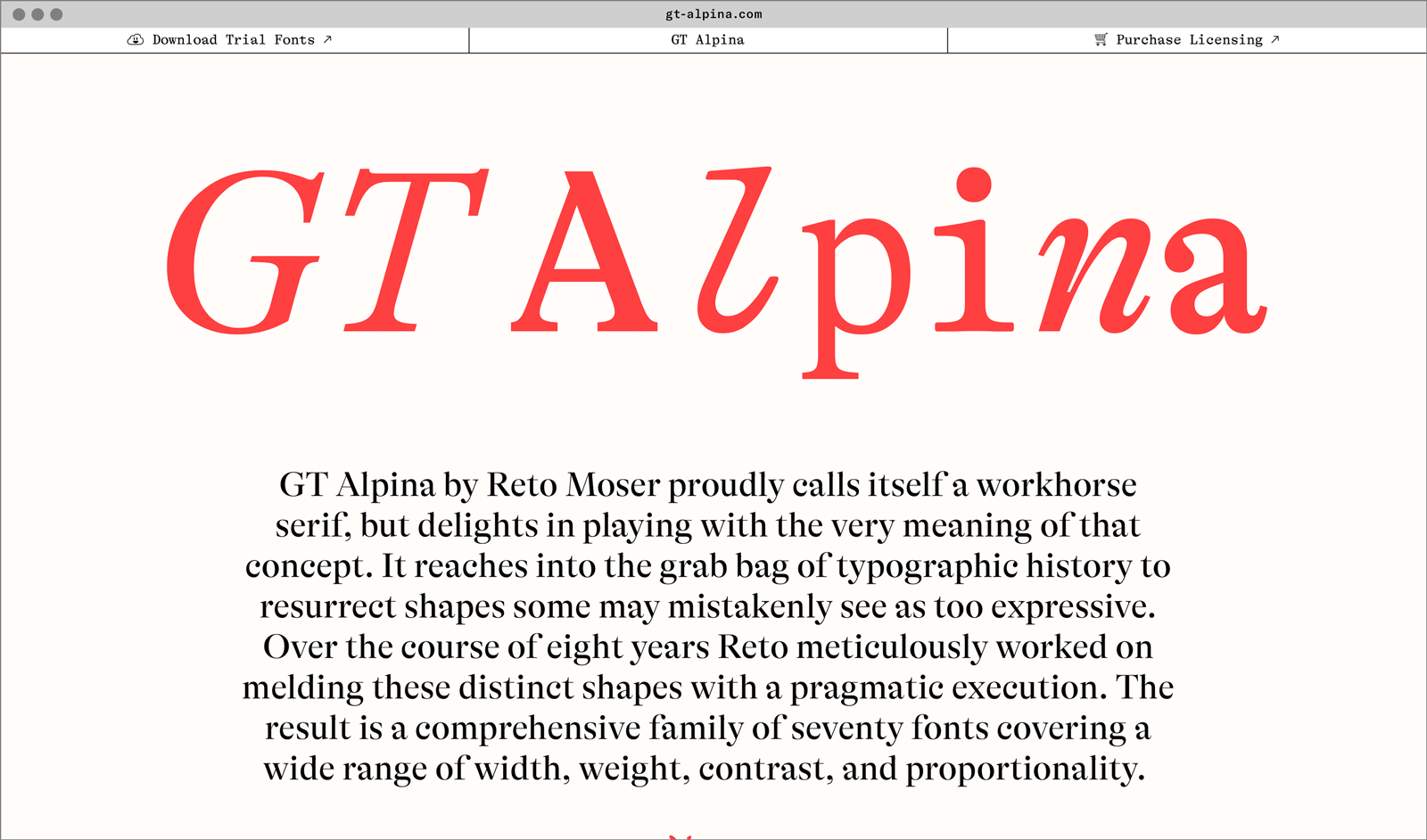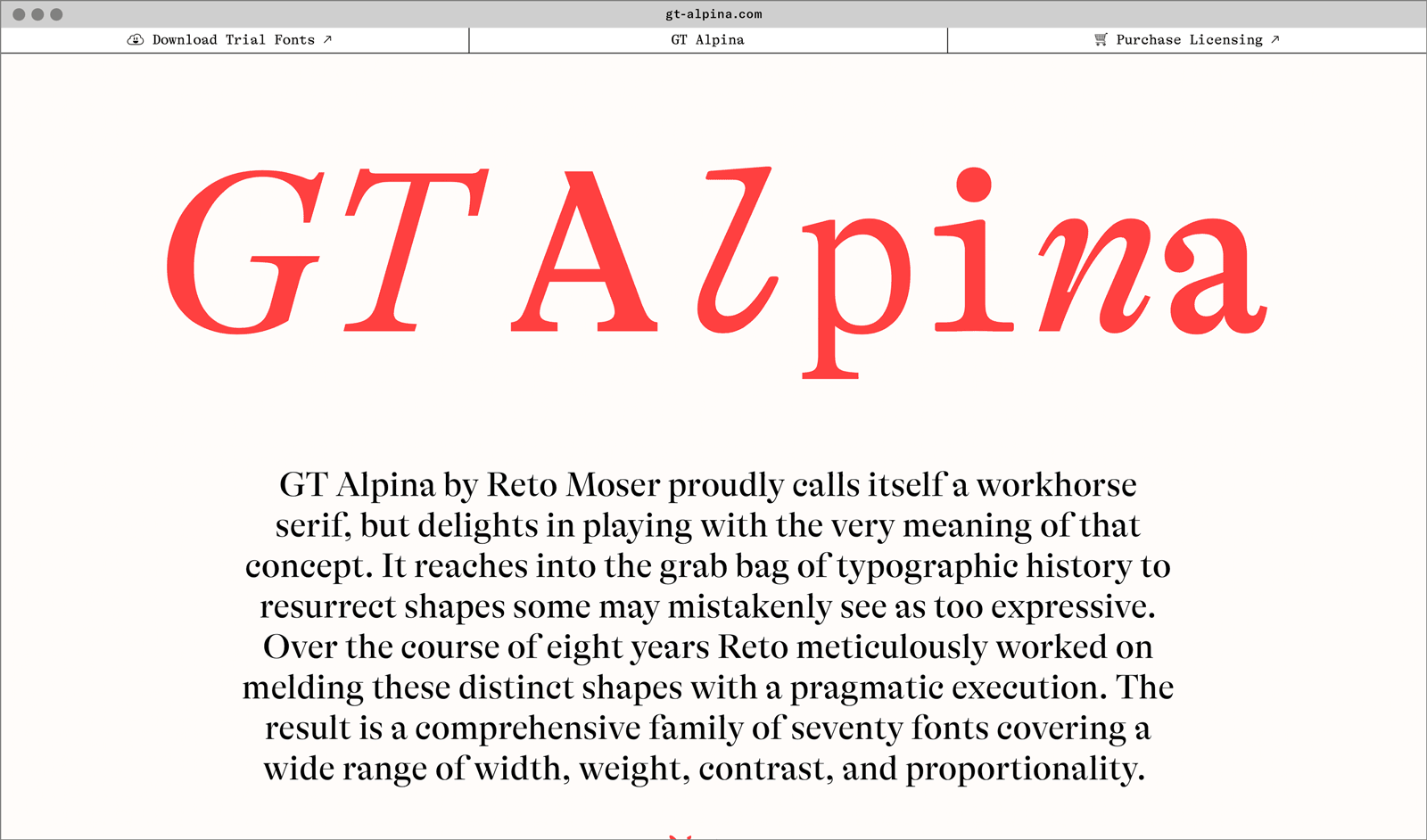 Visit the GT Alpina minisite to discover more about the typeface family's history and design concept.