Family overview
Condensed
Thin

Italic

Light

Italic

Regular

Italic

Medium

Italic

Bold

Italic
Standard
Thin

Italic

Light

Italic

Regular

Italic

Medium

Italic

Bold

Italic
Extended
Thin

Italic

Light

Italic

Regular

Italic

Medium

Italic

Bold

Italic
Fine Condensed
Thin

Italic

Light

Italic

Regular

Italic

Medium

Italic

Bold

Italic
Fine Standard
Thin

Italic

Light

Italic

Regular

Italic

Medium

Italic

Bold

Italic
Fine Extended
Thin

Italic

Light

Italic

Regular

Italic

Medium

Italic

Bold

Italic
Typewriter
Thin

Italic

Light

Italic

Regular

Italic

Medium

Italic

Bold

Italic
Standard Thin

Mont Blanc 4,810 m (15,781 ft), Monte Rosa 4,634 m (15,203 ft), Dom 4,545 m (14,911 ft), Weisshorn 4,506 m (14,783 ft), Matterhorn 4,478 m (14,692 ft)

Standard Thin Italic

The Matterhorn hut was built in 1865, the Mountet in 1871, the Weisshorn Hut in 1876, the Concordia on the Aletsch glacier and the Boval hut in 1877.

Standard Light

South from Bédoin: 1,617 m (5,305 ft) over 21.8 km (13.5 mi). This is regarded as the most difficult ascent. The road to the summit has an average gradient of 7.43%.

Standard Light Italic

From Camp III to Camp IV, climbers are faced with two additional challenges: the Geneva Spur and the Yellow Band.

Standard Regular

Silence (9c) is about 45 m long, curving up the cave wall and along part of the underside of its roof.

Standard Regular Italic

The altitude and size of the range affects the climate in Europe; in the mountains precipitation levels vary greatly and climatic conditions consist of distinct zones

Standard Medium

The countries with the greatest alpine territory are Austria (28.7% of the total area), Italy (27.2%), France (21.4%) and Switzerland (13.2%)

Standard Medium Italic

Today, the Indian plate continues to be driven horizontally at the Tibetan Plateau, which forces the plateau to continue to move upwards.

Standard Bold

It is a large, near-symmetric pyramidal peak in the extended Monte Rosa area of the Pennine Alps, whose summit is 4,478 metres

Standard Bold Italic

Together with Ernst Reiss he made the first ascent of Lhotse (8,516 m), the fourth highest mountain in the world, on 18 May 1956.
Typeface information
GT Alpina proudly calls itself a workhorse serif, but delights in playing with the very meaning of that concept. It reaches into the grab bag of typographic history to resurrect shapes some may falsely see as too expressive, resulting in a meticulous family melding these distinct shapes with a pragmatic execution.
Typeface features
OpenType features enable smart typography. You can use these features in most Desktop applications, on the web, and in your mobile apps. Each typeface contains different features. Below are the most important features included in GT Alpina's fonts:
Typeface Minisite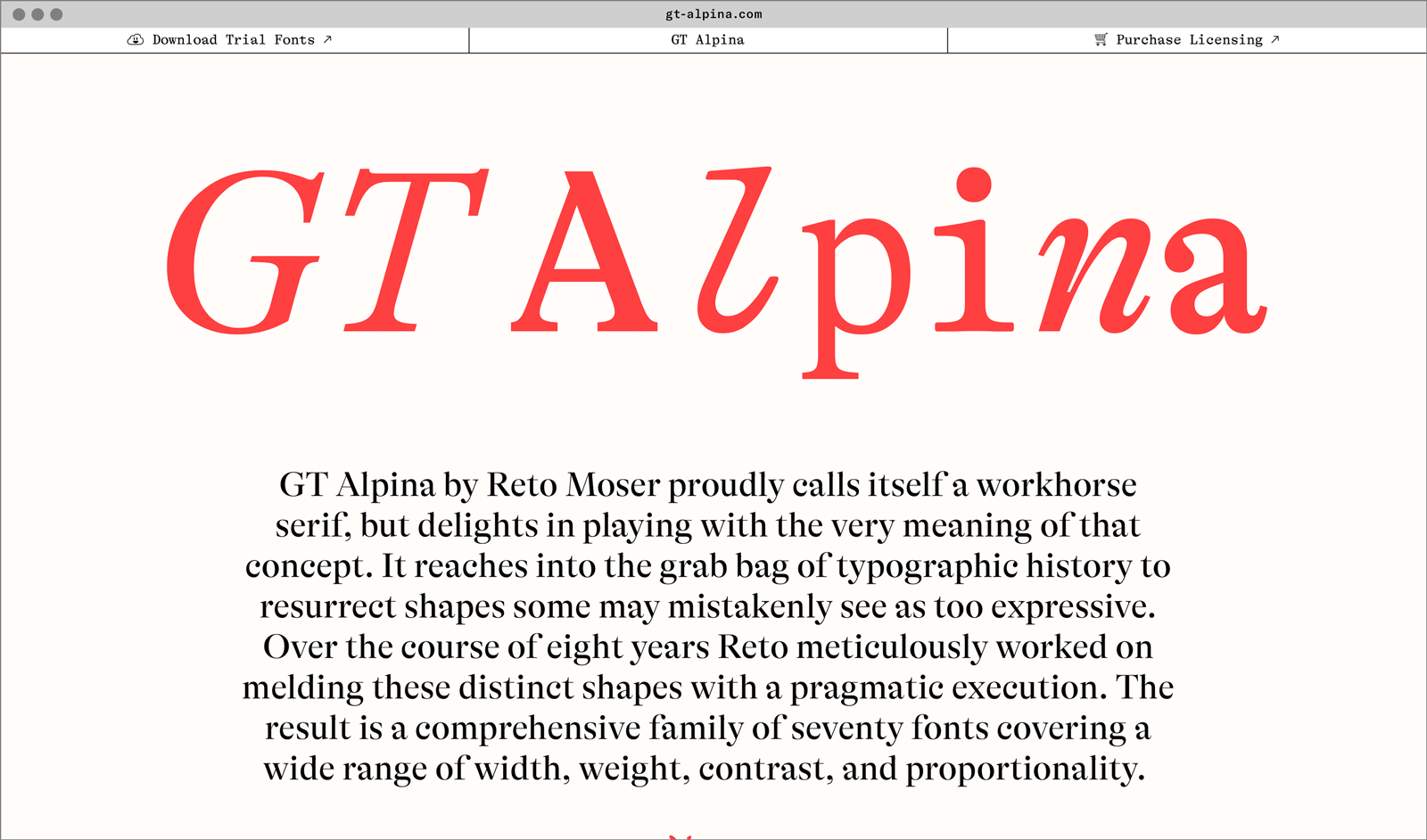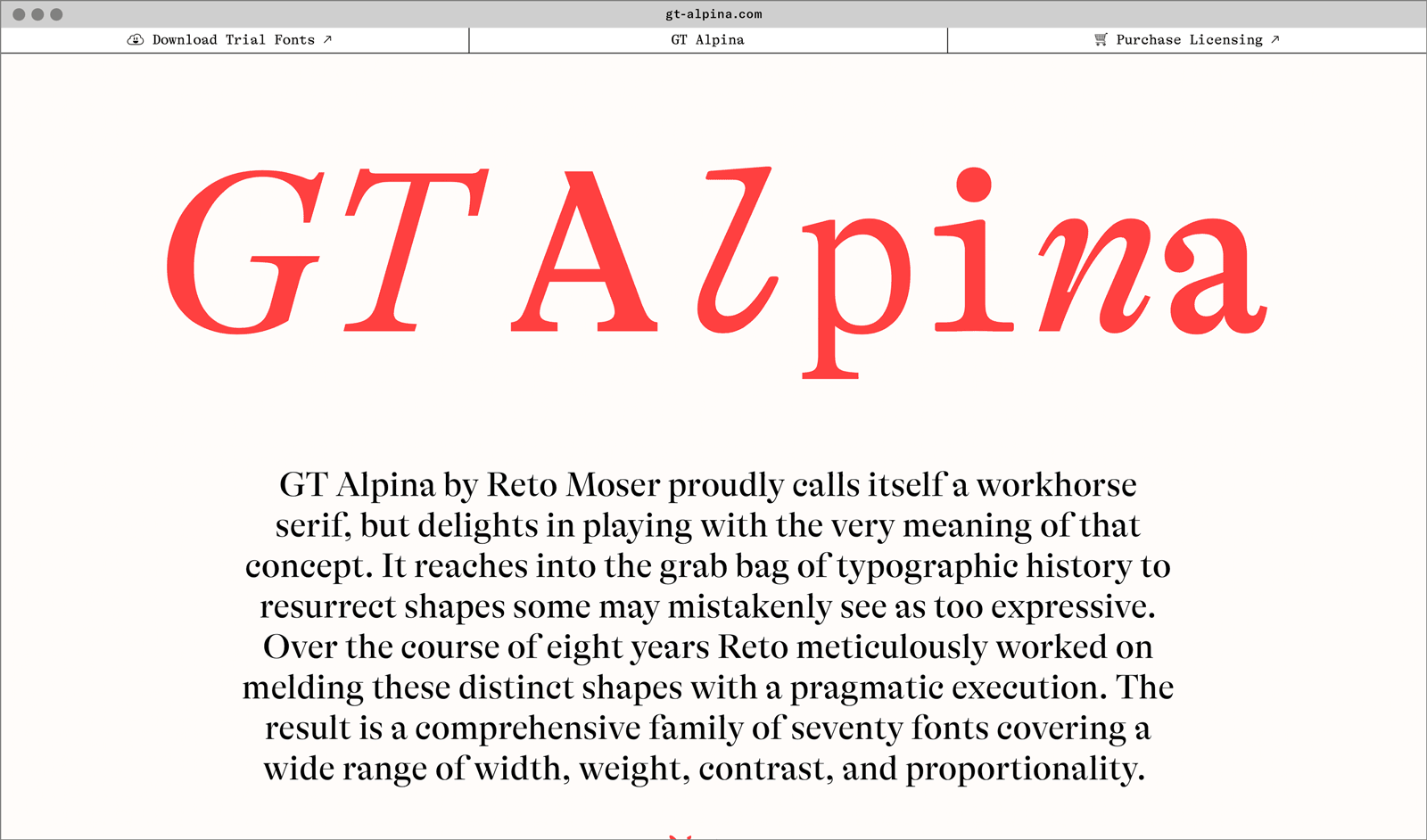 Visit the GT Alpina minisite to discover more about the typeface family's history and design concept.