Family overview
Text
Ultra Light

Italic

Thin

Italic

Light

Italic

Book

Italic

Regular

Italic

Medium

Italic

Bold

Italic
Display
Ultra Light

Italic

Thin

Italic

Light

Italic

Regular

Italic

Medium

Italic

Bold

Italic

Ultra Bold

Italic
Text Ultra Light

Tapa is a town in Lääne-Viru County, Estonia. Located at the junction of the country's Tallinn–Narva (west–east) and Tallinn–Tartu–Valga (north–south) railway lines.

Text Ultra Light Italic

Paldiski is a town and Baltic Sea port situated on the Pakri peninsula of north-western Estonia. Originally a Swedish settlement known as Rågervik, it became a Russian naval base in the 18th century.

Text Thin

Кехра город без муниципального статуса на севере Эстонии в уезде Харьюмаа. Входит в состав волости Ания, являясь её составной частью и административным центром. Расположен на реке Ягала, впадающей в Финский залив.

Text Thin Italic

Tartu on Eesti suuruselt teine linn, Lõuna-Eesti suurim keskus ja Tartu maakonna halduskeskus.

Text Light

Kärdla on Hiiu maakonna halduskeskus ja Hiiu valla sisene linn. Tegemist on ainsa linnaga maakonnas. Läbi linna voolavad Nuutri jõgi, Lumumba jõgi ja Kärdla oja

Text Light Italic

Хаапсалу город на северо-западе Эстонии, административный центр Ляэнемааского мааконда (уезда).

Text Book

Rapl on vallasisene linn Rapla vallas Rapla maakonnas ning ühtlasi selle maakonna halduskeskus. Linna läbib Vigala (Konuvere) jõgi.

Text Book Italic

Пылва город на востоке Эстонии, административный центр уезда Пылвамаа. В городе расположена одноимённая железнодорожная станция.

Text Regular

Tartu is the second largest city of Estonia, following Estonia's political and financial capital Tallinn.

Text Regular Italic

Кохтла-Ярве город на северо-востоке Эстонии. Расположен на залежах горючего сланца, добыча и переработка которого являются основными видами деятельности в городе.

Text Medium

Elva is a town and a municipality in Tartu County, Estonia. It has a population of 5,607 and an area of 9.92 km².

Text Medium Italic

Türi is a town in Järva County, Estonia. It is the administrative centre of Türi Parish.

Text Bold

Võru is a town and a municipality in south-eastern Estonia. It is the capital of Võru County and the centre of Võru Parish.

Text Bold Italic

Sillamäe on linn Ida-Viru maakonnas. See asub Soome lahe lõunarannikul Narva lahe kaldal Sõtke jõe suudmes. Sillamäe kaugus maakonnakeskusest Jõhvist on 24 kilomeetrit. Lähim raudteejaam on 3 kilomeetrit lõunas asuv Vaivara raudteejaam. Narva jääb 25 kilomeetri kauguse.
Typeface information
GT Eesti is a free-spirited interpretation of the Soviet geometric sans serif "Zhurnalnaya Roublennaya". Starting with books from Soviet-occupied Estonia, we developed the typeface to suit today's designers' requirements, expanding it into separate Display and Text subfamilies for both Latin & Cyrillic.
Typeface features
OpenType features enable smart typography. You can use these features in most Desktop applications, on the web, and in your mobile apps. Each typeface contains different features. Below are the most important features included in GT Eesti's fonts:
SS04
Alternate "w" and "v"
(Text version only)
Privatweg
Typeface Minisite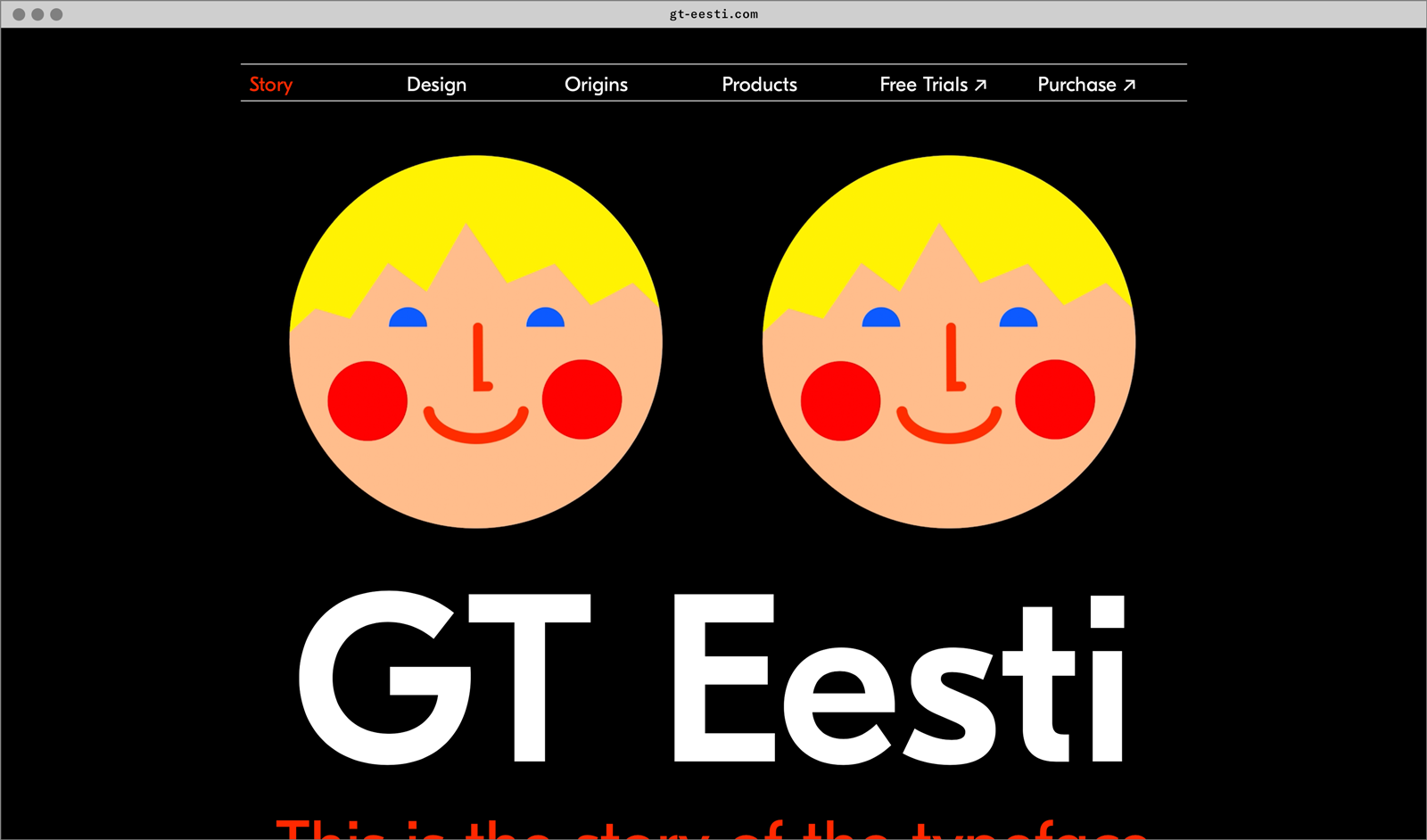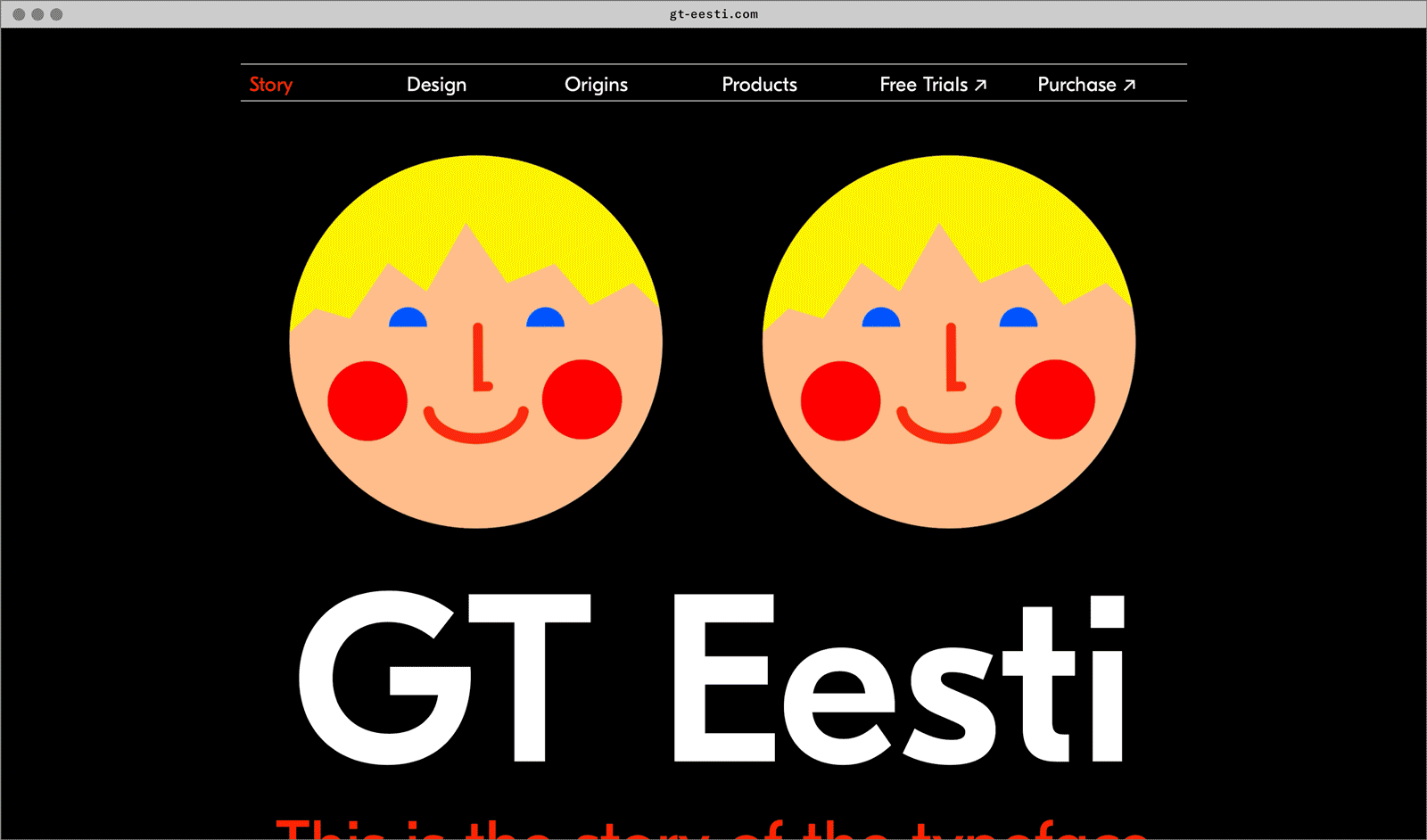 Visit the GT Eesti minisite to discover more about the typeface family's history and design concept.