Family overview
Text
Ultra Light

Italic

Thin

Italic

Light

Italic

Book

Italic

Regular

Italic

Medium

Italic

Bold

Italic
Display
Ultra Light

Italic

Thin

Italic

Light

Italic

Regular

Italic

Medium

Italic

Bold

Italic

Ultra Bold

Italic
Text Ultra Light

Võru is a town and a municipality in south-eastern Estonia. It is the capital of Võru County and the centre of Võru Parish.

Text Ultra Light Italic

Kuressaare also known as Arensburg, is a town and a municipality on Saaremaa island in Estonia.

Text Thin

Вейсенштейн город в центральной части Эстонии, административный центр уезда Ярвамаа. Город известен замком, построенным Ливонским орденом.

Text Thin Italic

Сауэ город, расположенный в северной части Эстонии в уезде Харьюмаа. Является отдельным муниципальным образованием и не входит в состав какой-либо волости. Получил право города 25 августа 1993 года. Население — 6,0 тыс. человек (2012), 93 % из которых — эстонцы.

Text Light

Нарва третий по численности населения город Эстонии, преимущественно русскоязычный, самый крупный город уезда Ида-Вирумаа.

Text Light Italic

Keila on linn ja omavalitsusüksus Harju maakonna lääneosas Keila jõe ääres, Tallinnast 25 km edelas. Linn on Keila valla keskus.

Text Book

Kuressaare on linn Saaremaa lõunarannikul, Saare maakonna halduskeskus. Kuressaare on Eesti kõige läänepoolsem linn.

Text Book Italic

Синди (эст. Sindi), Цинтенгоф (нем. Zintenhof) — город в Эстонии, спутник Пярну. В 21 км от ж.-д. ст.

Text Regular

Тарту город на реке Эмайыги, второй по численности населения после Таллина город Эстонии, уездный центр.

Text Regular Italic

Kohtla-Järve is a city and municipality in north-eastern Estonia, founded in 1924 and incorporated as a town in 1946.

Text Medium

Narva is the third largest city in Estonia. It is located at the eastern extreme point of Estonia, at the Russian border.

Text Medium Italic

Кивиыли город в северо-восточной части Эстонии в уезде Ида-Вирумаа. Является самостоятельным городским муниципалитетом и не входит в состав какой-либо волости.

Text Bold

Kunda is a town (founded May 1, 1938) in Estonia, located on the coast of the Gulf of Finland. There is a pulp mill (AS Estonian Cell), a cement factory and a port. Its population is ca. 4000.

Text Bold Italic

Maardu is a town and a municipality in Harju County, Estonia. It is part of Tallinn metropolitan area. The town covers an area of 22.76 km² and has a population of 16,529.
Typeface information
GT Eesti is a free-spirited interpretation of the Soviet geometric sans serif "Zhurnalnaya Roublennaya". Starting with books from Soviet-occupied Estonia, we developed the typeface to suit today's designers' requirements, expanding it into separate Display and Text subfamilies for both Latin & Cyrillic.
Typeface features
OpenType features enable smart typography. You can use these features in most Desktop applications, on the web, and in your mobile apps. Each typeface contains different features. Below are the most important features included in GT Eesti's fonts:
SS04
Alternate "w" and "v"
(Text version only)
Privatweg
Typeface Minisite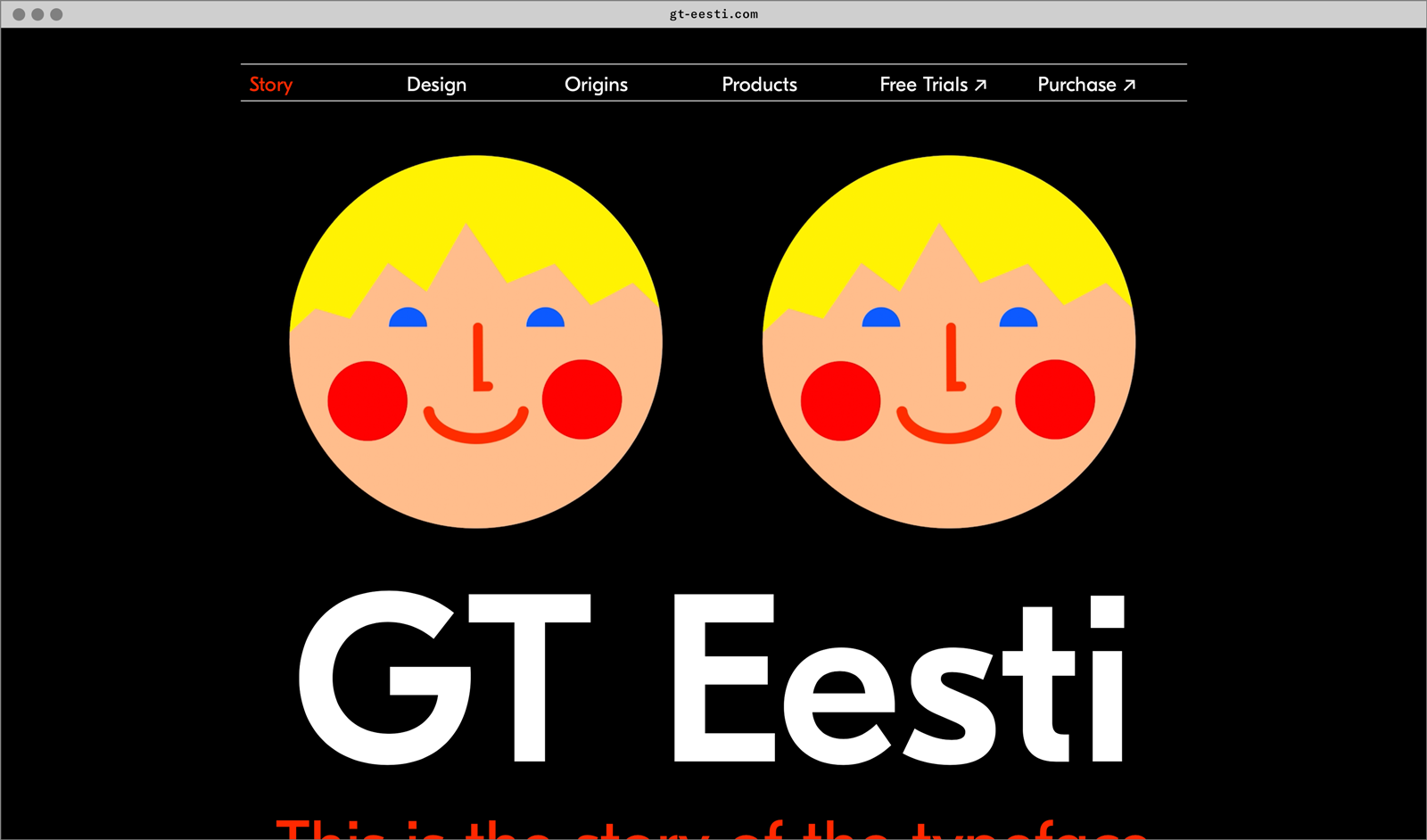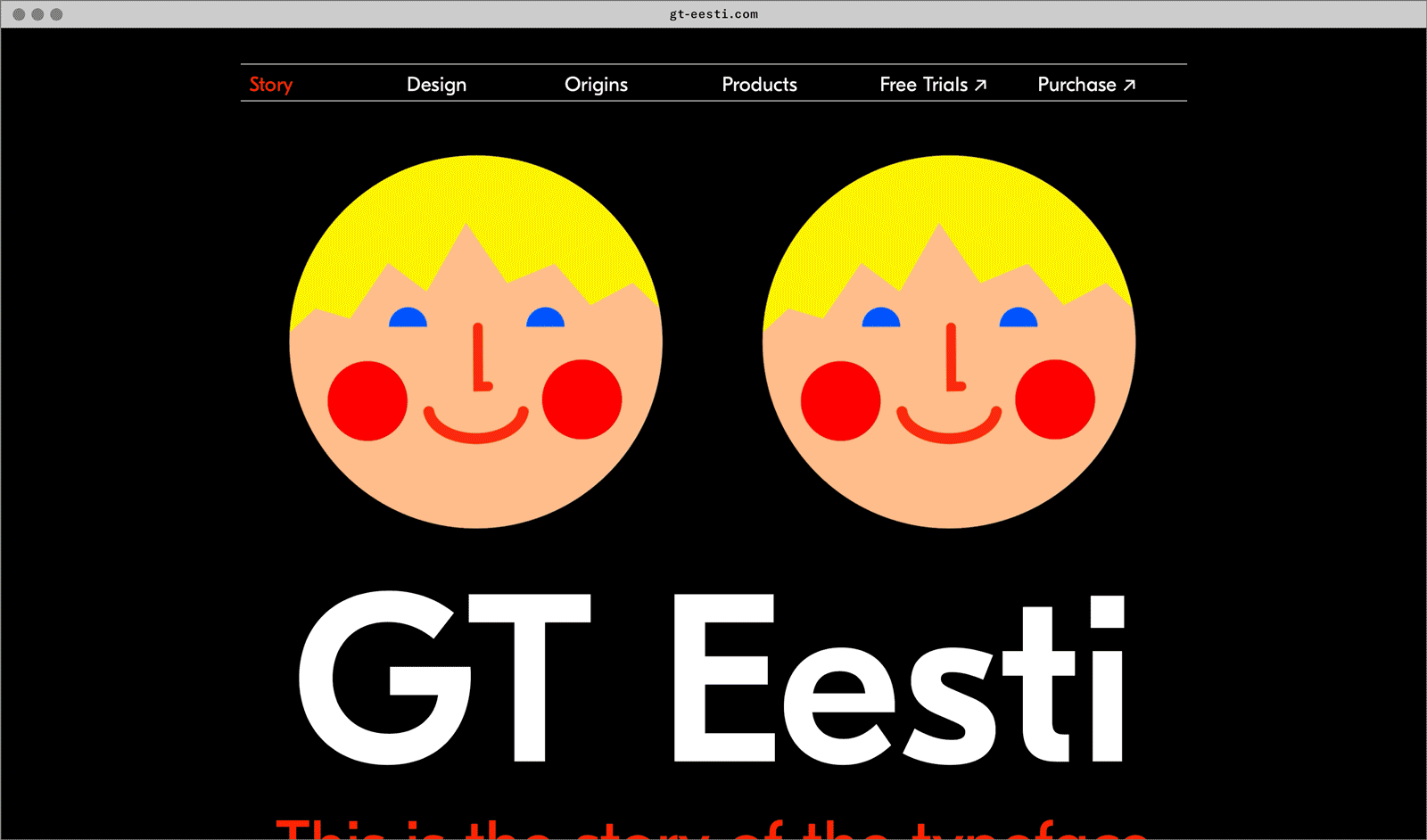 Visit the GT Eesti minisite to discover more about the typeface family's history and design concept.