Family overview
Text
Ultra Light

Italic

Thin

Italic

Light

Italic

Book

Italic

Regular

Italic

Medium

Italic

Bold

Italic
Display
Ultra Light

Italic

Thin

Italic

Light

Italic

Regular

Italic

Medium

Italic

Bold

Italic

Ultra Bold

Italic
Text Ultra Light

Pärnu on linn Eestis, Pärnu lahe edelarannikul Pärnu jõe suudmes, Pärnu maakonna halduskeskus. Vana-Pärnu sai linnaõigused 1251. aastal ja Pärnu 1318. aastal.

Text Ultra Light Italic

Палдиски (эст. Paldiski), исторические названия Рогервик (швед. Rågervik), Балти́йский порт, Ба́лтиски (эст. Baltiski) — город в Эстонии, порт на берегу Финского залива.

Text Thin

Tallinn is the capital and largest city of Estonia. It is situated on the northern coast of the country.

Text Thin Italic

Jõgeva is a small town in Estonia with a population of around 6000 people. It is the administrative centre of Jõgeva County.

Text Light

Kiviõli is an industrial town in Ida-Viru County, Estonia. The settlement was founded in 1922 and became a town in 1946.

Text Light Italic

Вильянди город в Эстонии, административный центр уезда Вильяндимаа.

Text Book

Valga is a town in southern Estonia and the capital of Valga County. Until their separation in 1920, Valga and the town of Valka in northern Latvia were one town.

Text Book Italic

Sindi on linn Pärnu maakonnas Pärnu jõe vasakul kaldal jõe ning Lanksaare raba vahelisel tasandikul 14 km kaugusel Pärnust. Sindi linnapea on Marko Šorin.

Text Regular

Кивиыли город в северо-восточной части Эстонии в уезде Ида-Вирумаа. Является самостоятельным городским муниципалитетом и не входит в состав какой-либо волости.

Text Regular Italic

Таллин столица Эстонии, крупный пассажирский и грузовой морской порт.

Text Medium

Rakvere linn (ajalooline nimi Tarvanpää; saksa keeles Wesenberg, vene Rakovor) on Lääne-Viru maakonna haldus-, majandus- ja kultuurikeskus.

Text Medium Italic

Курессааре эст. Kuressaare город в Эстонии, на острове Сааремаа, когда-то так называли весь архипелаг, а остров называли Курессааре, крупнейший населённый пункт и административный центр уезда Сааремаа.

Text Bold

Рапла город без муниципального статуса в западной части Эстонии, административный центр уезда Рапламаа и волостной центр и составная часть волости Рапла.

Text Bold Italic

Кивиыли город в северо-восточной части Эстонии в уезде Ида-Вирумаа. Является самостоятельным городским муниципалитетом и не входит в состав какой-либо волости.
Typeface information
GT Eesti is a free-spirited interpretation of the Soviet geometric sans serif "Zhurnalnaya Roublennaya". Starting with books from Soviet-occupied Estonia, we developed the typeface to suit today's designers' requirements, expanding it into separate Display and Text subfamilies for both Latin & Cyrillic.
Typeface features
OpenType features enable smart typography. You can use these features in most Desktop applications, on the web, and in your mobile apps. Each typeface contains different features. Below are the most important features included in GT Eesti's fonts:
SS04
Alternate "w" and "v"
(Text version only)
Privatweg
Typeface Minisite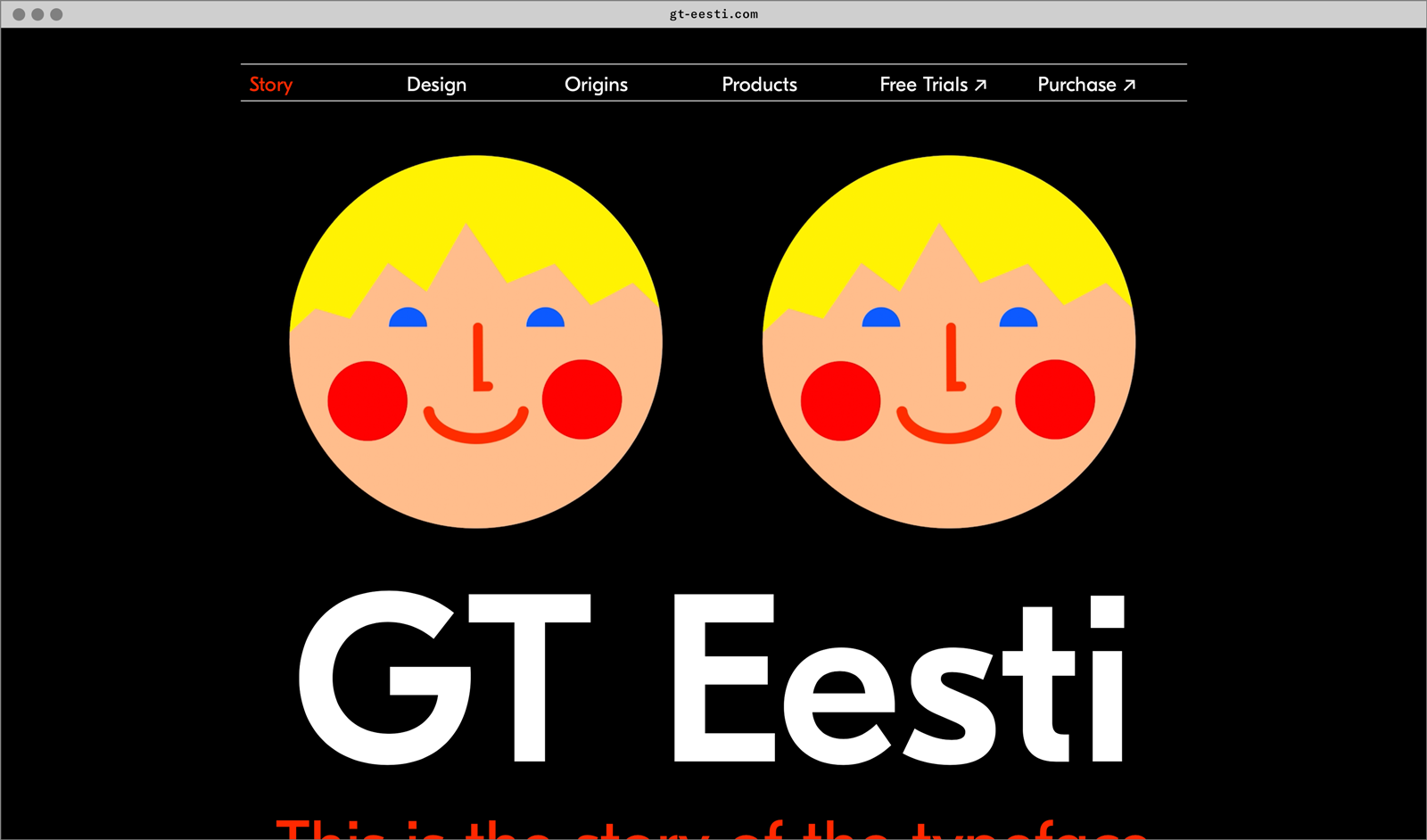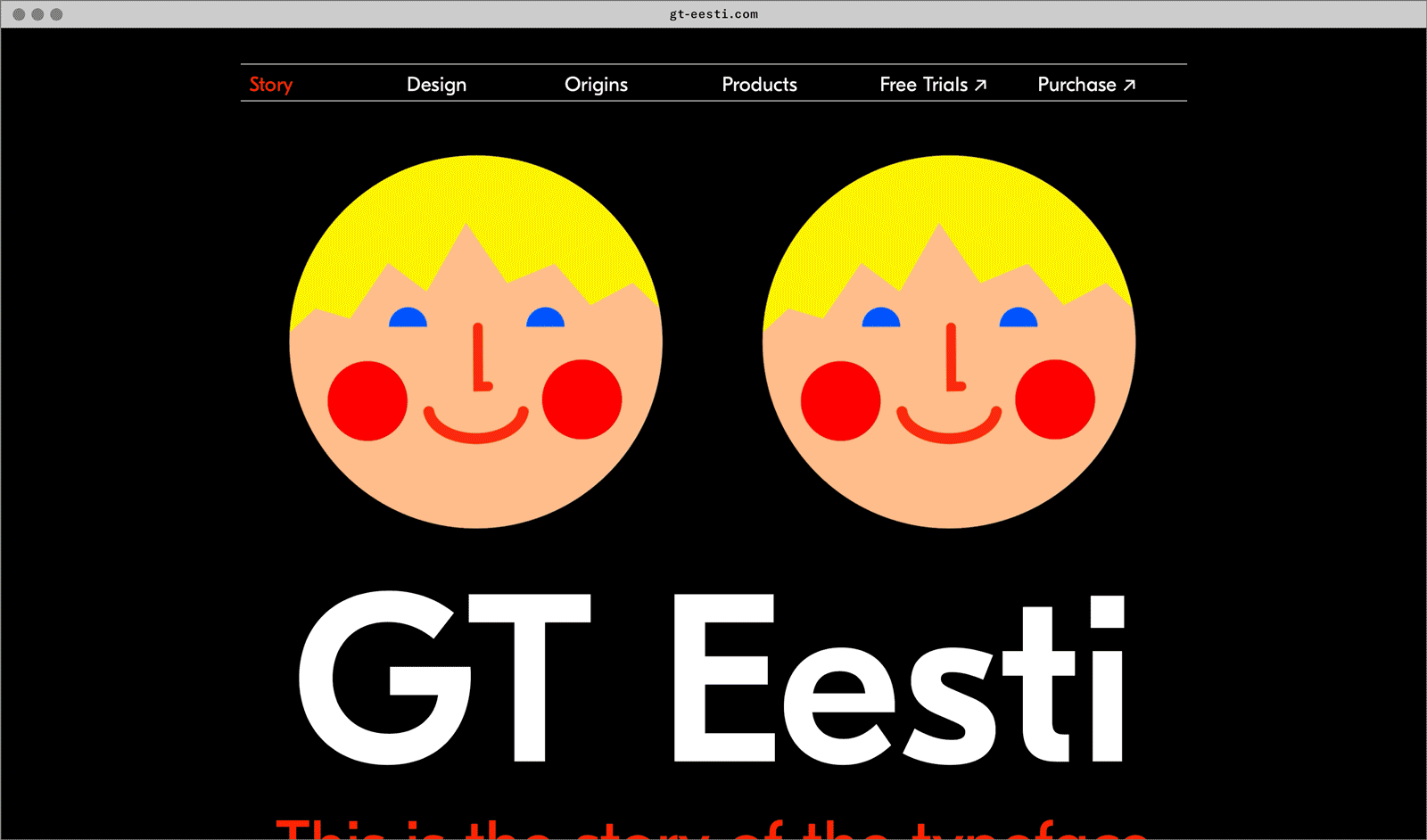 Visit the GT Eesti minisite to discover more about the typeface family's history and design concept.