Family overview
Text
Ultra Light

Italic

Thin

Italic

Light

Italic

Book

Italic

Regular

Italic

Medium

Italic

Bold

Italic
Display
Ultra Light

Italic

Thin

Italic

Light

Italic

Regular

Italic

Medium

Italic

Bold

Italic

Ultra Bold

Italic
Text Ultra Light

Выру город в Эстонии, административный центр уезда Вырумаа.

Text Ultra Light Italic

Sillamäe known also in Germanized version as Sillamäggi or Sillamägi, is a town in Ida-Viru County in the northern part of Estonia, on the southern coast of the Gulf of Finland.

Text Thin

Kohtla-Järve on linn Ida-Viru maakonnas. Linn koosneb kuuest eraldi asuvast linnaosast. Linna elanikkond on valdavalt venekeelne. Eestlasi oli 2000. aasta rahvaloenduse andmeil 17,8% elanikest ning 2011. aasta rahvaloenduse andmeil 16,1%.

Text Thin Italic

Kärdla on Hiiu maakonna halduskeskus ja Hiiu valla sisene linn. Tegemist on ainsa linnaga maakonnas. Läbi linna voolavad Nuutri jõgi, Lumumba jõgi ja Kärdla oja

Text Light

Põlva is a town in southeastern Estonia, the capital of Põlva County, and the centre of Põlva Parish.

Text Light Italic

Хаапсалу город на северо-западе Эстонии, административный центр Ляэнемааского мааконда (уезда).

Text Book

Põlva on vallasisene linn Orajõe alamjooksul Põlva maakonnas Põlva vallas. Põlvas asub nii Põlva valla kui Põlva maakonna halduskeskus.

Text Book Italic

Võru on linn Eesti kaguosas, Võru maakonna haldus- ja majanduslik keskus. Linna läbib Peterburi–Pihkva–Riia raudtee Valga–Petseri raudteelõik ja Tallinn–Tartu–Võru–Luhamaa maantee. Linna asukoht on geograafiliselt soodne kaubavahetuseks Venemaa ja Lätiga.

Text Regular

Rakvere is a town in northern Estonia and the county seat of Lääne-Viru County, 20 km south of the Gulf of Finland.

Text Regular Italic

Jõhvi is a town in north-eastern Estonia, and the capital of Ida-Viru County. The town is also an administrative centre of Jõhvi Parish. It is situated 50 km from the Russian border.

Text Medium

Valga on maakonnalinn Lõuna-Eestis Eesti-Läti piiril, Valga maakonna halduskeskus ja Eesti kõige lõunapoolsem linn. Linn moodustab ühtse terviku kaksiklinn Valkaga, mõlemat läbib Pedeli jõgi.

Text Medium Italic

Kiviõli on linn Ida-Viru maakonnas. Linn on rajatud 1922. aastal, linnaõiguse sai ta 1946. aastal. Aastatel 1957–1991 kuulus Kiviõli Kohtla-Järve linna koosseisu.

Text Bold

Rapl on vallasisene linn Rapla vallas Rapla maakonnas ning ühtlasi selle maakonna halduskeskus. Linna läbib Vigala (Konuvere) jõgi.

Text Bold Italic

Тюри город без муниципального статуса в центре Эстонии в уезде Ярвамаа, является волостным центром и составной частью волости Тюри. Расположен на реке Пярну. Железнодорожная станция на линии Таллинн — Вильянди. Имеется храм Святой Троицы (Эстонская православная церковь Московского Патриархата).
Typeface information
GT Eesti is a free-spirited interpretation of the Soviet geometric sans serif "Zhurnalnaya Roublennaya". Starting with books from Soviet-occupied Estonia, we developed the typeface to suit today's designers' requirements, expanding it into separate Display and Text subfamilies for both Latin & Cyrillic.
Typeface features
OpenType features enable smart typography. You can use these features in most Desktop applications, on the web, and in your mobile apps. Each typeface contains different features. Below are the most important features included in GT Eesti's fonts:
SS04
Alternate "w" and "v"
(Text version only)
Privatweg
Typeface Minisite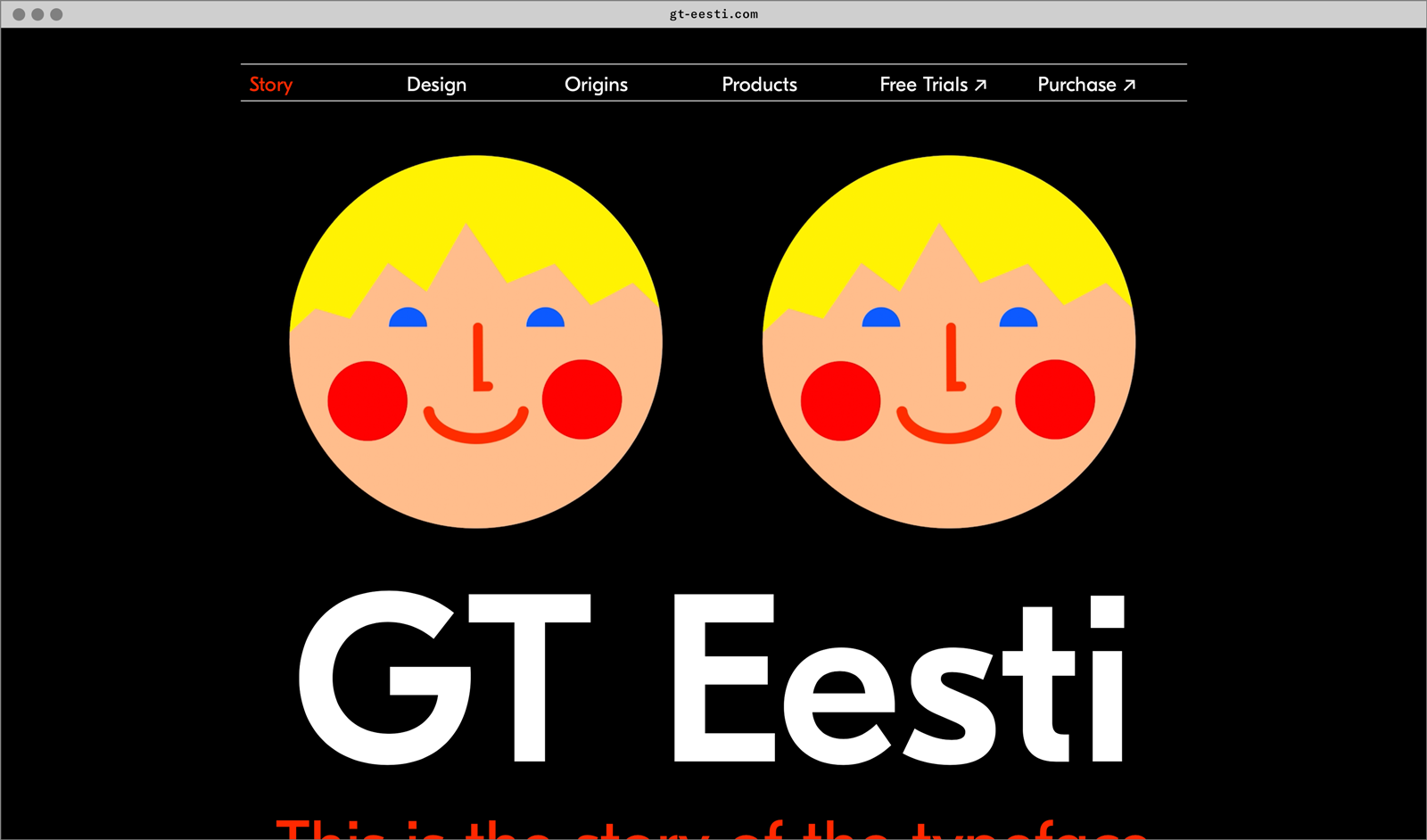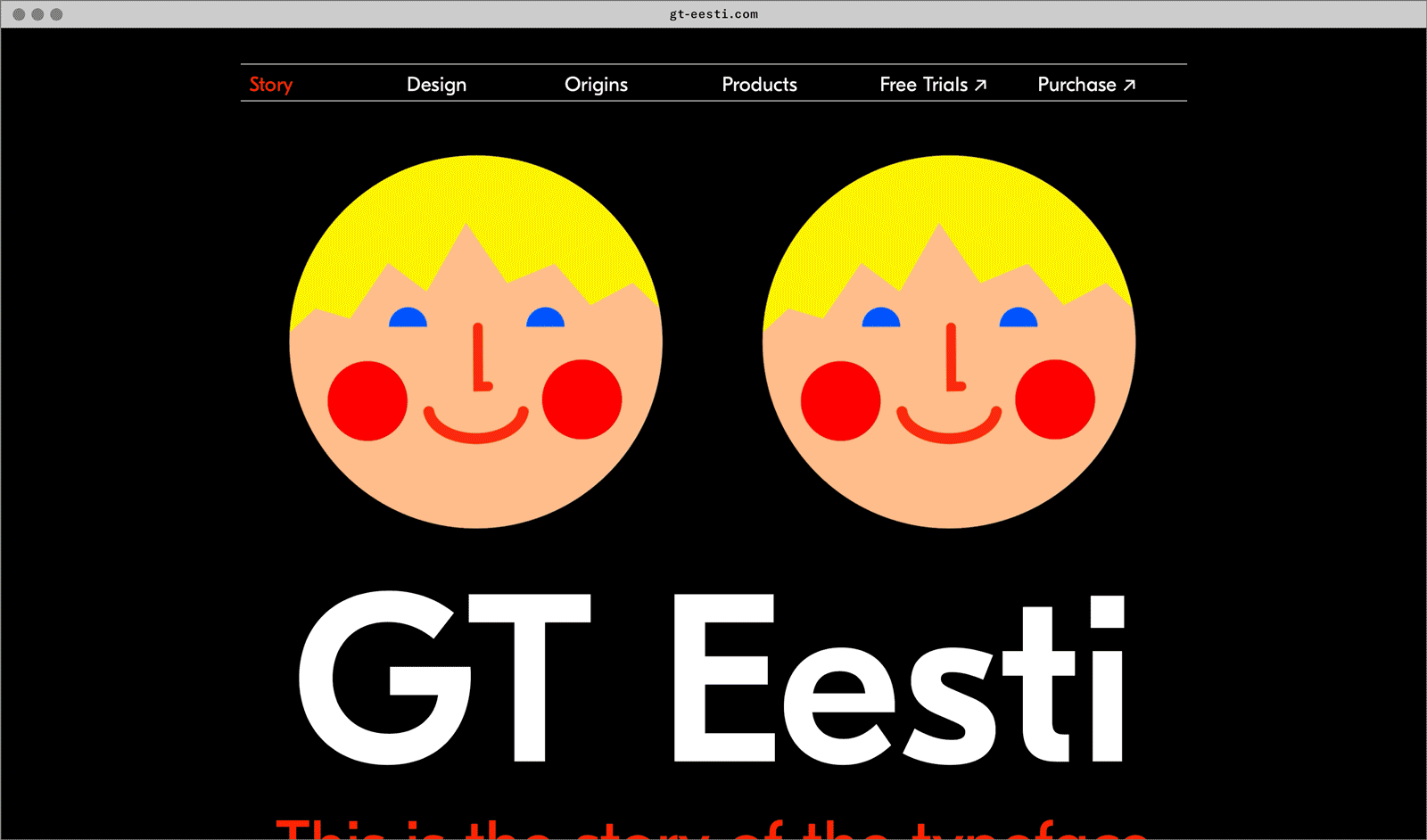 Visit the GT Eesti minisite to discover more about the typeface family's history and design concept.