Family overview
Text
Ultra Light

Italic

Thin

Italic

Light

Italic

Book

Italic

Regular

Italic

Medium

Italic

Bold

Italic
Display
Ultra Light

Italic

Thin

Italic

Light

Italic

Regular

Italic

Medium

Italic

Bold

Italic

Ultra Bold

Italic
Text Ultra Light

Narva on linn Eesti kirdeosas Ida-Viru maakonnas Narva jõe alamjooksul. Narva on suuruselt Eesti kolmas linn Tallinna ja Tartu järel ning suurem kui 50 km kaugusel asuv maakonnakeskus Jõhvi. Ta on Eesti linnadest idapoolseim.

Text Ultra Light Italic

Võru on linn Eesti kaguosas, Võru maakonna haldus- ja majanduslik keskus. Linna läbib Peterburi–Pihkva–Riia raudtee Valga–Petseri raudteelõik ja Tallinn–Tartu–Võru–Luhamaa maantee. Linna asukoht on geograafiliselt soodne kaubavahetuseks Venemaa ja Lätiga.

Text Thin

Kehra on vallasisene linn Anija vallas Harjumaal Jägala jõe ääres, Tallinnast idas. 1945 sai ta iseseisva omavalitsusega alevi staatuse, 1993.

Text Thin Italic

Элва город в юго-восточной части Эстонии в уезде Тартумаа. Является самостоятельным городским муниципалитетом и не входит в состав какой-либо волости.

Text Light

Выру город в Эстонии, административный центр уезда Вырумаа.

Text Light Italic

Rapl on vallasisene linn Rapla vallas Rapla maakonnas ning ühtlasi selle maakonna halduskeskus. Linna läbib Vigala (Konuvere) jõgi.

Text Book

Maardu on linn Harjumaal Muuga lahe kaldal, mis ulatub Maardu järvest Pirita jõeni; piirneb Viimsi ja Jõelähtme vallaga. Linnas elab üle 17,000 inimese.

Text Book Italic

Вильянди город в Эстонии, административный центр уезда Вильяндимаа.

Text Regular

Кунда город на севере Эстонии, в уезде Ляэне-Вирумаа. По городу получила название кундская культура эпохи мезолита.

Text Regular Italic

Pärnu is the fourth-largest city in Estonia. Located in southwestern Estonia on the coast of Pärnu Bay.

Text Medium

Rakvere linn (ajalooline nimi Tarvanpää; saksa keeles Wesenberg, vene Rakovor) on Lääne-Viru maakonna haldus-, majandus- ja kultuurikeskus.

Text Medium Italic

Haapsalu is a seaside resort town located on the west coast of Estonia. It is the administrative centre of Lääne County, and on 1 January 2012 it had a population of 11,587.

Text Bold

Нарва третий по численности населения город Эстонии, преимущественно русскоязычный, самый крупный город уезда Ида-Вирумаа.

Text Bold Italic

Вейсенштейн город в центральной части Эстонии, административный центр уезда Ярвамаа. Город известен замком, построенным Ливонским орденом.
Typeface information
GT Eesti is a free-spirited interpretation of the Soviet geometric sans serif "Zhurnalnaya Roublennaya". Starting with books from Soviet-occupied Estonia, we developed the typeface to suit today's designers' requirements, expanding it into separate Display and Text subfamilies for both Latin & Cyrillic.
Typeface features
OpenType features enable smart typography. You can use these features in most Desktop applications, on the web, and in your mobile apps. Each typeface contains different features. Below are the most important features included in GT Eesti's fonts:
SS04
Alternate "w" and "v"
(Text version only)
Privatweg
Typeface Minisite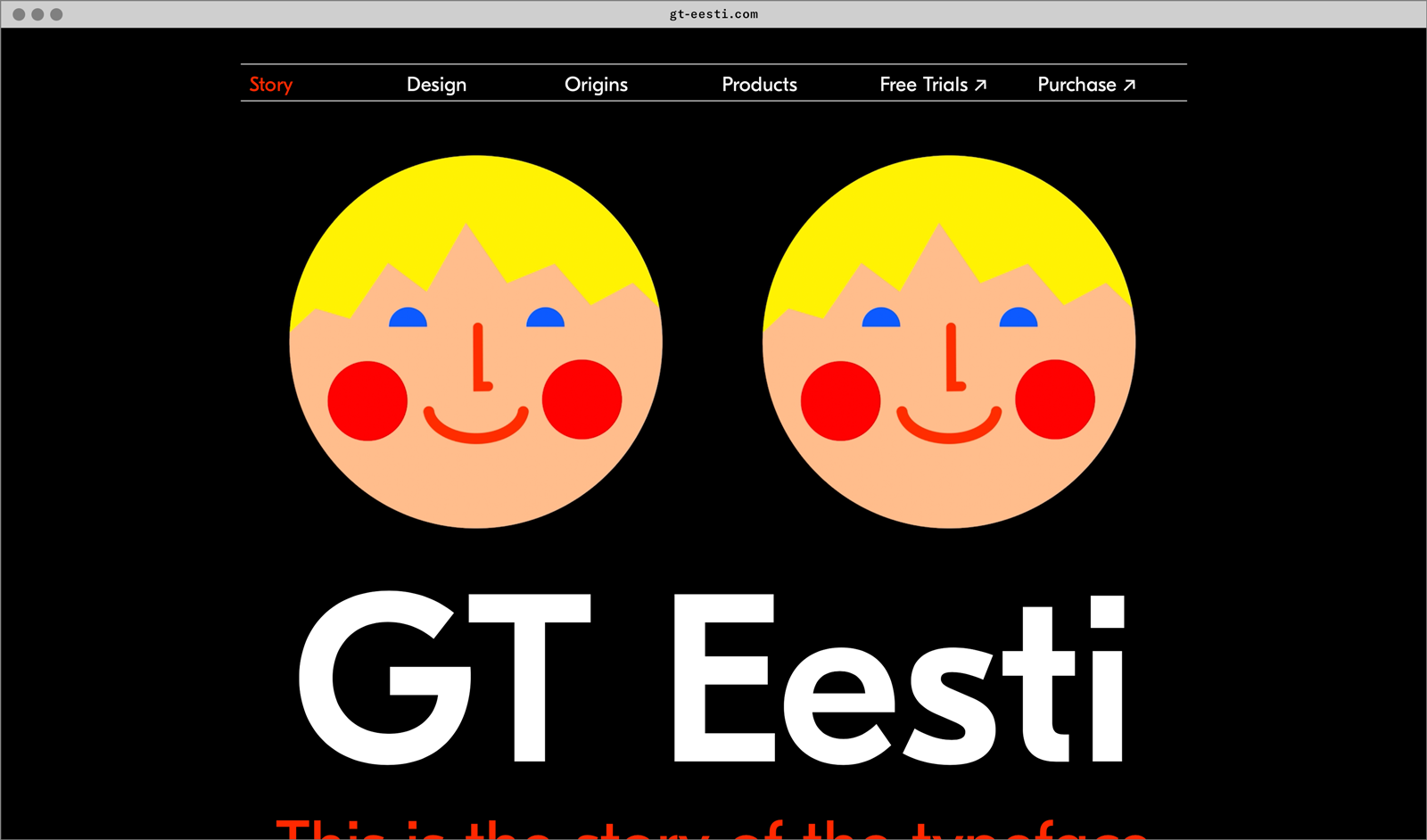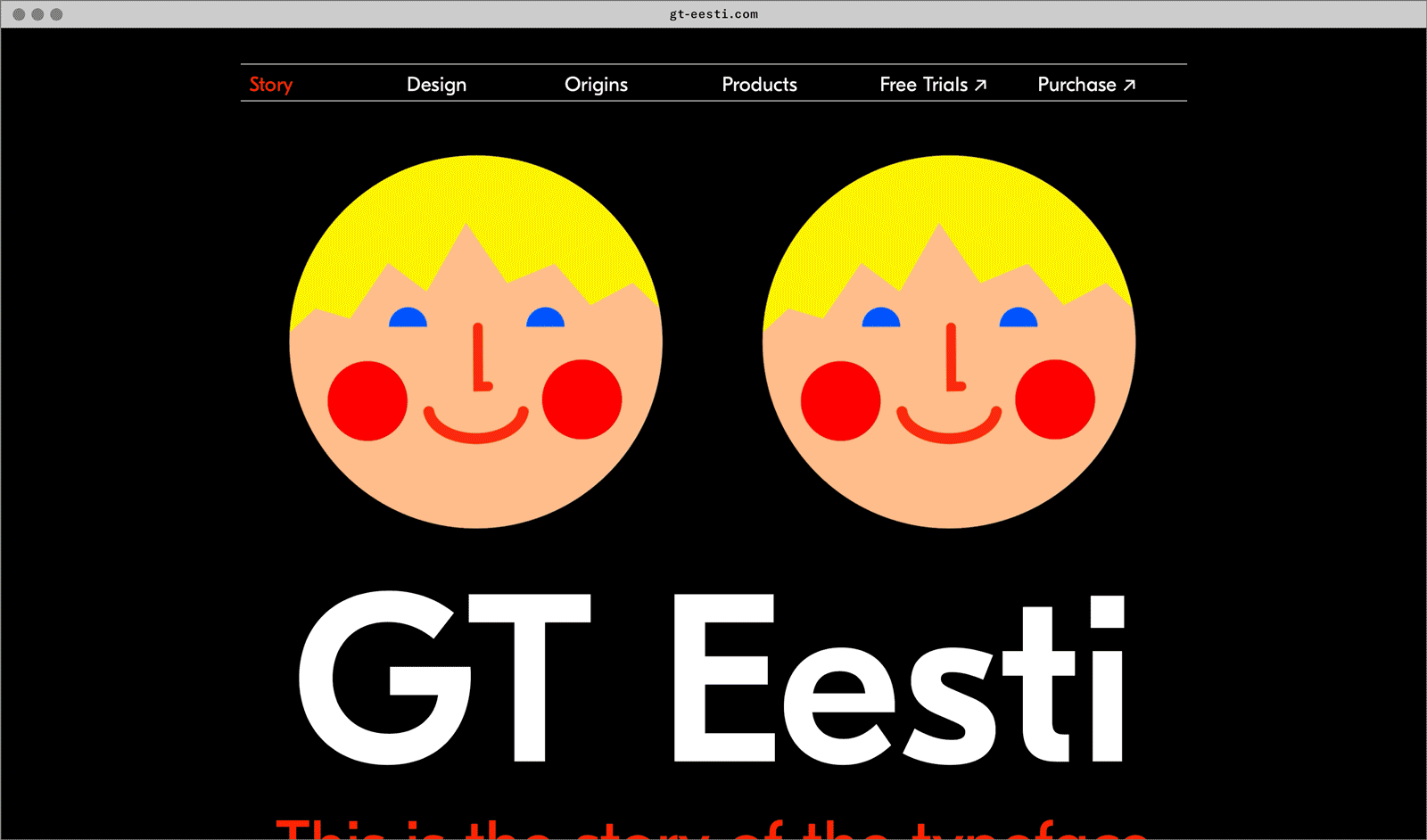 Visit the GT Eesti minisite to discover more about the typeface family's history and design concept.