Family overview
Text
Ultra Light

Italic

Thin

Italic

Light

Italic

Book

Italic

Regular

Italic

Medium

Italic

Bold

Italic
Display
Ultra Light

Italic

Thin

Italic

Light

Italic

Regular

Italic

Medium

Italic

Bold

Italic

Ultra Bold

Italic
Text Ultra Light

Paide on linn Järva maakonnas, maakonna halduskeskus. Paides elas Rahvastikuregistri andmetel 1. jaanuari 2015 seisuga 8370 inimest, Statistikaameti andmetel 1. jaanuari 2014 seisuga 8162 inimest.

Text Ultra Light Italic

Kiviõli is an industrial town in Ida-Viru County, Estonia. The settlement was founded in 1922 and became a town in 1946.

Text Thin

Valga on maakonnalinn Lõuna-Eestis Eesti-Läti piiril, Valga maakonna halduskeskus ja Eesti kõige lõunapoolsem linn. Linn moodustab ühtse terviku kaksiklinn Valkaga, mõlemat läbib Pedeli jõgi.

Text Thin Italic

Валга город на юге Эстонии, административный центр уезда Валга. Вплотную примыкает к латвийскому городу Валка, составляя с ним, по сути, единый город.

Text Light

Kuressaare on linn Saaremaa lõunarannikul, Saare maakonna halduskeskus. Kuressaare on Eesti kõige läänepoolsem linn.

Text Light Italic

Kunda is a town (founded May 1, 1938) in Estonia, located on the coast of the Gulf of Finland. There is a pulp mill (AS Estonian Cell), a cement factory and a port. Its population is ca. 4000.

Text Book

Rapla is a town in central Estonia, the administrative centre of Rapla County and Rapla Parish. It has a population of 5,618.

Text Book Italic

Вильянди город в Эстонии, административный центр уезда Вильяндимаа.

Text Regular

Tallinn on linn Eesti põhjarannikul Tallinna lahe ääres. Tallinn on Eesti Vabariigi pealinn ja Harju maakonna halduskeskus.

Text Regular Italic

Põltsamaa (German: Oberpahlen) is a town in Põltsamaa Parish, in Jõgeva County, Estonia. The town is situated on the Põltsamaa river, and features a 13th-century castle.

Text Medium

Võru is a town and a municipality in south-eastern Estonia. It is the capital of Võru County and the centre of Võru Parish.

Text Medium Italic

Narva is the third largest city in Estonia. It is located at the eastern extreme point of Estonia, at the Russian border.

Text Bold

Tallinn is the capital and largest city of Estonia. It is situated on the northern coast of the country.

Text Bold Italic

Синди (эст. Sindi), Цинтенгоф (нем. Zintenhof) — город в Эстонии, спутник Пярну. В 21 км от ж.-д. ст.
Typeface information
GT Eesti is a free-spirited interpretation of the Soviet geometric sans serif "Zhurnalnaya Roublennaya". Starting with books from Soviet-occupied Estonia, we developed the typeface to suit today's designers' requirements, expanding it into separate Display and Text subfamilies for both Latin & Cyrillic.
Typeface features
OpenType features enable smart typography. You can use these features in most Desktop applications, on the web, and in your mobile apps. Each typeface contains different features. Below are the most important features included in GT Eesti's fonts:
SS04
Alternate "w" and "v"
(Text version only)
Privatweg
Typeface Minisite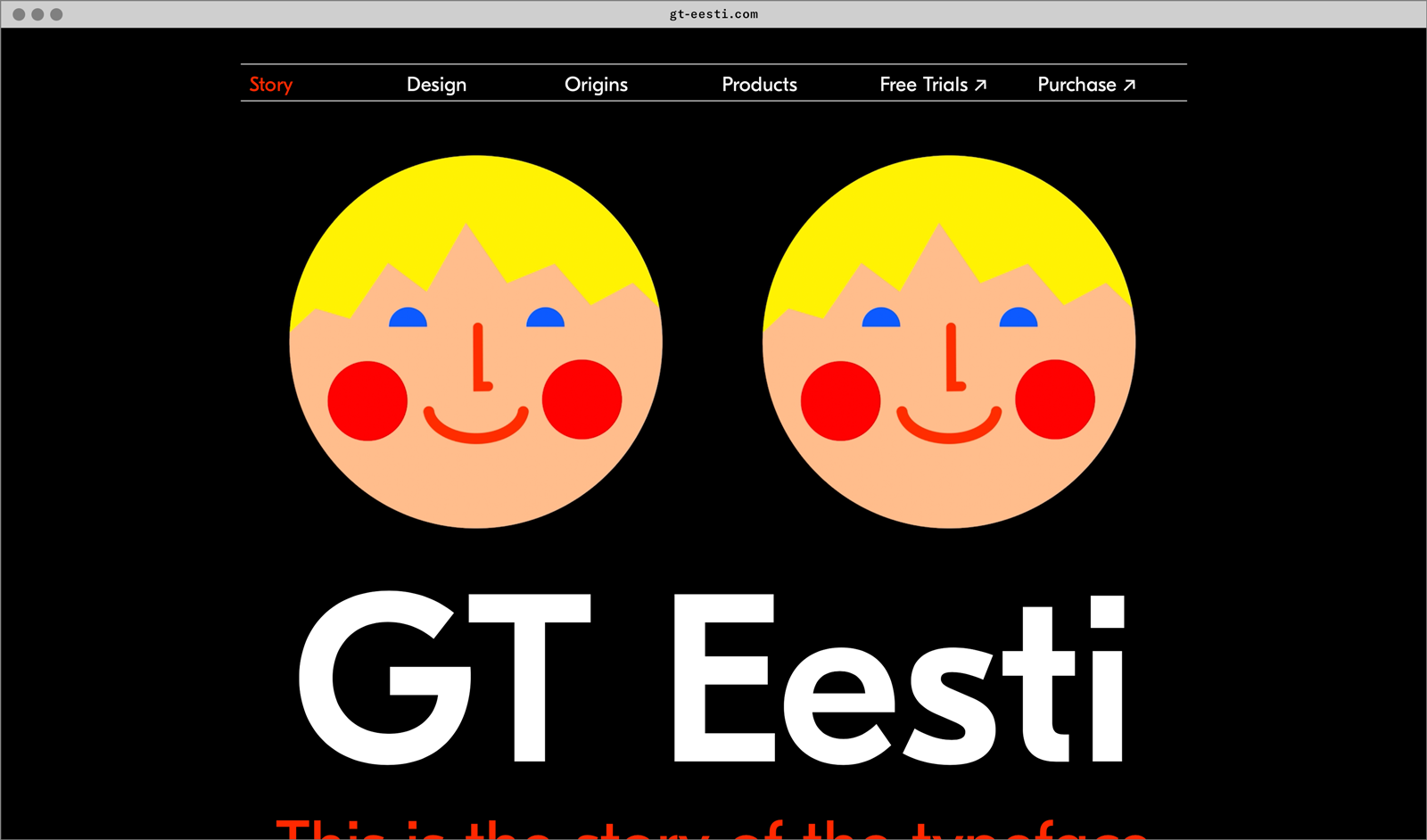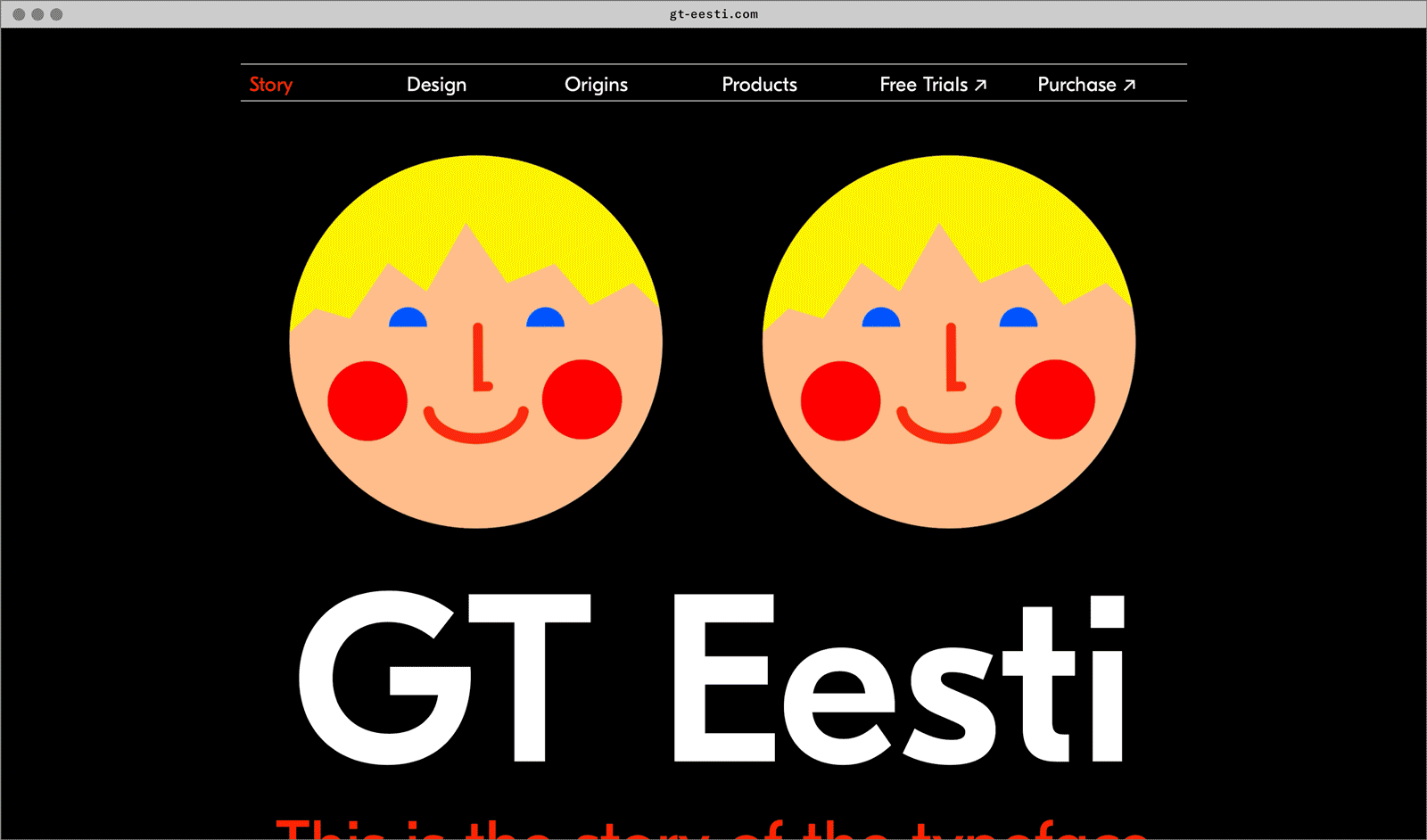 Visit the GT Eesti minisite to discover more about the typeface family's history and design concept.