Family overview
Text
Ultra Light

Italic

Thin

Italic

Light

Italic

Book

Italic

Regular

Italic

Medium

Italic

Bold

Italic
Display
Ultra Light

Italic

Thin

Italic

Light

Italic

Regular

Italic

Medium

Italic

Bold

Italic

Ultra Bold

Italic
Text Ultra Light

Элва город в юго-восточной части Эстонии в уезде Тартумаа. Является самостоятельным городским муниципалитетом и не входит в состав какой-либо волости.

Text Ultra Light Italic

Võru is a town and a municipality in south-eastern Estonia. It is the capital of Võru County and the centre of Võru Parish.

Text Thin

Valga on maakonnalinn Lõuna-Eestis Eesti-Läti piiril, Valga maakonna halduskeskus ja Eesti kõige lõunapoolsem linn. Linn moodustab ühtse terviku kaksiklinn Valkaga, mõlemat läbib Pedeli jõgi.

Text Thin Italic

Keila is a town and an urban municipality in Harju County in north-western Estonia. Keila is also the location of administrative buildings of the surrounding Keila Parish, a rural municipality separate from the town itself.

Text Light

Viljandi is a town and municipality in southern Estonia with a population of 17,473 in 2013.

Text Light Italic

Тапа город без муниципального статуса в Эстонии, административный центр и составная часть волости Тапа. Крупный железнодорожный узел. Население — 5693 человека.

Text Book

Kuressaare on linn Saaremaa lõunarannikul, Saare maakonna halduskeskus. Kuressaare on Eesti kõige läänepoolsem linn.

Text Book Italic

Kärdla on Hiiu maakonna halduskeskus ja Hiiu valla sisene linn. Tegemist on ainsa linnaga maakonnas. Läbi linna voolavad Nuutri jõgi, Lumumba jõgi ja Kärdla oja

Text Regular

Türi on vallasisene linn Türi vallas Järva maakonnas. Asub Pärnu jõe ääres. Türit läbib Tallinna–Viljandi raudteeliin ja Pärnu–Rakvere–Sõmeru maantee.

Text Regular Italic

Maardu is a town and a municipality in Harju County, Estonia. It is part of Tallinn metropolitan area. The town covers an area of 22.76 km² and has a population of 16,529.

Text Medium

Пылтсамаа город в центральной части Эстонии в уезде Йыгевамаа. Расположен на реке Пылтсамаа. Является самостоятельным городским муниципалитетом и не входит в состав какой-либо волости.

Text Medium Italic

Kuressaare also known as Arensburg, is a town and a municipality on Saaremaa island in Estonia.

Text Bold

Narva on linn Eesti kirdeosas Ida-Viru maakonnas Narva jõe alamjooksul. Narva on suuruselt Eesti kolmas linn Tallinna ja Tartu järel ning suurem kui 50 km kaugusel asuv maakonnakeskus Jõhvi. Ta on Eesti linnadest idapoolseim.

Text Bold Italic

Keila on linn ja omavalitsusüksus Harju maakonna lääneosas Keila jõe ääres, Tallinnast 25 km edelas. Linn on Keila valla keskus.
Typeface information
GT Eesti is a free-spirited interpretation of the Soviet geometric sans serif "Zhurnalnaya Roublennaya". Starting with books from Soviet-occupied Estonia, we developed the typeface to suit today's designers' requirements, expanding it into separate Display and Text subfamilies for both Latin & Cyrillic.
Typeface features
OpenType features enable smart typography. You can use these features in most Desktop applications, on the web, and in your mobile apps. Each typeface contains different features. Below are the most important features included in GT Eesti's fonts:
SS04
Alternate "w" and "v"
(Text version only)
Privatweg
Typeface Minisite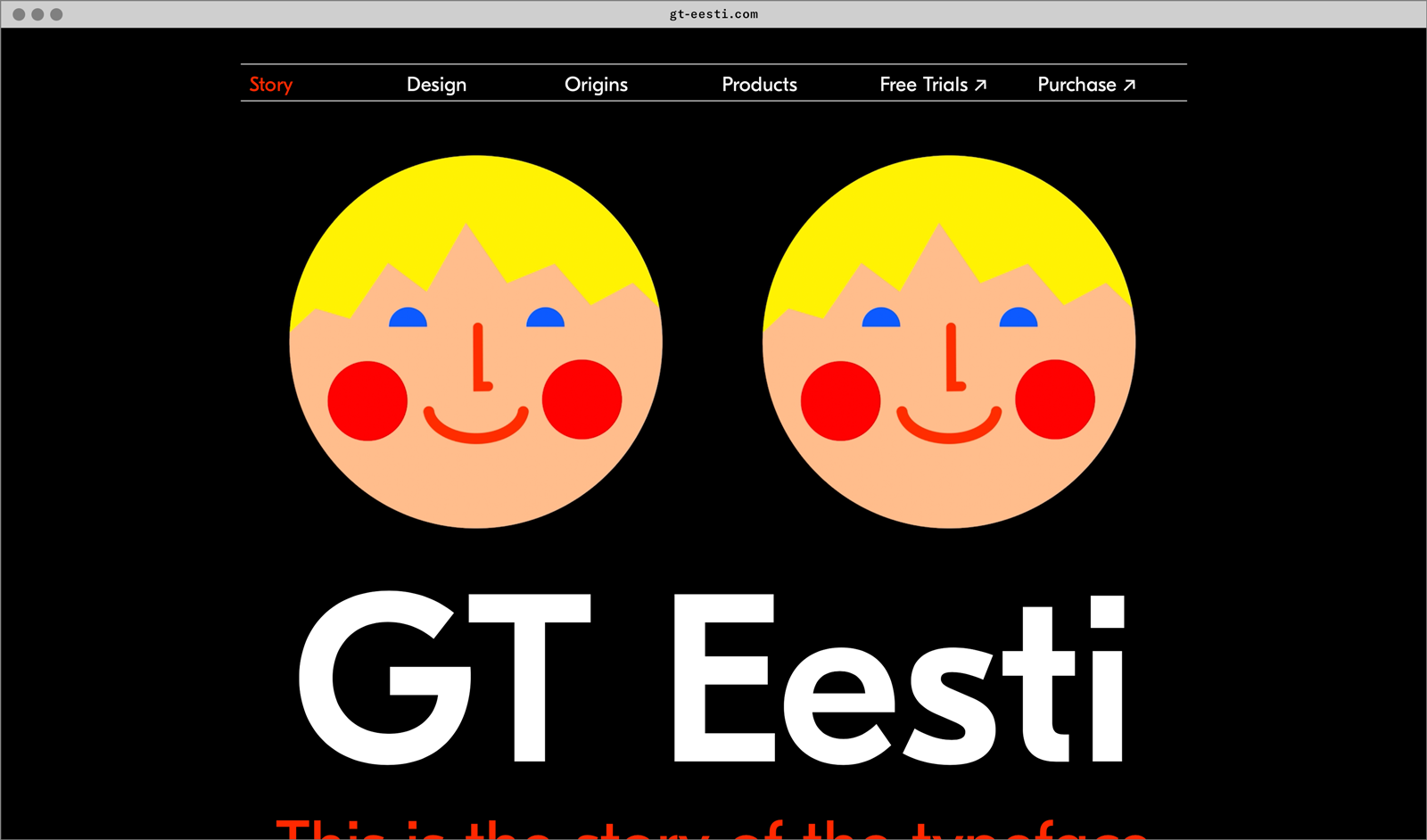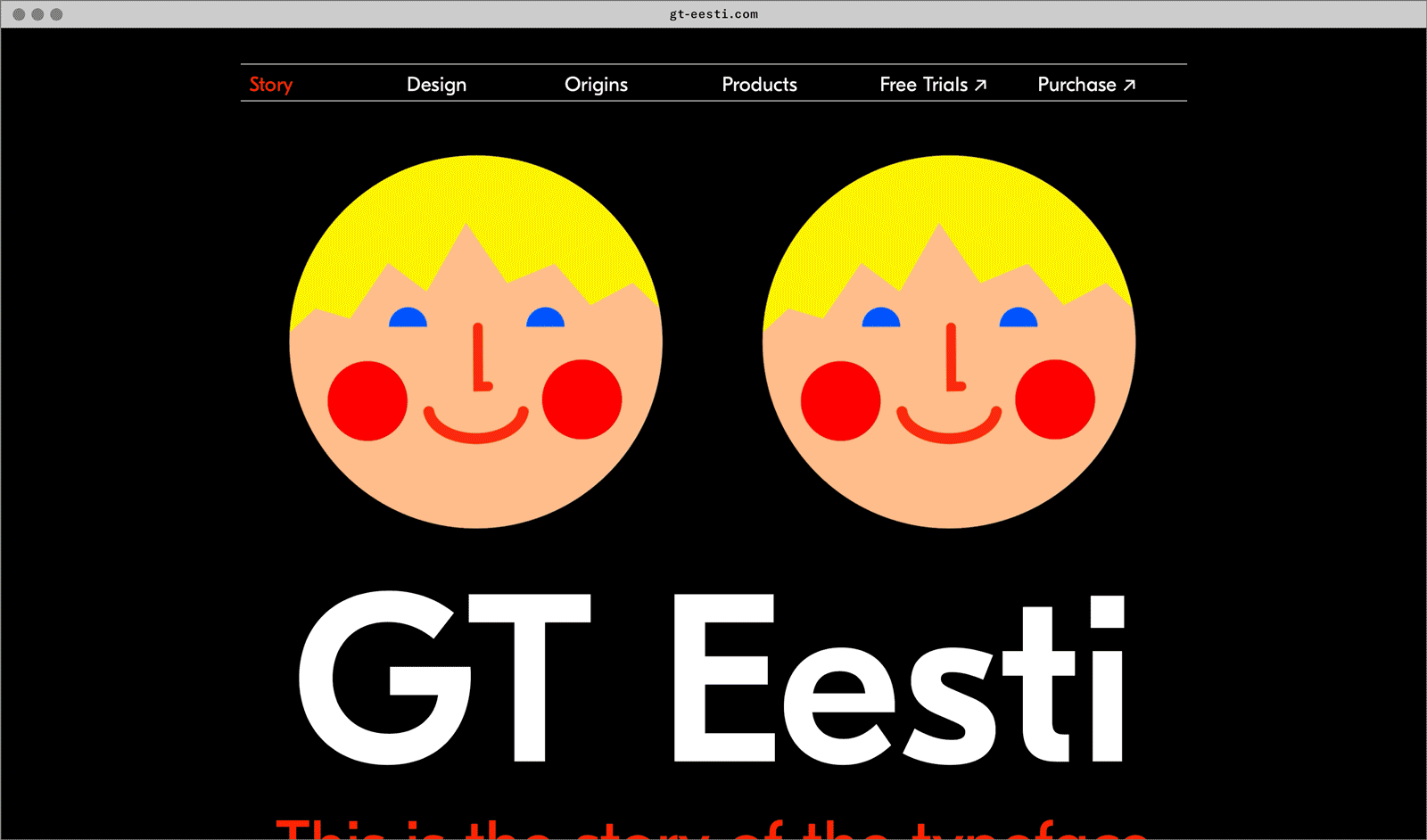 Visit the GT Eesti minisite to discover more about the typeface family's history and design concept.