Family overview
Text
Ultra Light

Italic

Thin

Italic

Light

Italic

Book

Italic

Regular

Italic

Medium

Italic

Bold

Italic
Display
Ultra Light

Italic

Thin

Italic

Light

Italic

Regular

Italic

Medium

Italic

Bold

Italic

Ultra Bold

Italic
Text Ultra Light

Хаапсалу город на северо-западе Эстонии, административный центр Ляэнемааского мааконда (уезда).

Text Ultra Light Italic

Paide on linn Järva maakonnas, maakonna halduskeskus. Paides elas Rahvastikuregistri andmetel 1. jaanuari 2015 seisuga 8370 inimest, Statistikaameti andmetel 1. jaanuari 2014 seisuga 8162 inimest.

Text Thin

Кехра город без муниципального статуса на севере Эстонии в уезде Харьюмаа. Входит в состав волости Ания, являясь её составной частью и административным центром. Расположен на реке Ягала, впадающей в Финский залив.

Text Thin Italic

Рапла город без муниципального статуса в западной части Эстонии, административный центр уезда Рапламаа и волостной центр и составная часть волости Рапла.

Text Light

Тапа город без муниципального статуса в Эстонии, административный центр и составная часть волости Тапа. Крупный железнодорожный узел. Население — 5693 человека.

Text Light Italic

Валга город на юге Эстонии, административный центр уезда Валга. Вплотную примыкает к латвийскому городу Валка, составляя с ним, по сути, единый город.

Text Book

Вейсенштейн город в центральной части Эстонии, административный центр уезда Ярвамаа. Город известен замком, построенным Ливонским орденом.

Text Book Italic

Tartu on Eesti suuruselt teine linn, Lõuna-Eesti suurim keskus ja Tartu maakonna halduskeskus.

Text Regular

Põlva on vallasisene linn Orajõe alamjooksul Põlva maakonnas Põlva vallas. Põlvas asub nii Põlva valla kui Põlva maakonna halduskeskus.

Text Regular Italic

Kiviõli on linn Ida-Viru maakonnas. Linn on rajatud 1922. aastal, linnaõiguse sai ta 1946. aastal. Aastatel 1957–1991 kuulus Kiviõli Kohtla-Järve linna koosseisu.

Text Medium

Раквере в русских летописях Раковор, немецкое название Везенберг город на севере Эстонии, административный центр уезда Ляэне-Вирумаа, шестой по величине и по численности населения город Эстонии.

Text Medium Italic

Tapa is a town in Lääne-Viru County, Estonia. Located at the junction of the country's Tallinn–Narva (west–east) and Tallinn–Tartu–Valga (north–south) railway lines.

Text Bold

Кунда город на севере Эстонии, в уезде Ляэне-Вирумаа. По городу получила название кундская культура эпохи мезолита.

Text Bold Italic

Valga on maakonnalinn Lõuna-Eestis Eesti-Läti piiril, Valga maakonna halduskeskus ja Eesti kõige lõunapoolsem linn. Linn moodustab ühtse terviku kaksiklinn Valkaga, mõlemat läbib Pedeli jõgi.
Typeface information
GT Eesti is a free-spirited interpretation of the Soviet geometric sans serif "Zhurnalnaya Roublennaya". Starting with books from Soviet-occupied Estonia, we developed the typeface to suit today's designers' requirements, expanding it into separate Display and Text subfamilies for both Latin & Cyrillic.
Typeface features
OpenType features enable smart typography. You can use these features in most Desktop applications, on the web, and in your mobile apps. Each typeface contains different features. Below are the most important features included in GT Eesti's fonts:
SS04
Alternate "w" and "v"
(Text version only)
Privatweg
Typeface Minisite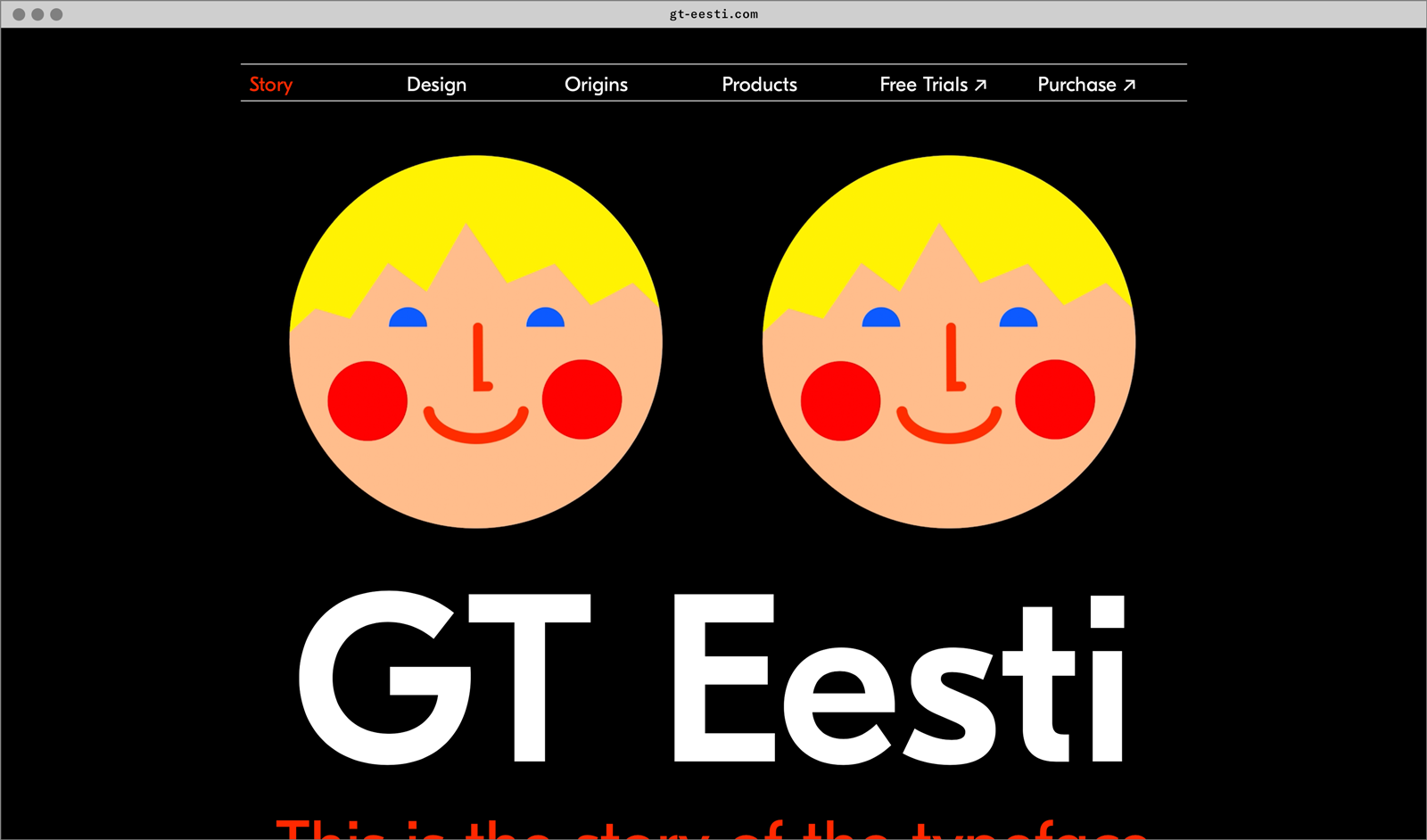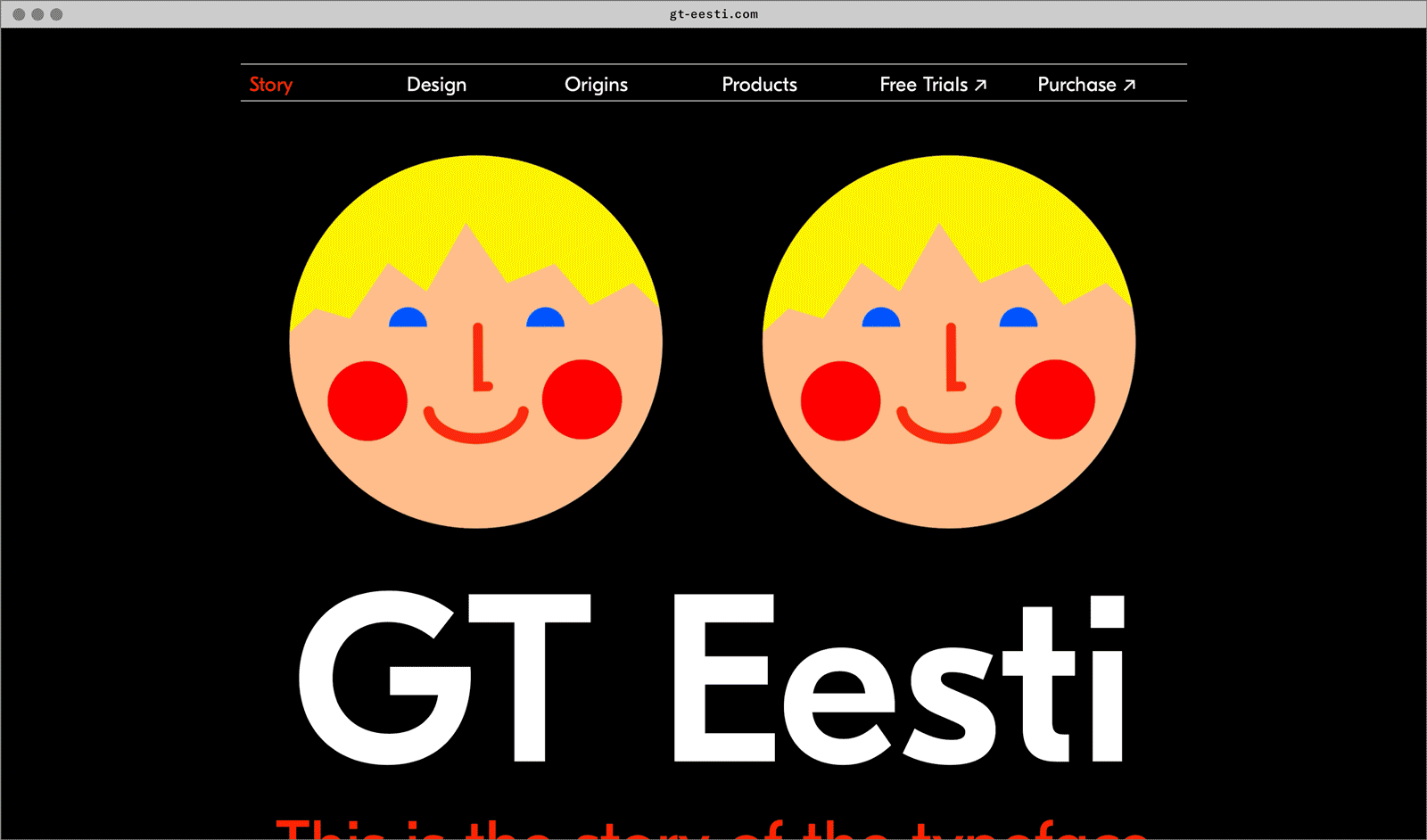 Visit the GT Eesti minisite to discover more about the typeface family's history and design concept.