Family overview
Compressed
Ultra Light

Italic

Thin

Italic

Light

Italic

Regular

Italic

Medium

Italic

Bold

Italic

Black

Italic
Condensed
Ultra Light

Italic

Thin

Italic

Light

Italic

Regular

Italic

Medium

Italic

Bold

Italic

Black

Italic
Standard
Ultra Light

Italic

Thin

Italic

Light

Italic

Regular

Italic

Medium

Italic

Bold

Italic

Black

Italic
Extended
Ultra Light

Italic

Thin

Italic

Light

Italic

Regular

Italic

Medium

Italic

Bold

Italic

Black

Italic
Expanded
Ultra Light

Italic

Thin

Italic

Light

Italic

Regular

Italic

Medium

Italic

Bold

Italic

Black

Italic
Mono
Ultra Light

Italic

Thin

Italic

Light

Italic

Regular

Italic

Medium

Italic

Bold

Italic

Black

Italic
Standard Ultra Light

You miss 100% of the shots you don't take.

Standard Ultra Light Italic

If you don't make mistakes, you aren't really trying.

Standard Thin

I need your clothes, your boots and your motorcycle.

Standard Thin Italic

Until you start believing in yourself, you ain't gonna have a life.

Standard Light

John Quincy Adams, July 11, 1767, Braintree, Massachusetts, March 4, 1825 – March 4, 1829

Standard Light Italic

San Jose, California, 1'026'908, 176.6 sq mi, 37.2969°N 121.8193°W

Standard Regular

Президентские выборы в США 1864 года проходили на фоне продолжающейся гражданской войны.

Standard Regular Italic

See you at the party, Richter!

Standard Medium

Với 3,79 triệu dặm vuông (9.833.520 km²) và 327,1 triệu dân (2018), Hoa Kỳ là quốc gia lớn thứ 3 hoặc thứ 4 về tổng diện tích và thứ 3 về dân số trên thế giới.

Standard Medium Italic

Energy and persistence conquer all things.

Standard Bold

Memphis, Tennessee, 655'770, 315.1 sq mi, 35.1035°N 89.9785°W

Standard Bold Italic

Every champion was once a contender who refused to give up.

Standard Black

I shook up the world. Me! Whee!

Standard Black Italic

Lincoln nhận được sự đề cử của Đảng Cộng hòa ra tranh cử Tổng thống năm 1860.
Typeface information
GT America is the missing bridge between 19th century American Gothics and 20th century European Neo-Grotesk typefaces. It uses the best design features from both traditions in the widths and weights where they function optimally.
Typeface features
OpenType features enable smart typography. You can use these features in most Desktop applications, on the web, and in your mobile apps. Each typeface contains different features. Below are the most important features included in GT America's fonts:
CASE
Case sensitive forms
¿¡WHAT?!
Typeface Minisite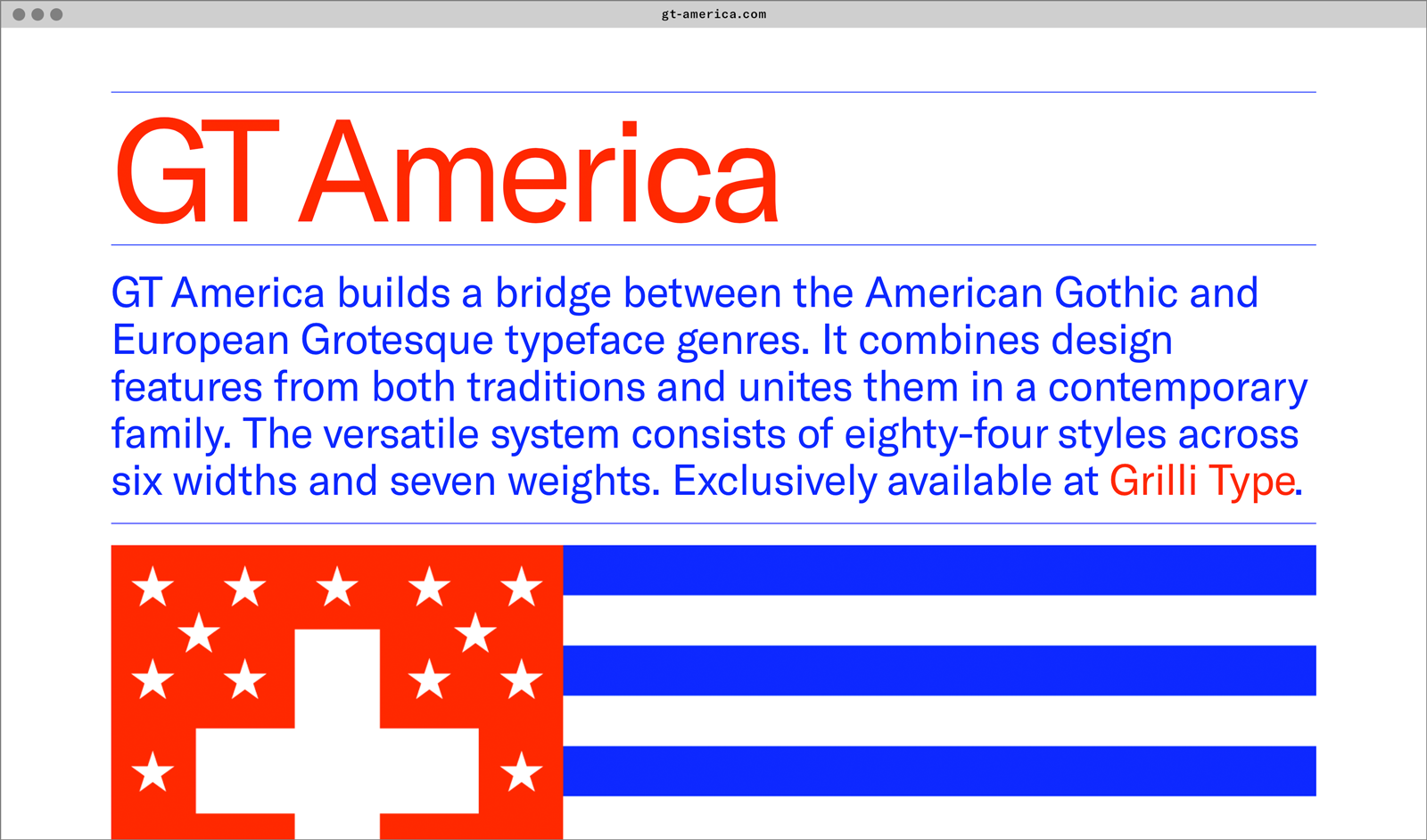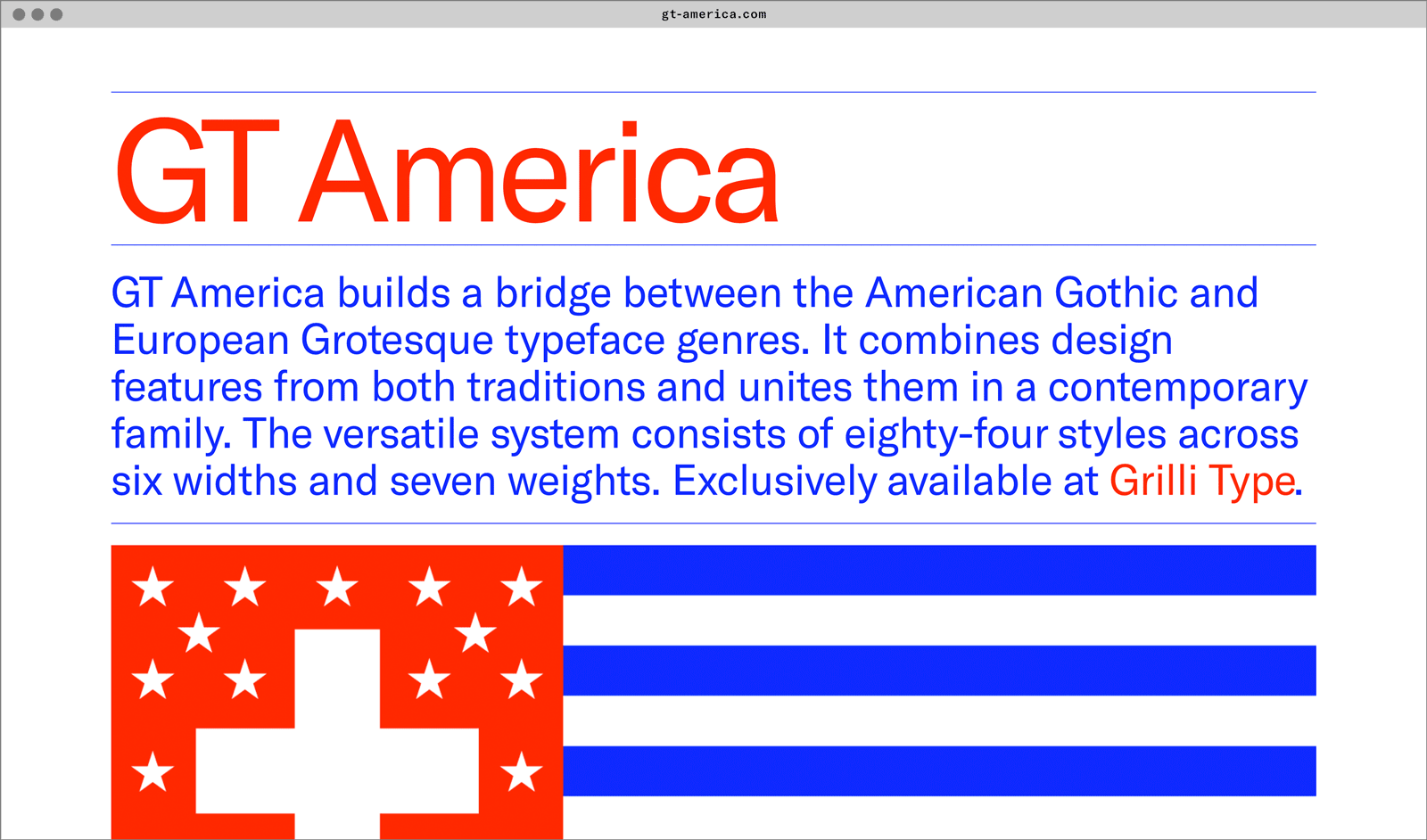 Visit the GT America minisite to discover more about the typeface family's history and design concept.