Family overview
Text
Ultra Light

Italic

Thin

Italic

Light

Italic

Book

Italic

Regular

Italic

Medium

Italic

Bold

Italic
Display
Ultra Light

Italic

Thin

Italic

Light

Italic

Regular

Italic

Medium

Italic

Bold

Italic

Ultra Bold

Italic
Text Ultra Light

Пярну портовый город на юго-западе Эстонии с населением 40 401 житель, является четвёртым по величине и по численности населения городом в Эстонии.

Text Ultra Light Italic

Пярну портовый город на юго-западе Эстонии с населением 40 401 житель, является четвёртым по величине и по численности населения городом в Эстонии.

Text Thin

Tallinn on linn Eesti põhjarannikul Tallinna lahe ääres. Tallinn on Eesti Vabariigi pealinn ja Harju maakonna halduskeskus.

Text Thin Italic

Rakvere linn (ajalooline nimi Tarvanpää; saksa keeles Wesenberg, vene Rakovor) on Lääne-Viru maakonna haldus-, majandus- ja kultuurikeskus.

Text Light

Кейла город и городской муниципалитет на северо-западе Эстонии, в уезде Харьюмаа. Административный центр волости Кейла. Расположен на реке Кейла.

Text Light Italic

Võru on linn Eesti kaguosas, Võru maakonna haldus- ja majanduslik keskus. Linna läbib Peterburi–Pihkva–Riia raudtee Valga–Petseri raudteelõik ja Tallinn–Tartu–Võru–Luhamaa maantee. Linna asukoht on geograafiliselt soodne kaubavahetuseks Venemaa ja Lätiga.

Text Book

Keila is a town and an urban municipality in Harju County in north-western Estonia. Keila is also the location of administrative buildings of the surrounding Keila Parish, a rural municipality separate from the town itself.

Text Book Italic

Kohtla-Järve on linn Ida-Viru maakonnas. Linn koosneb kuuest eraldi asuvast linnaosast. Linna elanikkond on valdavalt venekeelne. Eestlasi oli 2000. aasta rahvaloenduse andmeil 17,8% elanikest ning 2011. aasta rahvaloenduse andmeil 16,1%.

Text Regular

Йыхви город на северо-востоке Эстонии, столица уезда Ида-Вирумаа. С 1918 по 1940 год имел статус города в Эстонской Республике, затем с 1940 по 1991 год в составе Эстонской ССР, в период с 1941 по 1944 год Йыхви находился в оккупации немецкими войсками.

Text Regular Italic

Rakvere is a town in northern Estonia and the county seat of Lääne-Viru County, 20 km south of the Gulf of Finland.

Text Medium

Рапла город без муниципального статуса в западной части Эстонии, административный центр уезда Рапламаа и волостной центр и составная часть волости Рапла.

Text Medium Italic

Сауэ город, расположенный в северной части Эстонии в уезде Харьюмаа. Является отдельным муниципальным образованием и не входит в состав какой-либо волости. Получил право города 25 августа 1993 года. Население — 6,0 тыс. человек (2012), 93 % из которых — эстонцы.

Text Bold

Tartu on Eesti suuruselt teine linn, Lõuna-Eesti suurim keskus ja Tartu maakonna halduskeskus.

Text Bold Italic

Valga is a town in southern Estonia and the capital of Valga County. Until their separation in 1920, Valga and the town of Valka in northern Latvia were one town.
Typeface information
GT Eesti is a free-spirited interpretation of the Soviet geometric sans serif "Zhurnalnaya Roublennaya". Starting with books from Soviet-occupied Estonia, we developed the typeface to suit today's designers' requirements, expanding it into separate Display and Text subfamilies for both Latin & Cyrillic.
Typeface features
OpenType features enable smart typography. You can use these features in most Desktop applications, on the web, and in your mobile apps. Each typeface contains different features. Below are the most important features included in GT Eesti's fonts:
SS04
Alternate "w" and "v"
(Text version only)
Privatweg
Typeface Minisite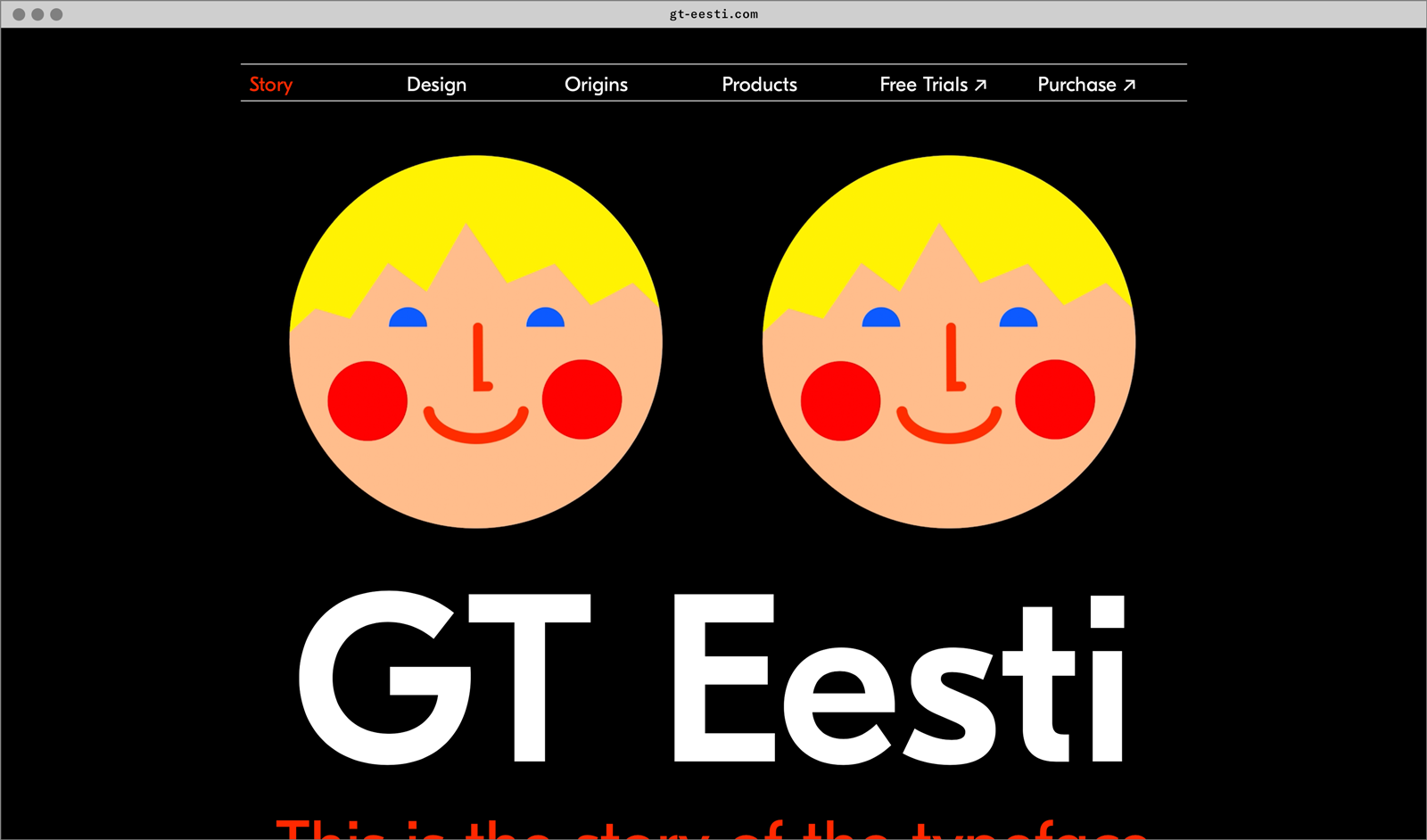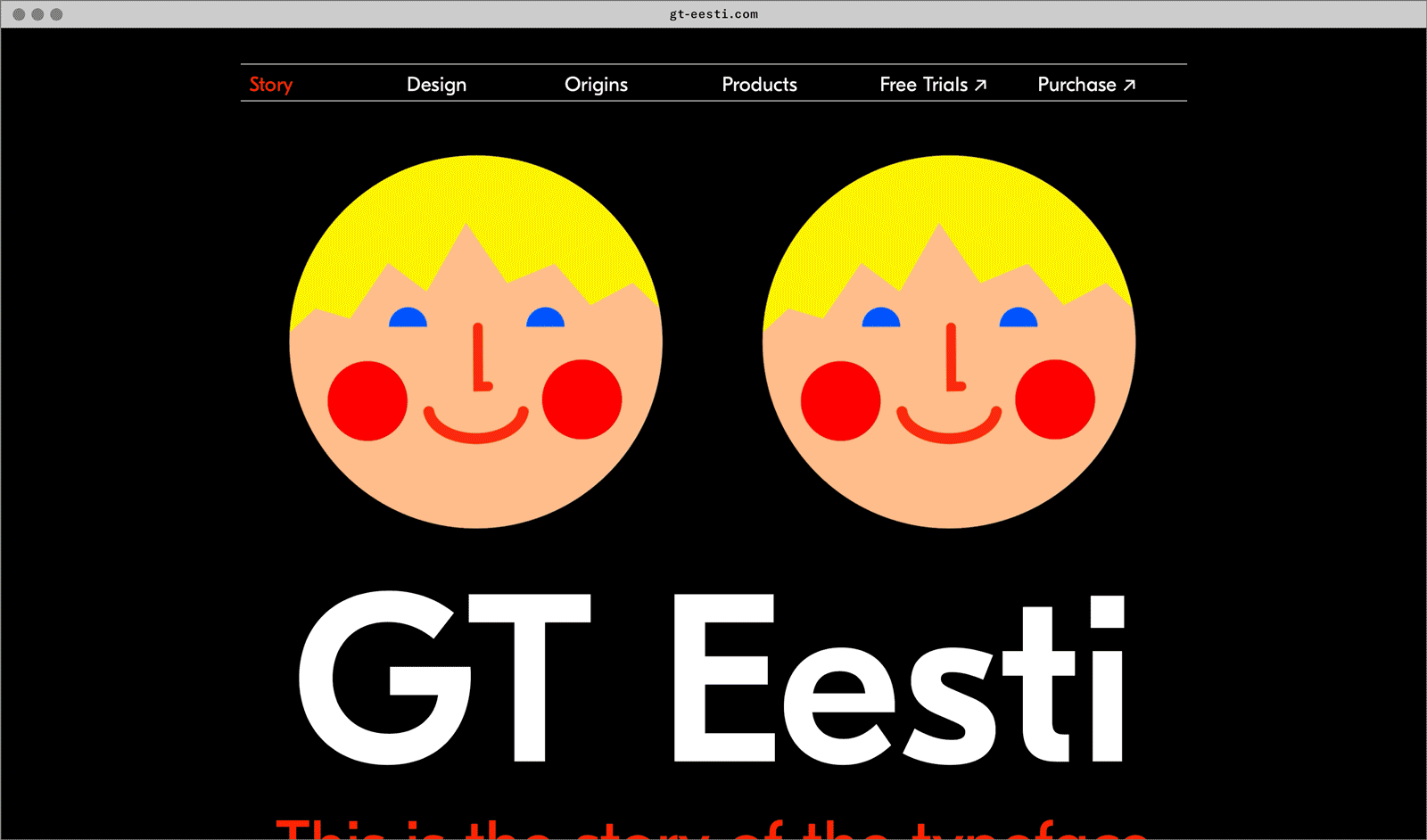 Visit the GT Eesti minisite to discover more about the typeface family's history and design concept.