Family overview
X Compressed
Lazer

Italic

Thin

Italic

Light

Italic

Regular

Italic

Medium

Italic

Bold

Italic

Black

Italic
Compressed
Lazer

Italic

Thin

Italic

Light

Italic

Regular

Italic

Medium

Italic

Bold

Italic

Black

Italic
Condensed
Lazer

Italic

Thin

Italic

Light

Italic

Regular

Italic

Medium

Italic

Bold

Italic

Black

Italic
Standard
Lazer

Italic

Thin

Italic

Light

Italic

Regular

Italic

Medium

Italic

Bold

Italic

Black

Italic
Extended
Lazer

Italic

Thin

Italic

Light

Italic

Regular

Italic

Medium

Italic

Bold

Italic

Black

Italic
Expanded
Lazer

Italic

Thin

Italic

Light

Italic

Regular

Italic

Medium

Italic

Bold

Italic

Black

Italic
X Expanded
Lazer

Italic

Thin

Italic

Light

Italic

Regular

Italic

Medium

Italic

Bold

Italic

Black

Italic
Mono
Lazer

Italic

Thin

Italic

Light

Italic

Regular

Italic

Medium

Italic

Bold

Italic

Black

Italic
Standard Lazer

It's not a disgrace to be beaten. The greatest disgrace is to quit.

Standard Lazer Italic

No matter how slow you go, you are still lapping everybody on the couch.

Standard Thin

Never say never because limits, like fears are often just illusions.

Standard Thin Italic

Remember: The mind is your best muscle. Big arms can move rocks, but big words can move mountains.

Standard Light

Exercise, because zombies will eat the slow ones first.

Standard Light Italic

It's a slow process, but quitting won't speed it up.

Standard Regular

Some people want it to happen, some wish it would happen, others make it happen.

Standard Regular Italic

Never outrun your joy of running.

Standard Medium

It does not matter how slow you go as long as you don't stop.

Standard Medium Italic

To be number one, you have to train like you're number two.

Standard Bold

When you focus on problems, you'll have more problems. When you focus on possibilties you'll have more opportunities.

Standard Bold Italic

If you don't have a mountain, build one and then climb it.

Standard Black

The only place where success comes before work is in the dictionary.

Standard Black Italic

Don't tell me the sky is the limit when there are footsteps on the moon.
Typeface information
Instead of the traditional view of a typeface as a collection of static styles, GT Flexa embraces the idea of a fluid design space. As a dynamic tool, it enables joyful typesetting that allows for fully responsive designs. The result is an impressively extensive typographic system with a distinctive personality.
Typeface features
OpenType features enable smart typography. You can use these features in most Desktop applications, on the web, and in your mobile apps. Each typeface contains different features. Below are the most important features included in GT Flexa's fonts:
SS01
Rounded punctuation and diacritics
Mällëäblë
SS05
Connected f-l ligatures
Offloader
Typeface Minisite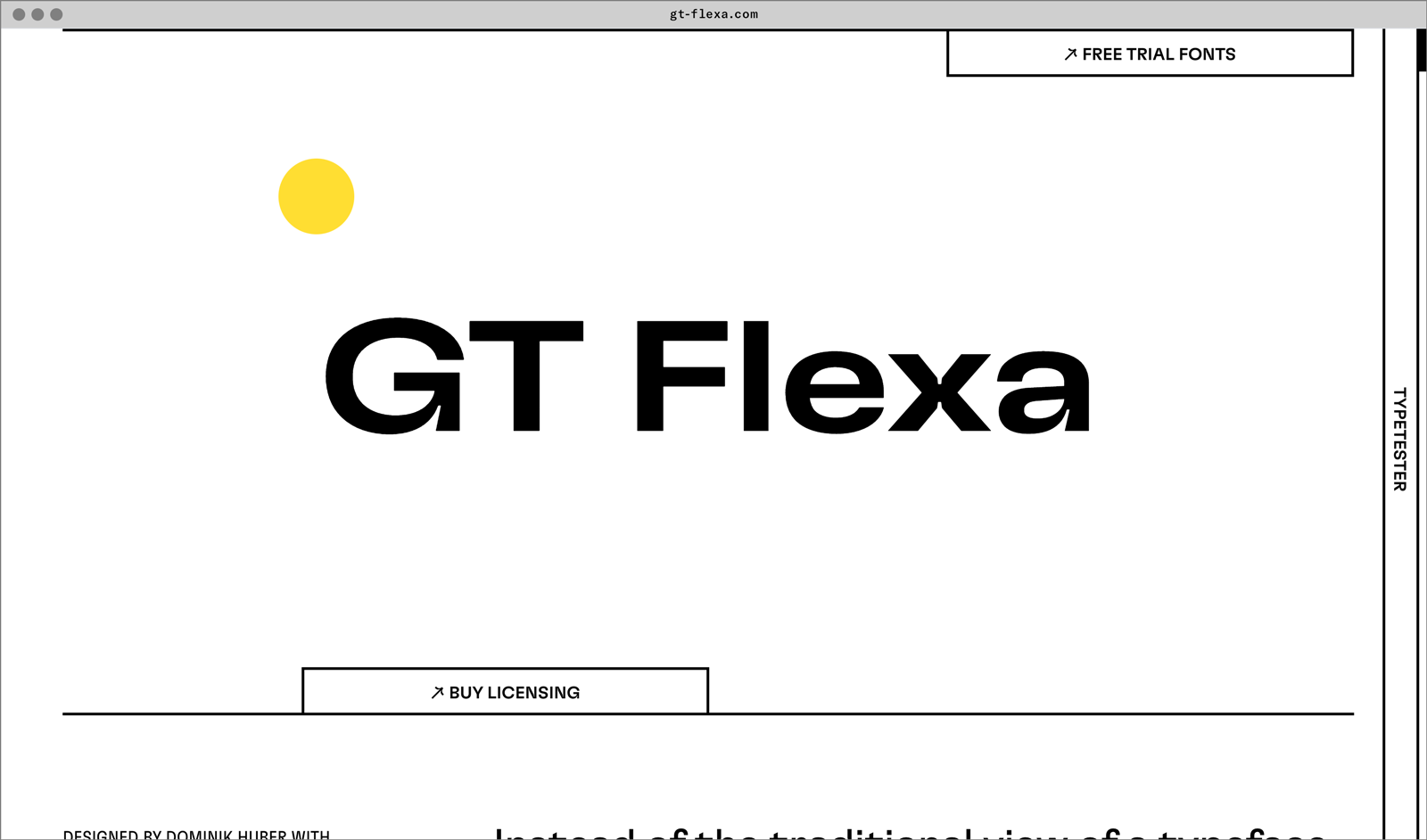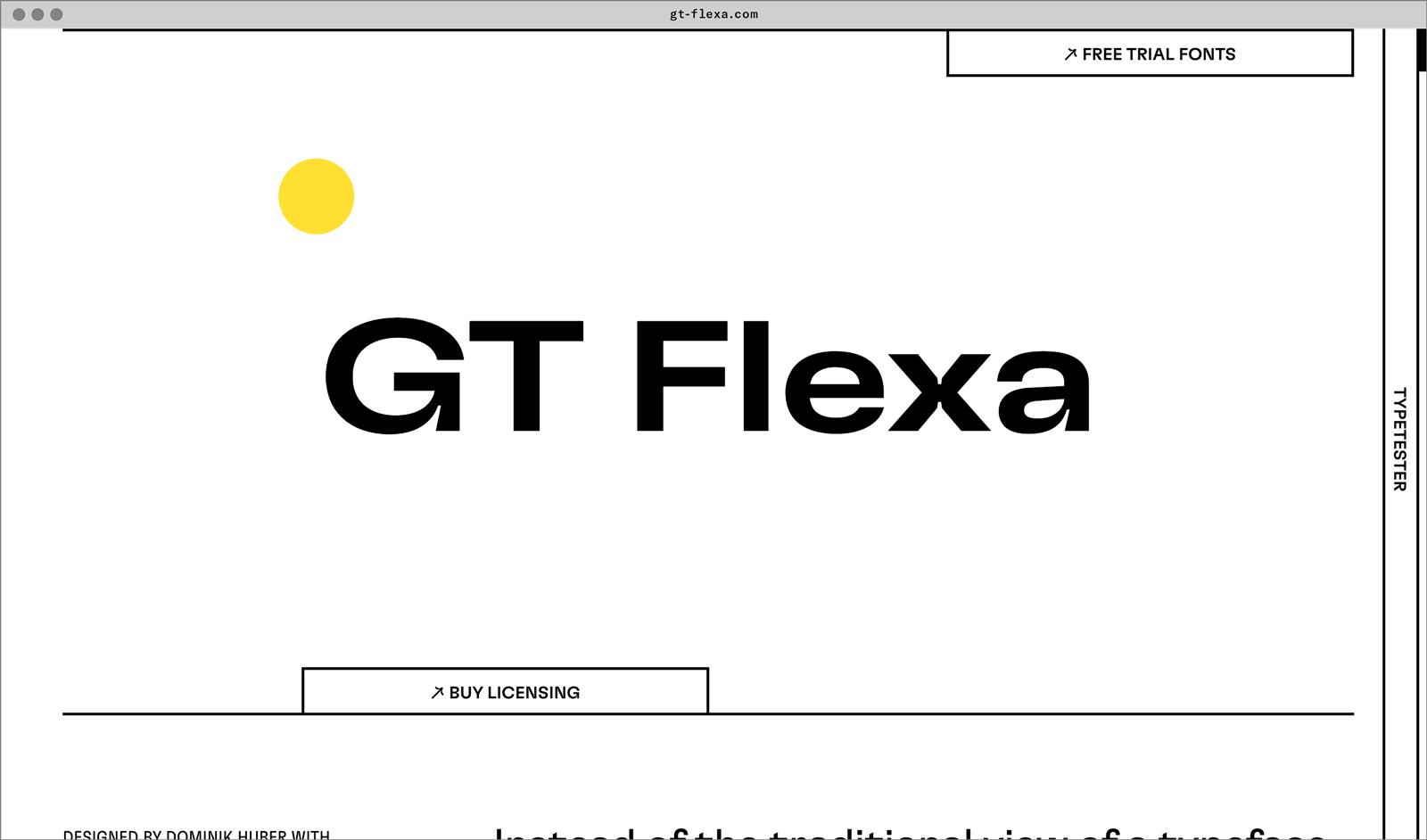 Visit the GT Flexa minisite to discover more about the typeface family's history and design concept.